Matt C. Abbott
Vote your (pro-life) conscience!

By
Matt C. Abbott
November 2, 2012
...Roe v. Wade was based on the premise — indeed, on the philosophy — that the woman stands alone. Abortion isolates the woman from all other human beings in the world. Under Roe, no one, not parents or boyfriend or husband, and much less a stranger, has any claim on the woman and her baby. In the philosophy of Roe there are no inherent human relationships. As Sr. Mary of Albany once told me — we are related to one another only if we choose to be.

— From the book Abandoned: The Untold Story of the Abortion Wars, by Monica Migliorino Miller

Kudos to Monica Migliorino Miller and Citizens for a Pro-Life Society for putting together the following flyer: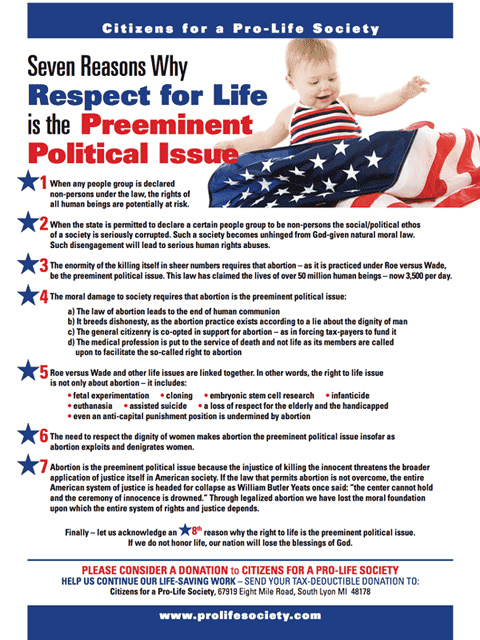 ---
More controversy surrounding Catholic Relief Services and the Catholic Campaign for Human Development; click
here
,
here
and
here
.
For whatever it's worth, I highly recommend
not
donating to CRS or CCHD.
---
Check out Heroic Media's 2012 adoption commercial;
click here
.
---
Check out Aid for Women's video;
click here
.
© Matt C. Abbott
---
The views expressed by RenewAmerica columnists are their own and do not necessarily reflect the position of RenewAmerica or its affiliates.
---