Matt C. Abbott
Newlyweds and Pope Francis; Bishops and divorce; 'The Church Under Attack'

By
Matt C. Abbott
June 9, 2013
A few items in this particular column of mine...
First, congratulations to newlyweds Randy and Erica Sowers, pictured below with Pope Francis.
---
Bai Macfarlane, founder of
Mary's Advocates
, writes at
Spero News
:
According to UCA News, an independent Catholic news agency in Asia, the most senior Catholic bishop in the Philippines vowed on June 5 to 'block any attempt to pass new laws on divorce and same-sex marriage in the Philippines.' Regarding divorce, it is disheartening to see the contrast between the leadership of the Catholic Church in the United States compared to the leadership in the Philippines.

In the United States, if any married Catholic person is dissatisfied with his or her marriage for any reason whatsoever, the civil law system can be used to force a divorce on the faithful spouse and children. The government divorce courts routinely remove the faithful spouse from the everyday-lives of their children and force the faithful spouse to pay thousands of dollars of support to the marital abandoner who lives in a separate home with the children, where the faithful spouse is not allowed to enter. Millions of children have their fathers forcibly removed from their home by civil divorce orders, despite the fact that these men were decent husbands and good fathers.

The Catholic leadership in the U.S. is virtually silent about this injustice....

Click here
to read the rest of Mrs. Macfarlane's commentary.
---
Below is an excerpt from the book
The Church Under Attack: Five Hundred Years That Split the Church and Scattered the Flock
, by Diane Moczar.
From the website of Sophia Institute Press:
Here's an unabashedly Catholic history that documents scores of sustained and unprecedented assaults on our Catholic Faith these past five centuries and delineates our Church's brave response to each one.

For five hundred years, from Luther to Marx, through Darwin, Hitler, and Rousseau, wave after wave of cynical anti-Catholic men and movements have wrought havoc even worse than that of Attila the Hun and Genghis Khan, leaving our once noble Christendom a ruined city, devastated politically and spiritually, morally and intellectually. They've ripped the heart from our culture's chest: the Catholic Faith that once gave life and strength to her body. They've wounded even the Church herself.

Celebrated Catholic historian Diane Moczar counters here with an unflinching sketch of these five woeful centuries with sound reasons for hope. For, as she demonstrates, even after five hundred years of sustained persecution, our Church has not merely survived but continues in many places to flourish.

Almost two thousand years ago, Tertullian noted that the 'blood of the martyrs is the seed of the Church,' a truth borne out these past five hundred years. Time after time, as Moczar shows, persecution has not snuffed out the Faith but has brought forth great saints whose holy deeds and brave examples frustrated their persecutors by communicating to the besieged Church a vigor greater than that of her persecutors.

These pages will renew your confidence that the Church is indeed Christ acting in the world and that no matter how strong or ruthless or vicious her opponents, she will not be vanquished but will endure to the end of time.

Thanks to Charlie McKinney and Sheila Perry of Sophia Institute Press for allowing me to reprint this material.
Click here
to order a copy of the book directly from the publisher.
---
Excerpt from chapter 2 of The Church Under Attack

'The Seventeenth Century'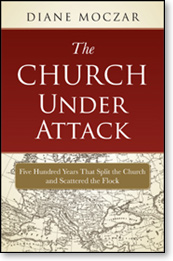 If the seventeenth century seems, at first glance, somewhat less cluttered than the sixteenth, it is only because the major events in Europe and North America tend to fall into three main categories: the ongoing struggle of Protestants against Catholics, the campaigns against the Ottoman Turks, and an intellectual movement of vast importance: the Scientific Revolution.
We will start by examining the depressing seventeenth-century consequences of the sixteenth-century religious revolution. These include a revolution in England of a kind heretofore unheard of in Christendom, in which a legitimate king was violently replaced by a fanatical dictator, and the near genocide of Irish Catholics along with the destruction of their country; later we will take up the first great European war – an eerie dress rehearsal for World War I – that involved most of the continent and brought untold suffering and death to Europe.
We will encounter some genuinely noble and heroic characters, some of them saints, and not all of them doomed to gruesome death at the hands of Calvinists. We'll watch one of the great battles of history, as the Turks are routed from their massive attack on Vienna and a very young and great general defeats them again and again until, by the end of the century, much of the Christian territory conquered by the Turks centuries earlier has been liberated.
In this section, then, we'll start with the situation in England. When, at long last, Queen Elizabeth died, her successor was – ironically – the son of her archrival, the Catholic Mary Queen of Scots, whom Elizabeth had executed. Catholics had suffered so much under Good Queen Bess that they greeted James I with great optimism; they knew he had been raised a Protestant, but just possibly some of his mother's religion had rubbed off on him, or at least he might be inclined to tolerate it. They were soon disappointed. Pompous James with his Scots accent does not seem to have been really popular with anybody, although he did have the first permanent English settlement in America, Jamestown, founded in 1607, named after him. The only thing that saved Jamestown from disaster in its early years was the decision to cultivate, market, and promote tobacco. James disliked tobacco and called it "a noxious weed"; had he used his royal power to suppress the stuff, he might have saved the world from lung cancer.
James had trouble with Parliament, which considered him extravagant, and for a while after his arrival in England, it looked as if he was not going to enforce the laws forbidding all but the Anglican religion. He soon began to do so, however, going so far as to require even the Irish to attend Anglican services, contrary to an earlier treaty. By 1605 his measures against the Catholics appear to have led a few of the more unbalanced among them to plot his demise. They planned to blow up the parliament building on a day when James would be there, thus neatly disposing of most of the persecuting government, but the plot was discovered before it could be carried out.
The Gunpowder Plot remains murky and controversial; it seems to have had no chance of succeeding and certainly had nothing to do with the many innocent Catholics who were rounded up, tortured, and executed. This crackdown on dissidents was also the reason for the Calvinist immigration to New England in 1620, mentioned in the preceding chapter.
James was succeeded by his son Charles I, a more religious and dignified man who was married to a Catholic and thus did not make a very good persecutor. He was disinclined to enforce the religious laws and even permitted the Irish to practice their Faith in private. His patronage of George Calvert, a Catholic convert, included granting him a piece of land in America (the future Maryland) along with a charter allowing Catholics to settle there. By mid-century, Calvinists of various stripes largely controlled the English Parliament and increasingly opposed the king on everything from finance to religion. On their principle of private interpretation, they used texts from the new King James Bible to justify their increasingly radical agenda, finding support in Scripture for regicide, revolution, civil war, and much else. As Auguste Comte observed, "All revolutionary ideas are only social applications of the principle of private interpretation."
© Matt C. Abbott
---
The views expressed by RenewAmerica columnists are their own and do not necessarily reflect the position of RenewAmerica or its affiliates.
---