Matt C. Abbott
No breaking this 'Dawn'

By
Matt C. Abbott
July 8, 2013
On July 9, Catholic author, speaker and blogger Dawn Eden will be giving her testimony to the women-graduates of the Project Dawn treatment court in Philadelphia. (
Click here
to read about Project Dawn.)
The following is the text of her testimony, which had to be approved in advance by the court's administrators.
---
It is a joy and an honor for me to be here with you today as the City of Philadelphia honors your great achievement. I have attended several graduation ceremonies in my life, but I don't believe I have ever been present at one where the graduates worked so hard, gave so much, sacrificed so much to see their graduation day.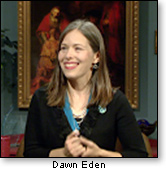 As the author of a book on spiritual healing, I've been asked to give you a few words to help put your journey in perspective. Because graduation is not really an ending. Every graduation is a new beginning. And today you can now face the future with confidence and hope. Your achievements in this court show that you have within you the God-given power to face whatever challenges may come, with the strength that comes from within.
I can speak confidently about the power that we have from God to overcome personal challenges, because I have experienced that power in my own life. I was born into a Jewish family, my parents split up when I was five, and my sister and I were raised by my mother. It was during that time, when my father was no longer present to protect me, that I began to suffer sexual abuse. My first abuse was committed outside the home – by a janitor at the temple my family attended. When I told my mother what had happened, she said, "You let him do that to you." I was five years old.
Later on, the abuse took place at home. I can remember a few times when I was molested by one of my mother's boyfriends, in my mother's presence.
These experiences of abuse had a profoundly destructive effect on my personal identity. I grew up thinking that I was valuable not for who I was, but only for what I did. Believing that other people, especially men, were going to use me, I put up a false front. This false front was in place by the time I was a teenager. I dressed provocatively, I used sexual language in everyday conversation, and I prided myself on being sexually aggressive. It was all my way of trying to have control. I thought that if men were going to use me anyway, I could at least have some control over how they used me. But no matter how hard I tried to act hard, inside I still felt like a vulnerable, unprotected little girl. I was living a lie. I was lonely, I was depressed, and I didn't know who I was.
Then one day more than ten years ago, when I was 31, I opened up the Bible to St. Paul's letter to the Romans. I had tried to read the Bible before, but it had never really spoken to me. This time, my heart was open. I read Romans chapter 5, verse 1 – "Therefore, being justified by faith, we have peace with God through Our Lord Jesus Christ." And I felt in my heart this great desire to know that peace of God, to live it, to build my life upon it.
That desire led me on a journey of healing. I started going to church, and I got baptized. I also got psychological help, and discovered that many of my harmful behaviors were attempts to cope with post-traumatic stress disorder (PTSD) which was brought on by my childhood abuse.
As I grew in faith and self-knowledge, I gained the strength to separate myself from the people, places, and situations that were harmful for me. I began to make new friends, people who worked hard to live clean and pure lives, people who supported me as I struggled to replace bad habits and bad behaviors with good habits and good behaviors. And, what's most important, I learned that my value as a human being does not depend on what I do. My value as a human being, as a
woman
, comes from being made in the image and likeness of God.
Perhaps the most beautiful part of my healing journey has been discovering that God's love has always been present in my life, even during my darkest hours, when I felt most alone. And this brings me to a message that I would like to leave with you, something to contemplate as you walk on through life. It may surprise you.
I used to think that the only way I could heal from the pain of my past was by simply blocking out my memories of the past. But I found that if I tried to block out the past completely, it would come back in painful ways – through flashbacks, or nightmares. What I have learned over time, and what I want to share with you, is that
memory is not the enemy
.
The key to healing is not to forget your past, but to find moments in your past when someone did something kind for you, when someone protected you, when someone smiled at you, when someone performed an act of love for you without expecting anything in return. If you cannot find a moment when another human being showed you kindness or love, find a moment where you could have lost your life – but you didn't. And when you remember that, know that it was no accident that your life was saved. Your being alive today is no accident. God loves you, and God has sustained you all your life, even in the midst of evil, because He wanted to bring you to this beautiful new day.
So find those good memories, and build your identity upon them. Because your identity is as a beautiful and beloved daughter of God. Thank you and God bless you.
---
Click here
to order a copy of Dawn's latest book,
My Peace I Give You: Healing Sexual Wounds with the Help of the Saints
.
Click here
to see Dawn interviewed on EWTN's
Women of Grace
program.
Click here
to see Dawn's blog, "The Dawn Patrol."
© Matt C. Abbott
---
The views expressed by RenewAmerica columnists are their own and do not necessarily reflect the position of RenewAmerica or its affiliates.
---