Matt C. Abbott
Thoughts on ... 'exorcising' gay marriage; Medjugorje; Toronto's troubles

By
Matt C. Abbott
November 20, 2013
I applaud Bishop Thomas J. Paprocki of the Diocese of Springfield, Ill., for issuing a call for "prayers of supplication and exorcism in reparation for the sin of same-sex marriage" on Nov. 20.
According to the diocese's website:
The prayers for 'Supplication and Exorcism Which May Be Used in Particular Circumstances of the Church' are taken from the Appendices to the 2004 Latin edition of the Rite of Exorcism, the introduction to which explains, 'The presence of the Devil and other demons appears and exists not only in the tempting or tormenting of persons, but also in the penetration of things and places in a certain manner by their activity, and in various forms of opposition to and persecution of the church. If the diocesan bishop, in particular situations, judges it appropriate to announce gatherings of the faithful for prayer, under the leadership and direction of a priest, elements for arranging a rite of supplication may be taken from [the texts provided in these appendices].'

Bishop Paprocki said that since same-sex marriage is contrary to the plan of God (see Genesis 1:27 and 2:24, Matthew 19:4-6 and Mark 10:6-9), those who contract civil same-sex marriage are culpable of serious sin. He also noted that politicians who enacted civil same-sex marriage legislation are 'morally complicit as co-operators in facilitating this grave sin.'

'It is scandalous that so many Catholic politicians are responsible for enabling the passage of this legislation and even twisting the words of the pope to rationalize their actions despite the clear teaching of the church,' he said. 'All politicians now have the moral obligation to work for the repeal of this sinful and objectionable legislation. We must pray for deliverance from this evil which has penetrated our state and our church.'

Click here
to read the diocese's full news release on the matter.
We need more bishops like him!
Also, below is a photo of the U.S. Conference of Catholic Bishops' newly-elected president, Archbishop Joseph E. Kurtz of Louisville, Ky., peacefully and prayerfully protesting the evil of abortion. Nice to see!
---
I've written a fairly short article on a recent development pertaining to the alleged apparitions at Medjugorje.
Click here
to read it at Catholic Online.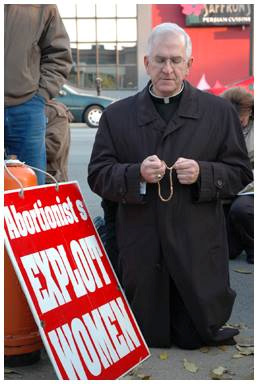 ---
As Toronto Mayor Rob Ford continues to make an absolute fool of himself (
source
), there's another big story occurring in the same city but flying under the radar.
From LifeSiteNews.com:
Toronto police revealed ... the results of a three-year international child pornography sting that resulted in 348 arrests. Police also rescued 386 children from situations of reoccurring sexual abuse....

Of the 348 individuals arrested for purchasing the offending material, 108 were Canadian, 50 residing in Ontario. Of those 108, almost all were in positions of authority with access to children. There were 40 school teachers, 32 people who volunteered with children, 9 doctors and nurses, 9 religious leaders, 6 law enforcement personnel, and 3 foster parents.

A number of those Canadians arrested were also charged with actual sexual abuse against a minor, including making child pornography. Police rescued 24 Canadian children from situations of sexual abuse.

Click here
to read the LSN story in its entirety.
Scary.
Our Lady of Guadalupe, pray for us!
© Matt C. Abbott
---
The views expressed by RenewAmerica columnists are their own and do not necessarily reflect the position of RenewAmerica or its affiliates.
---