Matt C. Abbott
'The Love That Made Mother Teresa'

By
Matt C. Abbott
April 6, 2014
(
This article originally appeared at Catholic Online
.)
The following is a brief interview with David Scott, author of
The Love That Made Mother Teresa: How Her Secret Visions and Dark Nights Can Help You Conquer the Slums of Your Heart
, published by Sophia Institute Press. Below the interview is an excerpt from the book, from the chapter titled "The Secret Visions."
Thanks to Mr. Scott for taking the time to answer my questions; to Aja McCarthy of Sophia Institute Press for facilitating the interview; and to Charlie McKinney, president of Sophia Institute Press, for giving me permission to publish the excerpt.
Click here
to order a copy of
The Love That Made Mother Teresa
directly from the publisher.
---
What inspired you to write a book on Mother Teresa that's part biography and part spiritual reading?
David Scott:
It was partly a practical decision. As I point out in the book, there isn't much to go on with Mother Teresa. It's like history, and Mother Teresa herself, conspired to make sure we can't find out too much about her family or much else about her past. So there's no real paper trail if you wanted to write a conventional biography of Mother Teresa. But that got me thinking that maybe this mystery about her past is a big part of her spiritual legacy, her "message" for our times. So that's what the book tries to look at.
There's a chapter devoted to Mother Teresa's private visions, highlighting one in 1947 when she heard the voice of Jesus imploring her to establish the Indian Missionaries of Charity. How do you think she reacted to these mystical experiences compared to other saints of the Church who had similar experiences?
David Scott:
The visions she saw were dark and apocalyptic. In the book I compare them to the visions of Fatima; I think there are a lot of similar themes. In one, Mother Teresa is transported "as a little child" to the foot of the Cross and both Jesus and Mary are talking to her and giving her instructions.
What's amazing is that we never knew about these visions during her lifetime. They only came out in the letters published after her death, letters to her spiritual directors. And when we look now at her words and actions during her lifetime, we can see that in many ways she was very deliberately "carrying out" those visions in her ministry to the poor and the dying and in her work for the unborn.
What is your favorite Mother Teresa story?
David Scott:
Hard question. There are so many little stories, sayings and encounters and they all read like some kind of parables from the Desert Fathers in the early Church. Mother Teresa stories all have this kind of "revelatory" quality.
To pick one: There's a story that I first read in a business magazine about "Mo" Siegel. He's the guy who founded Celestial Seasonings, the herbal tea company. Millionaire many times over; idealistic with a kind 1960s sensibility, really generous in giving to all sorts of causes. Yet he feels empty and restless inside. A real "seeker." He goes off to India to volunteer for Mother Teresa. But when he gets there, she tells him to turn around and go home; pokes him in the chest and tells him: "Grow where you're planted."
I like this story because Mother Teresa is reminding him, and reminding us, that the answers we're looking for start inside our own hearts. It reminds me of Moses in Deuteronomy, when he says God's answers aren't up in heaven or out there beyond the sea; they're very near to us, in our hearts. What she's telling us is that a lot of times all our activities and ministries and services are just a way we are running away from the "stuff" we should be dealing with in our families and inside ourselves.
The fiercest critic of Mother Teresa was the late "antitheist" author and journalist Christopher Hitchens. Why do you think Hitchens targeted Mother Teresa like he did?
David Scott:
I don't know. That's always bothered me because Christopher Hitchens was always essential reading for me – and I still learn from his writing. But his book on Mother Teresa is really just a hack job; it's not like anything else you find in his collected writings. It reads like revenge fiction. So it always seemed to me like there was something personal going on, but who knows? I guess from a mercenary point of view, if you're going to attack Christianity, there's no bigger target that Mother Teresa. That's part of her mystery and appeal. She was the most recognizable Christian figure in the world in our times.
---
Excerpt from chapter 10, "The Secret Visions"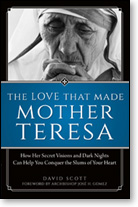 After Mother Teresa died, officials preparing her sainthood cause discovered a small cache of letters written to her spiritual directors and superiors during her early years. She had long ago destroyed her notes and diaries from this period and had asked others to dispose of letters she had sent to them. "I want the work to remain only his," she told them. "When the beginning will be known, people will think more of me, less of Jesus."
As if following some divine script, a few ignored her wishes. As a result, it is now possible for us to partially reconstruct the high spiritual drama of Mother Teresa's conversion to the poor.
In early 1947, four months after hearing the voice on the train, she wrote to Ferdinand Perier, a Jesuit who was archbishop of Calcutta. In this letter, she made her case for why he should allow her to undertake a new initiative among the poor, describing at length the voice she heard on the train and in the days and weeks that followed.
"I want Indian Missionary Sisters of Charity, who would be my fire of love amongst the very poor – the sick, the dying, the little street children," Jesus told her. "The poor I want you to bring to me and the sisters that would offer their lives as victims of my love would bring these souls to me. You are, I know, the most incapable person, weak and sinful, but just because you are that, I want to use you for my glory! Wilt thou refuse?"
She went on to describe how she disputed with the voice she heard, which came to her often while she was on her knees after receiving Holy Communion. She told him to go find somebody else, that she was frightened of the hardship and the ridicule she would have to endure. She promised to be a good nun if only he would let her stay put in her comfortable convent. But he kept cajoling her, challenging her with the refrain: "Wilt thou refuse to do this for me?"
Jesus told her that it hurt him deeply to see so many of the poor, especially poor children, lost to sin and Satan. "Draw them away from the hands of the evil one . . . There are convents with [a] number of nuns caring for the rich and able to do people, but for my very poor there is absolutely none. For them I long, them I love. Wilt thou refuse?"
© Matt C. Abbott
---
The views expressed by RenewAmerica columnists are their own and do not necessarily reflect the position of RenewAmerica or its affiliates.
---