Matt C. Abbott
'Reclaiming Catholic Social Teaching'

By
Matt C. Abbott
October 31, 2014
Below is the introduction to
Reclaiming Catholic Social Teaching
(2014), by esteemed Catholic writer and professor Anthony Esolen. Thanks to Sophia Institute Press for giving me permission to publish this excerpt in my column. Click here to purchase a copy of the book directly from the publisher. God bless!
---
Introduction

A Return to First Principles
It shall even be as when an hungry man dreameth, and, behold, he eateth, but he awaketh, and his soul is empty: or as when a thirsty man dreameth, and, behold, he drinketh; but he awaketh, and behold, he is faint, and his soul hath appetite: so shall the multitude of all the nations be, that fight against mount Zion.

– Isaiah 29:8

Wherefore do ye spend money for that which is not bread? And your labor for that which satisfieth not? Hearken diligently unto me, and eat ye that which is good, and let your soul delight itself in fatness.

– Isaiah 55:2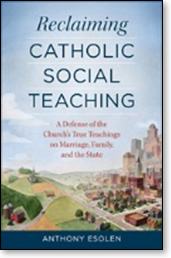 Is it possible, I have sometimes wondered, for a well-intended and intelligent person to get everything wrong, in the very matter upon which he sets his mind most energetically? It is more than possible. If he begins from false principles, and if he is relentlessly logical, and if he looks askance at common sense, at traditions that are the distilled wisdom of many generations and at the evidence of human affairs around him, he not only may get everything wrong; he
must
get everything wrong. If he were less logical, or more easily distracted from his ideas by the stubborn realities around him, he might blunder back into truth once in a while. But if he clings to the false principles, if they become to him a ruling deity, then he will be like Chesterton's madman who has lost everything
but
his reason. Or he will be like a carpenter whose tools are out of kilter. His T-square is oblique, his straightedge is crooked, his level wobbles, his plumb line drifts. If he keeps on building with those tools, never stepping back to look at what he has actually wrought, he will not have built a bad house; he will not have built a house at all. He will have built a wreck, a monstrosity. The first strong wind will send it toppling.
Even if his tools are right, if he refuses to respect the
nature
of the materials he builds with, he will succeed only in building a great ruin. Maybe, in some world of his dreams, willow
should
be as strong as oak, marble
should
be as light as concrete, and sand
should
be as stable as rock. But we must build in this world that we live in. In this world, a carpenter of long experience can tell you how to work with beams that are never going to be exactly straight. In this world, a mason of long experience can tell you how to build with stones that are never quite identical in shape and size. In the world of somebody's logical dreams, a boy with half the strength of a man may cut down an oak tree in twice the time. In this world, the ax will break the boy and leave his hands covered with blisters before he gets anywhere near the heart of the tree.
As in carpentry and masonry, so in human affairs. We must have good tools, and we must respect the material we work with; that is, we must begin from correct principles, and we must be steeped in humanity. We must know what human beings are, what they are for – or, to put it a different way, what perfection they should seek. We must also know their limitations, physical, emotional, and intellectual. And we must be honest about their moral weakness, what Christians call their fallen nature. Because any one person's experience is going to be quite limited, we must avail ourselves of the long experience of mankind that is summed up in that sad and glorious thing called history. Add to all of this that "we" the builders are also the objects of the building. We must be honest about ourselves.
The person who seeks out first principles, and who at the same time fixes his gaze upon human realities, is not likely to be fooled by phantasms. He is not likely to mistake a dream of bread for the real thing. Imagine someone appealing to Lord Baden-Powell, founder of the Boy Scouts, to justify the activities of gangs in Los Angeles. Baden-Powell wanted boys to do risky things, and what's more dangerous than running guns or smuggling cocaine or fighting another gang in a shooting spree? He enjoined upon the Scouts a stern code of honor and loyalty, and who is more loyal than a recruit for the Crips? Who is more willing to shed his blood for the honor of the gang? The reply must be, "You are mistaking a phantasm for a reality. That is because you have not gotten back to principles, and you are not really looking closely at human nature. It is not mere
risk
that we promote, but valor, staking all that you are for something truly noble, something that might well earn you the ridicule of the street crowd. We know that boys are attracted to danger. We do not seek to change that, even if we could. We want them instead to be attracted to something far more adventurous than a street brawl. We know that we can do this, because it has been done before, and that is something you seem to have forgotten."
Or imagine someone appealing to Michelangelo to justify pornography. Michelangelo painted nudes all over the Sistine Chapel. He endured the disgruntlement of the prudish, so that the figures in his Last Judgment were later provided with discreet veils and tunics and loincloths. He admired the sculpture of ancient Greece, and there are pieces of Greek pottery that would make even a high school health teacher blush. So why should a busy stockbroker in a hotel not relax in front of a television, watching whatever delights his sophisticated tastes?
The reply must be, "You are mistaking a phantasm for a reality, even while you appear to yourself to be considering nothing but a material fact, that there are nudes in both cases. But a doctor with a scalpel is not the same thing as a thief with a scalpel. Michelangelo sought to exalt the beauty of the human form, even as he shows us our fall into sin and confusion. He sought to remind us of the glory that is still ours, though we have tarnished it and half forgotten it. That is not the case with the pornographer, whose work appeals only to the brutish or demonic within us, so that we do not actually care about the persons or the faces on the screen. Michelangelo lifts up and liberates. The other suppresses what is most human, and enslaves. You may say that it
need not
be so. You might as well say that men
need not
grow filthy by living among swine. But they
will
."
First principles and human realities – we must return to them. They are what this book is about.
Imagine someone appealing to Florence Nightingale to justify doctor-dosed suicide, on the grounds that she wanted to relieve suffering. Imagine someone appealing to St. Francis of Assisi to justify looting, on the grounds that his heart was with the poor. Imagine someone appealing to St. Catherine of Siena to justify a famous American feminist who says that human progress requires abortion on demand, on the grounds that Catherine was a strong woman who gave the Pope himself doses of bitter and salutary advice.
The phantasms of materialists, whose principles are wrong and who cannot even see the material reality before them!
Imagine a lawyer returning his fee when he loses a case; imagine a television pundit suddenly admitting that he doesn't know what he is talking about; imagine a Hollywood starlet speaking
English; imagine anything most absurd, and you have not yet approached the absurdity of those who claim that Catholic social teaching implies the existence of a vast welfare state, utterly secular, materialist in all its assumptions about a good life, bureaucratically organized, unanswerable to the people, undermining families, rewarding lust and sloth and envy, acknowledging no virtue, providing no personal care, punishing women who take care of their children at home, whisking the same children into vice-ridden schools designed to separate them from their parents' views of the world, and, for all that, keeping whole segments of the population mired in generations of dysfunction, moral squalor, and poverty, while purchasing their votes with money extorted from their neighbors.
It is manifestly absurd to suppose that Catholic teaching regarding sex and marriage is one thing, in an old-fashioned trinket box, while Catholic teaching regarding stewardship and our duties to the poor is another thing, on a marble pedestal. It is absurd to suppose that Catholic teaching regarding the Church and her authority is one thing, the Latinate red-edged tome tucked away in a closet, while Catholic teaching regarding the laity is another, marching in parade. No, it is all of a piece. What the Church says about divorce is inextricable from what she says about the poor. What she says about the presence of Christ in the Eucharist is inextricable from what she says about human dignity. When we fail to see the integrity of the Faith, not only do certain truths escape our notice; the rest, the truths we think we see, grow monstrous, like cancers, and destroy the flesh they once seemed to restore.
The reason should be obvious to all believers. We worship one God, the Lord of all. The Word of God is not one thing at one time, and another thing at another time: it is Christ, the same yesterday, today, and tomorrow (cf. Heb. 13:8). There is only one name by which we may be saved, says St. Peter (Acts 4:12). It is not possible to kneel to the Lord on Sunday, while giving the "secular" days to Mammon or Baal, or to a deified State going by the name of Ramses or Tiberius or the Republic or whatever may be the fashion of the time.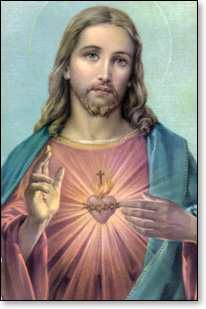 Jesus prayed that we might be one, even as He and the Father are one (John 17:11). Therefore, Catholics believe that the Lord established one Church upon earth, not a variety to meet the tastes and appetites of various men or various ages. I understand that the Church of Christ has been divided. Let it be considered as punishment for our sins, and never as something to be desired. To believe otherwise, to believe that there should be a church with one moral code for John, and another church with another code for Joseph, or a church to be endlessly tailored to fit the times, is essentially to deny the immutability and the unity of God. It is to worship ourselves instead.
The bonds of love that should unite man to God and neighbor to neighbor follow from the fact that man himself is one. Schizophrenia is no part of the original plan of the Creator. I cannot say I possess a religious self here that honors God in monetary matters, but a secular self there that reserves sexual matters to my all-determining will. Nor can I do the reverse. Jesus comes not to save parts of us – there are no such things. He comes to save indivisible souls. Sin vitiates not simply this or that faculty, but the whole man, since it is the whole man who sins, and the whole man who must be redeemed.
So if we are going to talk about the social teaching of the Church, we must address some fundamental questions: Who is God? What is man? How is man oriented toward God as the fount and aim of his being and his beatitude? Why has God made man a social being? What is a society? Why do we join with others? What is the first and foundational society? What is society for? What does virtue have to do with the good of man – man the social being? Is man capable of forming a just society without the aid of religion? Can that even make sense, granted who and what man is? How does sin vitiate man's reason, so that he mistakes appearances for reality? How does it vitiate man's will, so that he turns toward the evil that is near and easy, and not toward the good that is far and difficult? Can he attain the blessings even of this world, let alone the world to come, without grace? Can he, the social being, attain them while remaining outside of the special society ordained by God, the society that is a guide and a model for all other societies?
We must return to principles.
With that in mind, I turn to the writings of Pope Leo XIII.
Pope Leo is sometimes called the founder of Catholic social teaching. He would have been appalled by the credit. He intended nothing other than to apply to current concerns what Jesus taught His Apostles and what they handed down to their successors. He intended to teach nothing new. He is blessedly free of the mercurial ingenuity of a vain scholar and the meddlesome pride of an innovator. His thoughts derive not from the nature of the spanking-new modern State, nor from social advances sometimes more apparent than real, but from the changeless nature of man, discoverable by reason and frank observation, and by humble attention to the revealed word of
God. Leo never supposed that one could devise any social teaching without understanding what a society is to begin with, which requires that we understand what human beings are, and
why they are –
for what end God made them, male and female, in His image and likeness. Leo surveys the world from a mountaintop. He possessed a manifestly keen mind, but it was not that mind that gave him the vantage. It was the Faith.
He also surveys the world from the lesser but still grand promontory of natural reason. He heeds what the greatest thinkers, including the pagan philosophers of Greece and Rome, have to teach us. He draws upon that vast fund of human experience that is called
history
. His principles are not his own, but his reasoning from those principles is exact and clear. His conclusions, granting the premises, are irresistible. His predictions regarding what would happen if the Church were shouldered from her rightful duties are more than prescient. That would imply a special gift of foresight that he nowhere claims. They are simply
inevitable
. They also have come to pass.
Let us then turn first to God.
© Matt C. Abbott
---
The views expressed by RenewAmerica columnists are their own and do not necessarily reflect the position of RenewAmerica or its affiliates.
---