Matt C. Abbott
'Heroines of Spiritual Maternity'

By
Matt C. Abbott
November 11, 2014
The following are excerpts from the chapter "Heroines of Spiritual Maternity" in
Praying for Priests: A Mission for the New Evangelization
, by Kathleen Beckman. Thanks to Sophia Institute Press for granting me permission to publish these excerpts in my column.
Click here
to order a copy of the book directly from the publisher.
---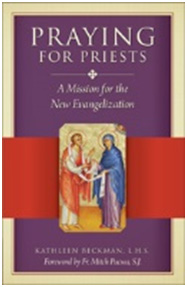 The saints who lived the charism of spiritual maternity teach us the beauty of interceding for our shepherds. Women of faith have greatly enriched the Church through lives totally dedicated to interceding for priests.
A great example of such a spiritual heroine is St. Faustina Kowalska, who records this in her spiritual diary:
"On one occasion I saw a servant of God in the immediate danger of committing a mortal sin. I started to beg God to deign to send down upon me all the torments of hell and all the sufferings He wished if only this priest would be set free and snatched from the occasion of committing a sin. Jesus heard my prayer and, that very instant, I felt a crown of thorns on my head. The thorns penetrated my head with great force right into my brain. This lasted for three hours; the servant of God was set free from this sin, and his soul was strengthened by a special grace of God."
God so loved the priest who was going to fall into sin that He inspired a humble nun to make an offering of herself on behalf of this shepherd! The measure of St. Faustina's charity for priests seemed boundless, but it was costly. The extent of her suffering was probably unique, and yet I sense that other consecrated brides of Christ in this very time are enduring such suffering for priests with the same generosity. While heaven alone has the consolation of seeing the hidden labor of the brides of Christ, the universal Church experiences the fruit of their sacrifice in marvelous ways.
The testimonies of past heroines of prayer are not only edifying but also instructive. Following are profiles of both well-known and unsung heroines who beautifully witnessed to the charism of spiritual maternity of priests. Most of these testimonies have been excerpted with gratitude from the Congregation for the Clergy's 2012 booklet, which beautifully articulates the lives of these heroines of prayer so we can see how they brought forth incredible, lasting fruit that can inspire a new generation of prayer warriors for priests.
St. Monica (331-387): laywoman, wife, and mother
St. Monica is a famous example of a mother's intercession for her son. After his radical conversion of heart, St. Augustine praised his mother's untiring intercession with words of ardent charity: "For love of me, she cried more tears than a mother would over the bodily death of her son. Nine years passed in which I wallowed in the slime of that deep pit and the darkness of falsehood. Yet that pious widow desisted not all the hours of her supplications, to bewail my case unto Thee where her prayers entered into Thy presence."
After his conversion, he said thankfully, "My holy mother never abandoned me. She brought me forth in her flesh that I might be born to this temporal light, and in her heart, that I might be born to life eternal. I have my mother to thank for what I have become and the way that I arrived there!" Through the ages, Catholic mothers and wives have taken St. Monica as their patron and inspiration. I implored her help quite often in the raising of my sons and was always strengthened by her example.
St. Catherine of Siena (1347-1380): single laywoman
Catherine was holy from her youth, and at the age of six she had a mystical experience of Jesus that forever changed her life. Her maternal love embraced priests through her constant intercession for them. She even became a spiritual mother to Pope Gregory XI, and in 1376 she persuaded him to move the entire Papal Court back to Rome from Avignon, France.
On one occasion, Catherine wrote the following to the Dominican friar Bl. Raymond of Capua, her spiritual director:
I've heard ... that you have been experiencing tremendous struggles and that your spirit has been overtaken by darkness because of the devil's illusions and deceits. He wants to make you see the crooked as straight and the straight as crooked, and he does this to make you stumble along the way so you won't reach your goal. But take heart. God has provided and will continue to provide for you, and his providence will not fail you. See that in everything you turn to Mary as you embrace the cross. And don't ever give in to spiritual discouragement, but navigate the stormy sea on the ship of divine mercy.

St. Catherine died at the age of thirty-three and was declared a Doctor of the Church in 1970 by Pope Paul VI.
Eliza Vaughan (d. 1853): laywoman, wife, and mother
Eliza Vaughan came from a strong Protestant family, which helped found the Rolls-Royce car company. Yet even during her childhood education in France, she was deeply impressed by the exemplary efforts of the Catholic Church in caring for the poor.
After she married Colonel John Francis Vaughan in the summer of 1830, Eliza converted to the Catholic Faith, despite the objection of her relatives. During the Catholic persecution in England under Queen Elizabeth I (1558-1603), the Vaughans' ancestors preferred imprisonment and expropriation to being unfaithful to their beliefs.
During the decades of terror in England, Courtfield, the ancestral family home, became a refugee for priests, a place where the Holy Mass was often celebrated secretly. Nearly three centuries had now passed, but the Catholic beliefs of the family had not changed.
So profound and zealous was Eliza's religious conversion that she proposed to her husband to offer all of their children back to God. This remarkable woman made a habit of praying for an hour each day before the Blessed Sacrament in the house chapel at Courtfield. She prayed to God for a large family and for many religious vocations among her children. And her prayers were answered! She bore fourteen children and died shortly after the birth of the last child, John, in 1853.
Of the thirteen children who lived, six of her eight boys became priests; two priests in religious orders, one diocesan priest, a bishop, an archbishop, and a cardinal. Of her five daughters, four became nuns in religious orders. What a blessing for the family, and what an impact on all of England!
Two months after Eliza's death, Colonel Vaughan wrote in a letter that he was convinced divine providence had brought Eliza to him: "I thanked the Lord in adoration today that I could give back to him my dearly beloved wife. I poured out my heart to him, full of thankfulness that, as an example and a guide, he gave me Eliza with whom I am still now bound by an inseparable, spiritual bond. What wonderful consolation and grace she brought me! I still see her as I always saw her before the Blessed Sacrament: her inner purity and extraordinary human kindness which her beautiful face reflected during prayer."....
Bl. Alexandrina da Costa (1904-1955): single laywoman
A story from the life of Alexandrina da Costa, beatified on April 25, 2004, reveals the transforming power and visible effects of the sacrifice made by a sick and forgotten girl.
In 1941, Alexandrina wrote to her spiritual director, Fr. Mariano Pinho, telling him that Jesus told her, "My daughter, a priest living in Lisbon is close to being lost forever; he offends me terribly. Call your spiritual director and ask his permission that I may have you suffer in a special way for this soul."
Once Alexandrina had received permission from her spiritual director, she suffered greatly. She felt the severity of the priest's errors, how he wanted to know nothing of God and was close to self-damnation. She even heard the priest's full name. Poor Alexandrina experienced the hellish state of this priest's soul and prayed urgently, "Not to hell, no! I offer myself as a sacrifice for him, as long as you want."
Fr. Pinho inquired of the cardinal of Lisbon whether one of the priests of his diocese was of particular concern. The cardinal openly confirmed that he was, in fact, very worried about one of his priests, and when he mentioned the name of the priest, it was the same name that Jesus had spoken to Alexandrina.
Some months later, a friend of Fr. Pinho, Fr. David Novais, recounted to him an unusual incident. Fr. David had just held a retreat in Fátima, and one of the attendees was a modest gentleman whose exemplary behavior made him pleasantly attractive to all the participants. On the last night of the retreat, this man suddenly had a heart attack. He asked to see a priest, to whom he confessed and received Holy Communion. Shortly thereafter he died, fully reconciled with God. It turned out that this man was actually a priest – the very priest for whom Alexandrina had suffered so greatly....
I can think of no better way to conclude this brief reflection on spiritual maternity for priests than to use a prayer composed by St. Thérèse of Lisieux:
Prayer for Priests

O Jesus, Eternal Priest,
keep Your priests within
the shelter of Your Sacred Heart,
where none may touch them.
Keep unstained their anointed hands,
which daily touch Your Sacred Body.
Keep unsullied their lips, daily purpled
with Your Precious Blood.
Keep pure and unworldly their hearts,
sealed with the sublime mark
of Your priesthood.
Let Your holy love surround
them from the world's contagion.
Bless their labors with abundant fruit,
and may the souls to whom they minister
be their joy and consolation here
and their everlasting crown hereafter.
Mary, Queen of the Clergy, pray for us;
obtain for us numerous and holy priests.
© Matt C. Abbott
---
The views expressed by RenewAmerica columnists are their own and do not necessarily reflect the position of RenewAmerica or its affiliates.
---