Matt C. Abbott
Planned Parenthood facility being built by company whose owner is supposedly Catholic

By
Matt C. Abbott
September 2, 2015
Catholic journalist Anita Crane has written about a new Planned Parenthood abortion mill that's being built by
Catholic-owned
Pizzano Contractors in Washington D.C.
Click here
to read about it and take (polite) action.
Additional information on this Catholic-owned business scandal can be found by
clicking here
.
(On Sept. 1, the Holy See released a letter by Pope Francis in which he asserts: "The tragedy of abortion is experienced by some with a superficial awareness, as if not realizing the extreme harm that such an act entails."
Click here
to read the letter in its entirety.)
Emily Zender, executive director of Illinois Right to Life, writes:
According to a YouGov poll, 70 percent of Americans have not even heard of the Planned Parenthood selling fetal body parts scandal!

If the media is going to gloss over Planned Parenthood's barbaric behavior like it's a bad movie, then we're going to take the news to the people ourselves. We can't sit back and hope someone else is going to fix it.

I need you to spread this flier [see below] throughout your church, university, friends, women's/men's group – any place you can.

We've intentionally kept the flier from going into details of the horrific scandal so a child's day isn't disrupted by reading this flier. Parents simply visit the URL to learn more.

Below is a JPEG image (the text and graphics are not as crisp as the actual flier) of the flier in its entirety, which should be distributed only in Illinois because of the pertinent statistics at the bottom portion of the flier.
However, below that image is a
cropped version
that can be distributed in all other states. The Web address/URL in the upper portion of the flier goes to a Web page that covers the national Planned Parenthood story, not just in Illinois.
To request a copy of the Planned Parenthood scandal flier in PDF format, please contact Illinois Right to Life by
clicking here
. Or you can email me.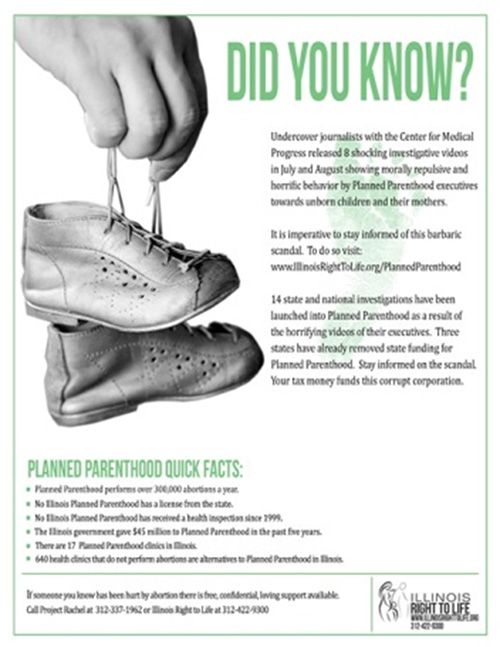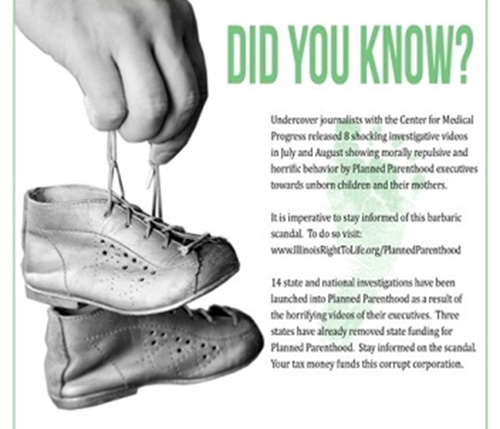 © Matt C. Abbott
---
The views expressed by RenewAmerica columnists are their own and do not necessarily reflect the position of RenewAmerica or its affiliates.
---