Matt C. Abbott
Chicago Bears' Patrick McCaskey talks faith, football

By
Matt C. Abbott
January 16, 2016
The following is an email interview I conducted with Chicago Bears co-owner Patrick McCaskey, a devout Catholic and public supporter of the pro-life movement. Thanks to Mr. McCaskey for taking the time to answer my questions.
---
MCA:
I applaud your public witness to the pro-life movement, as evidenced by your participation in the March for Life Chicago on January 17. What do you appreciate most about the movement? Do you have a favorite pro-life leader, either religious or secular?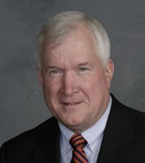 Patrick McCaskey:
When I was seven months in my mother's womb, she received the blessing for expectant mothers. I was born April 30, 1949 at Saint Francis Hospital in Evanston. When my parents brought me home from the hospital, my mother, Virginia McCaskey, wrote, "The lilacs in the side yard were in beautiful full bloom."
On May 22, 1949, I was baptized at Saint Mary's Church in Des Plaines. My grandfather, George Halas, and my aunt, Flossie McCaskey, were my godparents. Flossie was the mother of my father's cousin, Patrick McCaskey, who was killed during World War II, which we won.
Our version of family planning was to have the children born during the Chicago Bears' off-seasons. We had seven victories and four ties.
Here's a poem entitled "In His Steps."
We are not called
to walk on water
or change water into wine
or multiply loaves and fishes
or raise the dead
or be scourged
at the pillar
or walk
to Calvary
with a cross
on which
to be crucified.
We are not called
to do
what is impossible
for us.
Christ performed all
of those heavenly deeds
at a three-year pace.
It is for us
to follow
in His steps.
March for Life.

MCA:
How has your faith in God helped you through difficult times?
Patrick McCaskey:
In 1964, when I was a Notre Dame High School sophomore, I had hairline fractures in both hands during the preseason football practices. The varsity football coach, Fran Willett, said to me, "You don't run with your hands. Stay in shape."
In 1967, my aunt, Julie Wolff, declared a McCaskey Martyr Contest. Everyone had the opportunity to state their case. Later, my sister, Mary McCaskey, was the clear winner because she said, "I didn't even know there was a contest."
On Saturday, September 26, 2015, I went to 8:00 a.m. Mass at Saint Mary's Lake Forest. During Mass, some church concrete steps were painted.
After Mass, I had a church bulletin and my
Magnificat
booklet in my left hand. I slipped coming down the concrete stairs that were newly painted and still wet. My feet went out from under me and I bounced down a couple of steps. My left hand was bruised and my right hand was lacerated.
Father Greszik of Saint Mary's had said the Mass. He was called out of confession. He gave me a blessing that was not the Last Rites. He said that the church insurance would cover any costs. A Good Samaritan drove my car to Lake Forest Hospital.
The Lake Forest Fire Department Ambulance took me to the Lake Forest Hospital Emergency Room. My hands were x-rayed. My right hand received eight stitches. Yogi Berra was number 8.
The doctor is a Packers' fan. I told him don't be discouraged. Some of the greatest Christians started out as atheists. Jesus forgave the good thief. All he has to do is repent.
The Packers have thirteen championships. The Bears have nine. This is disconcerting. The Packers are doing very well for an expansion team.
Joan McHugh of Sports Faith International had been at the Mass. She called my wife, Gretchen, who has a masters' degree in nursing. I have First Aid merit badge. It was good to get other opinions.
Doug Plank used to say, "I'm cured; I just have some of the symptoms." Father Greszik also came to the hospital and repeatedly said that the Church insurance would cover any costs. I hope that the painter goes to confession. I wonder if the church will declare me a martyr.
MCA:
Do you have a favorite topic to talk and/or write about?
Patrick McCaskey:
The original meeting for what is now the National Football League took place on Friday, September 17, 1920 at Ralph Hay's Hupmobile Car Showroom in Canton, Ohio. That's why the Pro Football Hall of Fame is located there. There weren't enough chairs for Hay and Halas and the other founding fathers. So they sat on the fenders and the running boards of the cars.
"The Ten Commandments of Football"
I. Football is a wonderful game. There's blocking and tackling and much, much more. Be enthusiastic.

II. Weddings, births, and vacations should take place during the off-seasons.

III. Remember the Hupmobile and the original meeting.

IV. All previous games are preparation for the next one.

V. Obey the personal conduct policy.

VI. Work for the good of the league.

VII. Win championships with sportsmanship.

VIII. You shall not criticize the officials.

IX. You shall not covet other teams' coaches or players.

X. Game times are tentative and subject of flexible scheduling.

---
"If the Apostles Had Played Football"
If the Apostles had played football, they would have been a great team. Peter would have been the quarterback like Bill Wade.
Andrew was Peter's brother. They would have been used to playing catch in the yard. Let's put Andrew at receiver.
James the son of Zebedee and his brother, John, were known as the sons of thunder. They would have been the running backs.
We don't know much about Philip, Bartholomew, James the son of Alphaeus, Thaddeus, and Simon the Canaanean. So they would have been the linemen.
Doubting Thomas would always be encouraging his teammates to play harder. Let's put him at middle linebacker. If Mike Singletary had been one of the original Apostles, the other Apostles wouldn't have slept in the Garden of Gethsemane.
Matthew the tax collector was used to dealing with money. Let's put him at end like George Halas.
Matthias, who replaced Judas, would have been the kicker.
Paul would have been the writer like me. He wrote a lot of letters even though the Corinthians were the only ones who ever wrote back.
"A Bears' Prayer"

Bitterness is spiritual cancer.
Forgiveness is spiritual rapture.
Weather is a reminder that God is The Boss.
The Spirit strengthens us, even after a loss.
Jesus Christ is The Man; salvation is the plan.
When we dance God's dance, He gives us another chance.
God's work is efficient; His food is sufficient.
Here's a part of my prayers; Bear Down, Chicago Bears.

MCA:
Are there any NFL players/coaches, current or past, that have inspired you in some way?
Patrick McCaskey:
In the summer of 1915, my grandfather, George Halas, worked for
Western Electric in Chicago. On July 24, the company was scheduled for a ride on a ship called the Eastland in the Chicago River. My grandfather missed the boat; it rolled over on its side and 844 people died. If he hadn't missed the boat, the National Football League, the Chicago Bears, and I might not be here. Sometimes it's okay to be late.
My grandfather lettered in football, basketball, and baseball at the University of Illinois. He graduated with a degree in engineering in 1918. After my grandfather had graduated from college, he was in the service at the Great Lakes Naval Station. He played sports for them too. He was the most valuable player in the 1919 Rose Bowl. You could look it up. He played right field for the 1919 New York Yankees and batted .091. Then he played for the 1919 Hammond Pros football team.
On March 18, 1920, George Chamberlain met with my grandfather in Chicago. Chamberlain was the general superintendent of the Staley Company in Decatur. Halas was working in the bridge department of the Chicago, Burlington, & Quincy Railroad.
Chamberlain offered Halas the opportunity to learn the starch business and be the company's athletic director and football coach. He could also play on the Staley football and baseball teams. Halas accepted. The sports headline in the March 19
Decatur Review
read "George 'Chic' Halas Joins Staley Forces."
In 1921, there was a recession. Mister Staley couldn't afford to finance the football team anymore. He gave my grandfather $5,000 to move the team to Chicago with the stipulation that the team nickname be the Staleys for one year. So, in 1921, the team was the Chicago Staleys; they won the first of nine championships.
In the winter of 1922, the team name was changed to the Chicago Bears and it's been that way ever since. On February 18, my grandfather and my grandmother, Min, got married. Grandchildren of Mister Staley sometimes wonder what their lives would have been like if their grandfather had sold the company and kept the team.
My grandfather was an optimist. America needed optimists as it battled through the Depression and two wars during the 20th century. Those who knew my grandfather would tell you that he lived life with a passion every day and seldom looked back. His focus was always on football and he had a gift for providing encouragement and support.
© Matt C. Abbott
---
The views expressed by RenewAmerica columnists are their own and do not necessarily reflect the position of RenewAmerica or its affiliates.
---