Matt C. Abbott
Jesuits 'Wrestling with Whiteness'; New documentary honors Scheidler legacy

By
Matt C. Abbott
March 11, 2021
The Jesuits – specifically, the Jesuits West – will be hosting a series of training sessions titled "Wrestling with Whiteness." See their Facebook post below.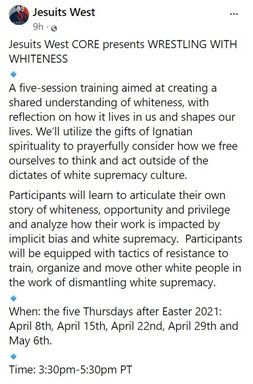 I'm all for authentic social justice, but these ridiculous and unnecessary "whiteness" workshops stem from radical leftism, not Catholicism. Click here to read the official teaching of the Church on social justice from the Catechism of the Catholic Church.
––––––––––––––––
The following is a recent news release (edited by this writer) from Tom Ciesielka, spokesman for the Thomas More Society:
Twenty-eight years, three visits to the United States Supreme Court, and the multi-billion-dollar abortion industry leveraging all of its power to stop one man from proclaiming the sacredness of human life from its earliest stages. This is Fighting for Life: The Story of NOW v. Scheidler, a new documentary premiering March 22 on EWTN.

Fighting for Life tells the tale of the historic legal battle that definitively secured the right of pro-life individuals and organizations to publicly decry abortion and advocate for the lives of unborn children. It looks at the legacy of Joe Scheidler, who passed away in January 2021, and the lasting effects of the impact that he and attorney Tom Brejcha have left on the pro-life movement.

Interviews with Scheidler, his wife Ann, Brejcha, and his wife Debbie, tell of their journey through the early days of the movement to the abortion lobby's accusation of violations under laws established to deter organized crime.

The Thomas More Society, a national not-for-profit law firm, was birthed in the crucible of persecution launched by the National Organization for Women against a man who believed that all children deserve a chance at life. Today, the firm continues to defend pro-life advocates against the powerful abortion industry and the political operatives it has financed.

'It was a challenge to cram almost thirty years of legal wrangling into a half-hour documentary,' noted Caryn Talty, producer of Fighting for Life. 'By hitting the highlights, we were able to convey the reality of this true-life saga about standing up for what you believe to be right, no matter how strong the opposition.'

Talty views the real beauty of the story as being that Scheidler and Brejcha beat the odds. Today, pro-life advocates can stand outside of abortion facilities and share life-affirming alternatives, pray for an end to abortion, and decry the cruelty and violence of the act.

Fighting for Life: The Story of NOW v. Scheidler debuts March 22 at 6:30 p.m. (Eastern) on EWTN. To learn more about the documentary, click here. And click here to see the trailer.
© Matt C. Abbott
---
The views expressed by RenewAmerica columnists are their own and do not necessarily reflect the position of RenewAmerica or its affiliates.
---