Ronald R. Cherry
I died for you today

By
Ronald R. Cherry
July 7, 2019
July 7, 1944
The Battle of Saipan
, D-Day of World War II's Pacific Theater, began on June 15, 1944, nine days after D-Day at Normandy, reaching its bloody climax seventy five years ago today. Saipan was an Island battle in the Pacific Theater which witnessed the largest Japanese Banzai Charge (Gyokusai attack) of World War II. The Battles of Saipan, Tinian and Guam, in the
Marianas Islands
, were prosecuted in association with the U.S. Navy's decisive victory during the largest aircraft carrier battle in history –
The Battle of the Philippine Sea
, i.e.: "
The Great Marianas Turkey Shoot
." American victory in the Marianas Islands paved the way for a strategic bombing campaign against the Japanese home islands via the
Army Air Forces
base on Tinian. Japan's defeat at the Battle of Saipan was a heavy blow which led to the resignation of Japanese Prime Minister
Hideki Tojo
– and the suicide of Vice-Admiral
Chuichi Nagumo
, commander of Japanese aircraft carriers at Pearl Harbor and at the Battle of Midway.
The Japanese military initially defended Saipan with 31,000 soldiers, but they had been degraded to 4,300 on this date under relentless assaults by the 71,000 American soldiers of the U.S. Army 27th Division and the U.S. 2nd and 4th Marine Corps Divisions. On July 7, 1944, at approximately 4:30am, the desperate Japanese soldiers stormed out of an assembly area at
Makunsha
on Saipan's Western coast, overrunning two out-posted infantry battalions of 105th Infantry, 27th division, killing over 600 American soldiers within an hour, while losing half their number. The battle ended several hours later at the 105th Command Post, near the coastal town of
Tanapag
, where the remaining Japanese soldiers were finally defeated by the now alerted and dug-in American Army soldiers, holding their ground, aided by a Marine Corps artillery regiment which was its self overrun.
My father
was at the 105th command post that morning where he and the soldiers under his command stood their ground engaging in brutal face-to-face and hand-to-hand combat, earning the Bronze Star. Dad said: "It was Hell," as he recounted the chaos of close quarters combat with his Thompson submachine gun. After surviving some of the worst that this world can offer, Dad, God rest his courageous soul, had nightmares about Saipan for many years after returning to his dairy farm home in Western Kentucky.
Captain John C. Chapin
, U.S. Marine Corps Reserve (Ret), recounted the brutal scene of battle as described by an Army rifleman from the 105th Infantry, 27th Division:
"Suddenly there is what sounded like a thousand people screaming all at once, as a hoard of "mad men" broke out of the darkness before us. Screams of "Banzai" fill the air... The avalanche hit the 105th Infantry, dug in for the night with two battalions on the main line of resistance and the regimental headquarters behind them. However, those two forward battalions had left a 500-yard gap between them, which they planned to cover by fire. The Japanese found this gap, poured through it, and headed pell mell for the regimental headquarters of the 105th... Our weapons opened up, our mortars and machine guns fired continually. No longer do they fire in bursts of three or five. Belt after belt of ammunition goes through that gun, the gunner swinging the barrel left and right. Even though Jap bodies build up in front of us, they still charged us, running over their comrades' fallen bodies. The mortar tubes became so hot from the rapid fire, as did the machine gun barrels, that they could no longer be used. Although each [attack] had taken its toll, still they came in droves. Haunting memories can still visualize the enemy only a few feet away, bayonet aimed at our body... The extraordinarily bitter hand-to-hand fighting finally took the momentum out of the Japanese surge, and it was stopped at last at the CP of the 105th..."
In his book,
Battling For Saipan,
by Francis A. O'Brien, a picture of the battle's culmination can be painted into your mind.
"Sometime between 0530 and 0615, hordes of Japanese soldiers who had slipped through the 105ths front lines and overrun the marine artillery batteries to the north and east, or had come down by boat along the seacoast between Makunsha and Tanapag Village, began to attack the 105th Regimental CP's perimeter from the north and both flanks. The Japanese soldiers shouted and ranted, waging sabers and bamboo poles with bayonets tied to the end. They were drunk with sake, firing rifles and machine guns and throwing hand grenades as they approached. Every available man in the 105th CP group rallied to the defense of the perimeter. Cooks put down their ladles, and mechanics their tools. Wire-stringers and radio men left their communications equipment and picked up their rifles. Clerks dropped their red tape and pencils, and all snatched up their rifles. All normal activities within the CP were suspended. Ammunition parties kept a steady stream of ammunition flowing along the front lines. The firing was continuous and effective. The soldiers exchanged blow for blow, bullet for bullet, with their attackers. The defense perimeter was never penetrated. For the next six to ten hours, these men put up a fierce resistance against the Japanese onslaught. More than 1,600 Japanese bodies were counted in front of the 105th CP's position... It was at the 105th CP that the Gyokusai attack petered out. For ten hours, the cooks, technicians, supply men, and truck drivers stood their ground, never budging an inch, and not one Japanese advanced beyond the line they set up."
Five American Soldiers received the Medal of Honor during the
Battle of Saipan
.
Captain Benjamin L. Salomon
, U.S. Army, 27th Division, 105th Infantry
Lieutenant Colonel William J. O'Brien
, U.S. Army, 27th Division, 105th Infantry
Private First Class Harold Christ Agerholm
, U.S 2nd Marine Division
Private First Class Harold Glenn Epperson
, U.S. 2nd Marine Division
Sergeant Grant Frederick Timmerman
, U.S. 2nd Marine Division
These five, along with 3,114 other American Soldiers, gave their lives in defense of American life and liberty on the Island of Saipan. Without their sacrifice, and that of so many others during World War II, our nation might now be governed by totalitarian force. The willingness to struggle and sacrifice by these courageous American soldiers, while prosecuting just war at the Battle of Saipan, meant that my father had a higher likelihood, but no guarantee, of survival during the battle's bloody culmination. Never forget these men who died for you and for me. Here is a poem written to honor and remember them.
I died for you today on a far off Pacific Island.
If you are concerned, to say the least, I'll tell you who I am...
I'm the soldier and the sailor – I'm the airman and Marine...
I'm the life blood of your nation – you sent me to this scene...
I'm the one who loads the Amtracks...I'm the pilot, just as well...
I'm the dedicated corpsman saving leathernecks who fell...
I'm the trooper of the airborne, I'm the Seabee with a trade...
I'm the wiry American medic dodging steel to give first aid...
I'm the tail gunner in the airplane, I'm the crew chief and the crew...
I'm the cannoneer and mortar man in the field defending you...
I'm the man of different races clinging to a rumbling tank...
I'm Catholic, Jew and Protestant, and I serve in every rank...
Call me Dominic, Smith or Kelly or pronounce my foreign name...
And regardless of my color – When I'm hurt, I bleed the same...
I'm Indian and I'm Mexican. I'm Polish, Dutch, Italian and Greek...
I'm every inch American and your freedom's what I seek...
I'm the southern boy from Florida, I'm the northern lad from Maine...
I've toiled in Georgia's orchards, and I've cut Montana's grain...
I came from every walk of life – from mountains to the slums...
I've lived, by God, through dust and drought, and I've prayed aloud for rain.
I've known hardship and depression; still I've watched our country grow...
But when Uncle Sam came calling I was proud that I could go...
I've watched demonstrations and the people who protest...
And I said "Thank God for freedom!" – my country's still the best...
So take your banners and your slogans. Raise your placards to the sky...
I'll defend your right to do it... Though in doing it. I'll die...
I'm your fathers – sons – and brothers...I'm the arm of Uncle Sam...
And I died for you today, my friend...On an Island called Saipan...



PFC Carl Dearborn – 4th Marine Division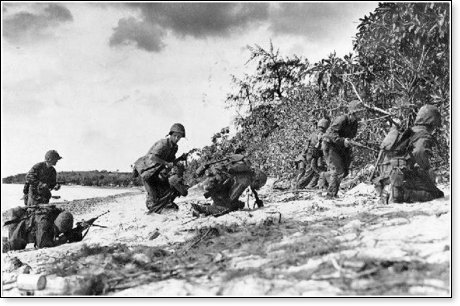 © Ronald R. Cherry
---
The views expressed by RenewAmerica columnists are their own and do not necessarily reflect the position of RenewAmerica or its affiliates.
---