Audrey Ignatoff
Is Howard Stern bad for America?

By
Audrey Ignatoff
August 6, 2015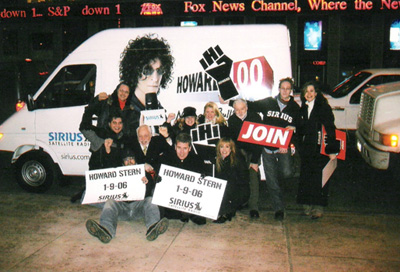 Howard Stern is a household name, and he has been a radio and television star for decades. As the "King of all Media," he earns a phenomenal amount of money as a Shock Jock, and has been a judge on
America's Got Talent
for four seasons, although he has recently announced that he will not return to the show. After earning $15 million per season, he stated, "I'm just too f–ing busy." His radio show was nationally syndicated from 1986 to 2005 and has aired on Sirius XM satellite radio since 2006. Obviously, he is liked and admired by many, and was even inducted into the Radio Hall of Fame even though his show was the most fined for indecent content. Mr. Stern is very intelligent, and has a bachelor's degree in Communications from Boston University. However, he has made a career out of knowing that there are many people who are drawn more toward stupidity and meanness than to intellectual programs. Many fans may be bullies already, or are encouraged to engage in this behavior with Howard's "mentoring." With the image that he is projecting around the world reflecting the taste of so many Americans, it is time to ask "Is Howard Stern bad for America?"
One memorable long-time guest on the Stern Show is Daniel Carver. Carver was the Imperial Wizard and Grand Dragon of the Invisible Empire, Knights of the Ku Klux Klan. However, even the KKK didn't want Carver in their organization anymore because he made terroristic threats. This didn't deter Mr. Stern from taking him into his "Wack Pack." Carver was in heaven with this opportunity because he could express his negative views about blacks, Jews, and other minorities. He frequently accused black men of raping women. When asked what he thought about Obama being elected president, he stated, "I'd rather be led by a monkey than a Devil (Jew)." Of course, other benefits for Carver included bringing customers to his KKK memorabilia catalog and his own roofing business in Georgia. Stern presented Carver an award in 1992 in a special live show.
https://www.youtube.com/watch?v=1CQwd1THVdo
One would ask why a Jewish person such as Howard Stern would help someone like Carver spread his hatred and give him a worldwide voice?
On New Years Eve 1993, Stern produced a special entitled
Miss Howard Stern Rotten Eve Pageant
on Pay per View out of Newark, New Jersey. It started with Stern coming out on the stage sitting on a toilet with his pants pulled down, cursing profoundly. Saying "Happy 'Fn' New Year." This show grossed over $16 million dollars in revenue and was the highest grossing non-sports subscriber event, and was watched by over 400,000 homes.
https://www.youtube.com/watch?v=GkX9Bn35UVo
It is interesting to note that Stern does not like Bill Cosby, who always portrayed values directly opposite to him. Cosby never cursed and tried to instill ethical values in his productions. After Hannibal Buress's video accusing Cosby of being a rapist went viral, Howard Stern was among the first ones who commented on it. He even had Buress on his show to talk about it, and how bad Cosby seemed to be.
https://www.youtube.com/watch?v=UjO52v8KAiY
A really popular segment on the
Howard Stern show
was called
The Evaluators
and it featured nearly naked women who wanted to be evaluated for Playboy Magazine. They were judged, criticized, mocked, and often demoralized by Stern and members of his Wack Pack.
The world can use a better role model than Howard Stern. He clearly believes in exposing and exploiting the worst frailties and flaws of human nature, and continually has degraded women on his program. I would rather believe that many people are smarter and kinder than they are portrayed on his show. Furthermore, he may be encouraging bullying behavior by those who want to emulate him because they see him as being "cool" and earning lots of money. People around the world can get the distinct impression that Americans are unintelligent, immoral, and prejudiced, and are into bullying. This image is clearly bad for America!
© Audrey Ignatoff
---
The views expressed by RenewAmerica columnists are their own and do not necessarily reflect the position of RenewAmerica or its affiliates.
---