Kurt Kondrich
The uncounted popular Vote

By
Kurt Kondrich
November 10, 2016
Now that the presidential election has finally been decided, there is much discussion and reflection about our nation's choice to lead us the next 4 years. Many are saying that despite losing the election Hillary Clinton received a majority of nationwide popular vote by a margin of about 200,000.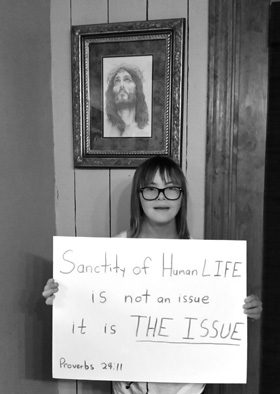 There were many differences between the 2 candidates on issues impacting the future of our country, but the facts were crystal clear on where Donald Trump and Hillary Clinton stood on THE ISSUE – the sanctity of Human Life. Mr. Trump made it very clear that he believed and supported the sanctity of Life from conception and his chosen Vice Presidential running mate Mike Pence is a lifelong Champion for LIFE. Hillary Clinton has a long track record of supporting abortion on demand up to the delivery date of the child, and she has made this very clear over the years even receiving the Margaret Sanger Award.
There is a group of American citizens who though not old enough to vote it is not difficult to determine who they would have elected if given the opportunity in this presidential race. Each day in our country we terminate the lives of 3500+ of our most innocent, vulnerable children, and since 1973 we have slaughtered 58+ million unborn citizens. During the 4 years since the last presidential election over 5 million children have lost their lives, hopes, dreams and future to the instrument of abortion, and they represent the most precious, priceless, irreplaceable resource our nation is blessed with. If the 5+ million children slaughtered the past 4 years and the 58+ million eliminated since 1973 had the opportunity to cast a "popular vote" I think nobody would disagree that they would choose the Presidential candidate who supports, embraces and pledges to protect the sanctity of Human Life. If we include the voices and count the "popular votes" of these unborn American citizens then it is safe to conclude that Mr. Trump would have a LIFE victory with a margin in the millions.
© Kurt Kondrich
---
The views expressed by RenewAmerica columnists are their own and do not necessarily reflect the position of RenewAmerica or its affiliates.
---