Kurt Kondrich
Priceless Down syndrome LIFE videos – please share!

By
Kurt Kondrich
June 21, 2018
Greetings,
I wanted to share these INCREDIBLE short professional videos made in NYC of Chloe and her amazing connection with God and a fallen police officer:
https://youtu.be/dFGFvi7xLx0
, and Chloe at the NYC gala where she received an award for her life advocacy:
https://youtu.be/UaGork2_4X8
. Chloe clearly is not disabled, and we are working nonstop to make our culture "EMBRACE, not erase" children with Down syndrome.
We are starting "Chloe's Foundation" to support children with Down syndrome and their families and assist families who want to adopt children with Down syndrome. I would love to speak to any organizations or individuals to share our vision, mission, and goals, and we will restore a culture of LIFE for ALL and end this silent prenatal genocide against Down syndrome which is the ultimate extreme form of prejudice, discrimination, profiling, social injustice, bias, bullying, and hate. I hope your summer is healthy, happy, peaceful, and blessed.
THANK YOU,
Kurt and family
Kurt A. Kondrich, M.Ed.
Chloe's dad
412-951-9117
https://www.facebook.com/kurt.kondrich
Proverbs 31:8 "Speak up for those who cannot speak for themselves"


Please Urge Your Pennsylvania State Senator to Protect Children with Down Syndrome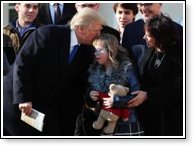 Good News! The Pennsylvania Senate Judiciary Committee has voted to report House Bill 2050, the Down Syndrome Protection Act, out of committee. The vote was a solid 10-5 in favor of the bill. To see how individual Senators voted, please visit: http://www.legis.state.pa.us/cfdocs/legis/RCC/PUBLIC/listVoteSummary.cfm?sYear=2017&sInd=0&chamber=S&cteeCde=39&theDate=06/13/2018&RollCallId=944.

The bill now goes onto the full Senate, which could vote as early as this week on the bill. Please call your state Senator and urge him or her to vote for House Bill 2050 because you want to see children with Down syndrome protected. If you don't know who your state Senator is, or you need contact information, please visit http://www.legis.state.pa.us/cfdocs/legis/home/findyourlegislator/#address.

Thank you for making these critical calls and sending these important emails!

© Kurt Kondrich


---
The views expressed by RenewAmerica columnists are their own and do not necessarily reflect the position of RenewAmerica or its affiliates.
---