Stone Washington
Infowars' Alex Jones battles the tyrannical technocracy and the shadow banning of Conservatives

By
Stone Washington
October 1, 2018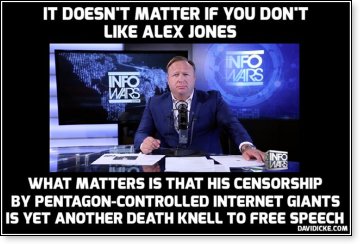 "Well, I was taken down not because we lie, but because we tell the truth. And because we were popular. And because we dared go to that committee hearing and stand up to Rubio and stand up to the lies of mainstream media and speak the truth."
~Alex Jones
Background to the Tech Tyrants censorship of conservative media
Until the Age of Trump, internet censorship had never been much of a subject for controversy or political discourse. But following the summer of 2018, an emergent wave of scandals involving the executives of America's top tech companies has exploited the greatest online crime against conservatives in the form of systematic, comprehensive, large-scale internet censorship. Many prominent conservatives have become the center of mass-censorship on Twitter, prompting the creation of the phrase "
shadow banning
."
As I explain in a recent
article
that I wrote for Campus Reform, "Twitter has faced heavy criticism from conservatives in Congress, the media, and the Trump administration following claims that some conservative users have been secretly 'shadow banned' by the social media entity, meaning their profiles did not appear in search results." Many prominent Republicans who have been shadow banned include: Andrew Sarabian (Donald Trump Jr.'s spokesman), RNC Chair Ronna McDaniel, Rep. Mark Meadows, Rep. Jim Jordan, and Rep. Matt Gaetz, all of whom have accounts that often do not appear when searched.
On Facebook, Mark Zuckerberg has faced heavy scrutiny after his company was caught selling millions of users' data to foreign governments, including at least four government-controlled companies in China. Zuckerberg was grilled by Republican members in the Senate Commerce Committee demanded that Facebook's chief executive officer, confess his involvement in the scandal of
user data being shared with at least 60 major device manufacturers
, weeks after the social media company falsely claimed it would change its practices, after a political firm got access to data from millions of users.
Like Twitter, Facebook was also exposed for discriminating against its conservative users through the mass censorship of conservative content and has been called out for its crimes by prominent conservative bloggers, Diamond and Silk, who revealed that their content had been hidden and deleted in many cases. Following the Congressional hearings and backlash, Facebook experienced the worst
stock market loss
in history, with stocks plunging $119 billion in market value and $16 loss for Zuckerberg personally.
In addition to these two tech groups, Google has in many ways been exposed as the greatest perpetrator of censorship against conservative ideas. Being the largest search engine, Google has taken heat for outsourcing control of its company to China, much like Facebook and Apple, essentially allowing the Communist Chinese government to control what type of content auto-populates after being searched. China has used this power to silence political opposition, namely Republicans and conservatives, in the United States that speak out against globalism, liberal fascism, and Democrats in general.
Censorship has essentially become the chief weapon harnessed by social media companies to block or cover-up Republican-centered messages in order to help Democrats win back seats in the House and Senate for the midterm elections.
As proof
, top Google executives were caught on video loathing the results of the 2016 election, deeply regretting that Donald Trump had been elected President, along with Google's Co-founder Sergey Brin even comparing Trump supporters to fascists and extremists. Also, in the video, Google's VP for Global Affairs Kent Walker radically acclaimed that Nationalist movements like the Trump campaign are motivated by "fear, xenophobia, hatred, and a desire for answers that may or may not be there."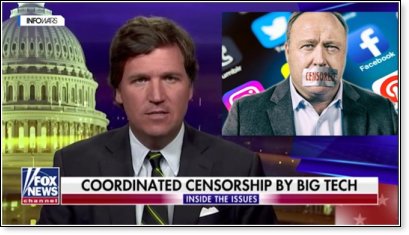 With all the scandalous dealings of the primary tech giants: Google, Facebook, Twitter, Apple, and YouTube, it's no surprise that Infowars, one of the most influential conservative radio stations and most outspoken voice against Globalism, has become the eye of the censorship storm, with each of these companies summarily banning Infowars content from their platforms.
Alex Jones has repeatedly predicted that this would happen, and on Monday 6 August 2018, the nightmare became reality, as
Infowars content was removed and videos blocked on all the major social media outlets
as part of the coordinated effort to silence conservative views. But this censorship has had an adverse effect, only greater inspiring the popularity of Infowars and constant efforts by Alex Jones and his team to serve as the tip of the spear in battling against online censorship and expose the collective crimes of the tech tyrants.
This article will examine the revolutionary counter-offensive that Infowars has taken in bringing this censorship issue to President Trump's attention, expose the evils of these oligarchical tech agencies to silence and suppress conservative views, while appraising and promoting liberal ideas, all in the efforts to return Congress to the control of the Democrat Party.
Infowars = 'The tip of the spear against Globalism'
On 8 August 2018, Alex Jones devised a brief, yet powerful
response
to the multilateral ban against Infowars and growing online censorship of conservative ideology. Jones attributes the essence of the revolutionary ideas conveyed by Infowars to the revolutionary ideas that spurred the Founding Fathers to wage war for American Independence, "Because this ideology that is now under attack is the same ideology that played a pivotal role in founding this great nation: challenging the establishment systems with independent ideas that encourage new debates and discussions."
Jones brilliantly exposes the double-standard that all of the CIA-created social media outlets have proven themselves guilty of in pledging to defend the Free Speech of their user base, yet at the same time becoming the very enemy they promised to fight against, in using mass censorship,
"We have been told that one of the greatest threats to our democracy is the manipulation of the information that we receive on social media platforms like Facebook, YouTube, and Twitter," Jones explains.
"Now, these same groups that have been telling us that free speech must be defended against those who seek to control it on our news feeds, have launched a full-scale war on the free speech and information that they disagree with."
In the statement's conclusion, Alex Jones speaks out against the establishment forces seeking to silence his platform, emphasizing how the opposite effect has in fact occurred, as Infowars had grown more popular: trending on Twitter's top list for a time, appearing at the top of Drudge, and the Info Wars app being the #1 successful radio app in the Apple store (before Apple heinously banned it) –
"But this coordinated action by the establishment to silence me has only awakened a new resolve in those who now see more clearly than ever how the establishment systems will go to any length to shut down free speech and information that questions the status quo," Jones explains.
"This is a turning point for our nation. Will you rally behind the principles of free speech, or will you concede to having your ability to access new ideas and information restricted and controlled by those who believe you cannot think for yourself?"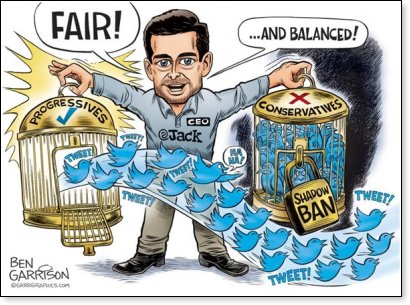 Alex Jones' speaks on visit to Capitol Hill concerning shadow-banning of conservatives
Below is a
segment
(first video in article) of the War Room (6 September 2018) with Owen Shroyer interviewing Alex Jones on his courageous journey to Capitol Hill amid the
Congressional hearings
on internet censorship.
OWEN SHROYER: "Welcome back to the War Room, I have to tell you, I'm actually getting probably the best exclusive in the World right now. I have access to Alex Jones, and he is the #1 story in the World. And he's been now officially terminated from Twitter, the last bastion he had to go live on one of the mainstream social media networks; Alex you've now been banned. So what do you do next? Why do you think you got banned? And what does this mean for Free Speech in America?"
ALEX JONES: "Well I was taken down not because we lie, but because we tell the truth. And because we were popular. And because we dared go to that committee hearing and stand up to Rubio and stand up to the lies of mainstream media, and speak the truth. And then we ran into Oliver Darcy, who is the secret police captain, who admits he goes around and gets people like Infowars taken off other platforms, because we confronted that monster that has abused us, lied about us, and taken our speech. Because of that they took us down and because of a group of Hispanic racist women, just like the KKK, came up and said, 'your mother married her brother,' Whites are 'monkeys,' and I said 'you're a racist'; well they hit us for that as well."
"
And because I dared to speak to 'lord Rubio'
, that [permanent ban from Twitter] happened. But they had paid Democrats, yelling and screaming up and down the halls, taking over the live events, but the media spun it like I was bullying the press. I showed up and all the cameras were on me because I was a big national issue. And there were big stories pressuring the companies, pressuring their stock, Soros was pressuring their stock, sorting their stock reportedly that if they didn't take me off, they'd do this. So, Jack Dorsey finally had his reason to do it, we knew it was coming."
"They're banning everyone, and they use me as the cover story. They first demonize who I am, build a strawman, and then they attack that strawman and remove it. So, thank God that
Drudge Report.com
has been so integral in this. They're clearly gearing up for a false flag on mainstream media. They're clearly gearing up to say that we're violent, and we're bad. This is the Deep State striking back and really pressuring these tech firms to censor. So that's what this is about. We're 60 days out from the election at midnight tonight. It's all unfolding, and they want us to shut up. Look anybody can go to Congress and go to these hearings and talk to the media. Anybody can stick their camera in Marco Rubio's face. So that's why we're calling for the Infowars army to peacefully go to all these events. No one can stop you ahead of this big event they have planned."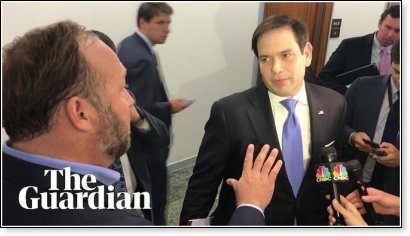 Alex Jones stands up to Senator Marco Rubio during the Congressional hearings (5 September 2018).
"I was there saying 'Hey, I'm the one they're talking about in the hearing, I'm the one they're claiming is a Russian agent. I'm the one that's been talked about in all these other hearings. I'm the one on the front page of the paper. I want you to do something, conservatives and libertarians are being persecuted; we're being shut down. Rubio went, '[snicker] I don't know who you are man, get out of here, you're nobody, you're banned.' And... later today he gave an interview saying 'No, I know who Jones is, I don't want to give him any attention.' Yeah, no kidding! But that elitist response to saying 'I don't know who you are' was very polite to Rubio. But that's another thing, they don't want me on You Tube, or Facebook, or Twitter, because they want to lie about me and not have me respond."
OWEN SHROYER: "And isn't that the key though Alex, because Twitter, You Tube, and Facebook is where 90% of media consumption goes down and marketing happens on the web. Now that you're off of there, they're already financially crippling you. But, like you said, it's that ability to go live and to jack into the Matrix in real time. Something breaks, big hashtag, boom: Alex Jones is live, they have to stop that; that's their biggest thing."
ALEX JONES: "Well I forgot to say that, we were #1 on Twitter today, still in the top five today, and they're like, 'geez, we can't get rid of this guy', yeah, because people want freedom and they wanna watch what I really did."
OWEN SHROYER: "What do people think happened in America's history to even make this country great? There used to be stand-offs. You used to challenge people and you literally put your ideas on your life."
ALEX JONES: "Well that's it, the political establishment doesn't like Democrats or Republicans being challenged, and they wanna go after the President. The takeaway is, there moving against the President, they want 25th Amendment removal, when he's turned the economy around, so many great things. They're panicking, they're scared, they're making their move on all of us, right now. This signifies that the gloves are off, they're trying to destroy our basic birthright of the First Amendment."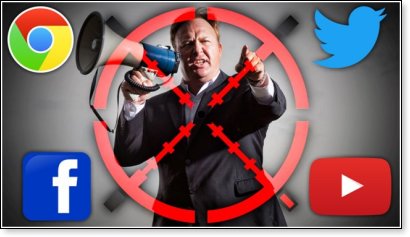 Conclusion to Censorship?
With Alex Jones and Infowars being censored and plucked from every major social media entity, all working in unison to uproot conservative thought and opposition to Democrats' midterm efforts, the battle still wages on. Despite the Congressional hearings that exposed Twitter's CEO Jack Dorsey and Facebook COO Sheryl Sandberg, censoring conservative media still remains a major and ongoing scandal.
Such is the case that President Trump has even threatened to
intervene personally
, crafting a recent draft executive order that would direct federal agencies to "thoroughly investigate whether any online platform has acted in violation of the antitrust laws." President Trump has often echoed his displeasure and disgust toward the tech giants shadowy scheme to censor all conservative content online, and has even been informed by Roger Stone, Alex Jones and others concerning the major ramifications that internet censorship has in suppressing the First Amendment freedoms.
It is the hope that President Trump's order will investigate the crimes perpetuated by the tech oligarchs, press charges against the top executives involved, and break up the companies much like former
President Theodore Roosevelt did in his infamous 1902 war against trusts
(mega corporations, aka "The Robber Barrons").Roosevelt used the Sherman Antitrust Act and the Supreme Court to enact regulatory reforms to suppress corporate mega-monopolies, which were very popular with the public (much like the tech companies are today), breaking up crony capitalism and economic oligopolies that squashed out competition for the 'little guy.' Today's 'little guy' is representative of Alex Jones and the abuse that Infowars has sustained in being attack from all sides in coordinated censorship efforts by the social media giants.
But, Alex Jones and Infowars have only grown stronger, having greater resolve and support than ever before by the millions of American listeners and app users to speak out against this internet fascism and heavily regulate these CIA created and Chinese controlled tech companies that have made it their primary mission to silence, shadow-ban, and censor all conservative media while upholding liberal Democrats for the 2018 midterm elections.
© Stone Washington
---
The views expressed by RenewAmerica columnists are their own and do not necessarily reflect the position of RenewAmerica or its affiliates.
---