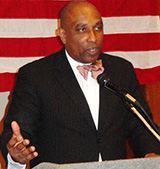 Ellis Washington
Affirmative action, affirmative slave chains

By
Ellis Washington
October 19, 2013
"It is hard to imagine a more stupid or more dangerous way of making decisions than by putting those decisions in the hands of people who pay no price for being wrong."
~Dr. Thomas Sowell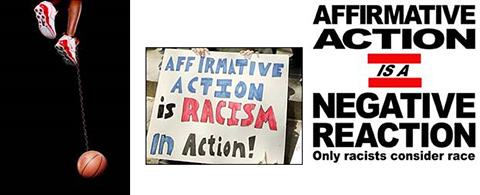 Prologue to a Nightmare of Good Intentions
President John F. Kennedy on March 6, 1961 signed Executive Order 10925 which created Affirmative action and required that government employers "not discriminate against any employee or applicant for employment because of race, creed, color, or national origin" and "take affirmative action to ensure that applicants are employed, and that employees are treated during employment, without regard to their race, creed, color, or national origin." Affirmative action has less to do with equality than with egalitarianism (equality of results); less to do with remedying historical slavery and Jim Crow discrimination against Blacks and other minorities and more to do with the hypocritical charade to assuage White Democrat Party guilt against Blacks who throughout history have constantly blocked true equality and success for Black people while behind the scenes Leftists perpetrate an invidious racism against real achievement which persists even to this day.
My strong contention in this article is to demonstrate that affirmative action is nothing but affirmative slave chains attached around the neck, writs, ankles and
minds
of my people; that for over 50 years progressive Whites have cynically used tokenism, race statistics and quota systems to allow
certain
Blacks to prosper (Democrats), but for those people like myself (conservatives) affirmative action has done nothing to help us become fully integrated commensurate with our educational achievements. The result is that I, and doubtlessly millions of other hard working minorities, have had to eke out an existence on the margins of a society called America the Beautiful.
Why do I compare affirmative action to slave chains? Because slave chains historically were used to bind, to dehumanize, to punish, to silence. Affirmative action punishes and enslaves truth and real achievement and forever stains all Black achievements with the epithet stamp of UNQUALIFIED.
SCOTUS vs. University of Michigan Affirmative Action Case
This week SCOTUS heard oral arguments regarding Proposal 2, a 2006 voter-passed initiative banning the use of race in public settings, including in admission decisions at Michigan's public universities. Although a decision probably won't come for months, yet when it does, it will have broad implications. If the court upholds the initiative, the debate over affirmative action in Michigan will essentially be dead, and efforts to prohibit it in other states will begin in earnest. If the court reverses the ban, affirmative action in admissions decisions at Michigan's public universities and in six other states will be restored.
In the fall of 2005, 2,618 of the 39,993 students on the University of Michigan's Ann Arbor campus were Black (6.5%). In the fall of 2012 – the latest year for which figures are available – 1,780 of the 43,426 students on U-M's campus were Black (4.74%). The 32% decline in the total number of Black students was astounding, even while the university overall is growing, but why?
Quoting Hillary Clinton, 'What difference does it make?' – If U of M has 6.5% or 4.74% or 0.01% Black students? 1) What difference does it make if they possess U of M degrees of worthless value because Blacks can't get hired in White America commensurate with their degree-level and skills due to the perceived stigma of affirmative action? (For the past 26 years I've held a U of M graduate degree which has been virtually worthless to my vocational aspirations); 2) affirmative action does nothing to remove institutional racism; institutions which are all totally dominated by the descendants of the very people who established slavery, Jim Crow, the KKK, socialism, secular humanism, Social Darwinism, eugenics, postmodernism, the welfare state, projects, ghetto life, liberal fascism, abortion of one third of Black babies per day, etc... (e.g., the Democratic Socialist Party, progressives, liberals, secular humanists)
Combining the two facts above, it is illogical, foolish and dangerous to believe that the very people who set up a racist system to benefit White America and guarantee failure, frustration and democide of Black America
now
have the good faith through affirmative action to treat
all
Black people fairly and live the good life? If that were true then why do we even need this hypocritical, unjust charade called affirmative action in the first place?
If they really wanted true racial equality then here is my message to White America – Start including Blacks in the "We" of We the People. This solution will never happen though because affirmative action is easier to implement than real racial justice. Affirmative action gives cover to racist liberals, progressive and establishment GOP Whites to feign the appearance of fairness, justice and equality while at every level and institution in America before and beyond college where theory meets reality Black Americans face higher rates of unemployment, crime, invidious discrimination, injustice and racial hatred than during the height of Jim Crow discrimination in the 1950s and 60s... even while under a two-term Black president!
Case No. 1: Professor Arthur R. LaBrew
Let me give you an example of the absolute irrelevance of affirmative action has had on my history teacher, mentor and friend,
Professor Arthur R. LaBrew
(b. 1930- ). LaBrew is a musicologist, concert pianist, teacher, founder and editor-in-chief of the Michigan Music Research Center (MMRC) in Detroit. In my opinion Professor LaBrew is the greatest unknown historian in America. He has published over 40 books, monographs, scholarly articles including his own journal, "The Afro-American Music Review." His latest works include two scholarly biographies on his two friends who have passed away – the great Black pipe organist and Bach specialist Melville Charlton (1880-1973) and composer/conductor Coleridge-Taylor Perkinson (1932-2004). LaBrew has also just completed the first volume of his 4 volume magnum opus, "International Dictionary of Black Music and Musicians..." a work for which as managing editor of MMRC since 1987 I helped edit. This magisterial opus alone has taken him over 50 years to complete.
This is just a small sampling of the oeuvre of this scholar, yet to this day neither his own alma mater Oberlin College (1948), the Manhattan School of Music (1952) nor the University of Michigan which boasts Michigan's most noted historians, have ever acknowledged any of his many scholarly and classical musical performance contributions despite the fact that Professor LaBrew can trace his piano pedigree back to Beethoven. This omission is way beyond affirmative action. There are tens of thousands of White academics in America whose scholarly output can't compare with this American Original, yet this unheralded historian whose academic works has discovered literally hundreds of thousands of Black musicians, Black contributions in culture including music, composition, music performances, art and theatre from 2,500 B.C. into the twentieth century, was never given the deserved honor of being a tenured professor in America.
It's not that he didn't try. In the 1960s LaBrew applied to the Ph.D. program in musicology at the University of Michigan with a strong recommendation from renowned music historian Dr. Robert Stevenson (UCLA), but was rejected because he knew more about his subject matter (Black classical music and musicians) than the professors who would be charged to teach him. Nevertheless, think how much further Professor LaBrew could have positively affected the marketplace of ideas if he had access to the massive academic apparatus his White colleagues have enjoyed for centuries – the university infrastructure, symposiums, tenure, financial help, intellectual help, research assistants, book deals, travel expenses, equipment, research grants, etc., etc. For over 50 years Professor LaBrew had to claw and scratch to get these things on his own with virtually no help. (He even self-published his own books and scholarly journals to protect his literary vision). Think if just one college would have hired him 40 or 50 years ago and granted him a professorship with tenure, it would have gotten him into the higher echelons of scholarly collegiality as opposed to the shantytown of misery, neglect and obscurity that has plagued his entire career as a historian.
Would the slave chains of affirmative action bring much-deserved public credence to Professor LaBrew's life's work? No, it would only sully and pervert his magnificent contributions to the marketplace of ideas because the present and future generations would say, 'Professor LaBrew was only able to achieve what he did because of affirmative action.' One problem with this assertion, Professor LaBrew achieved his degrees years before affirmative became law.
Case No. 2: Professor Ellis Washington
I wrote in a
previous biographical essay
about my own 30-year struggles to be judged not by the color of my skin and ideological worldview, but by the content of my character and actual scholarly achievements. Also, if for example, I have achieved intellectual feats in my legal career that no sitting member of the U.S. Supreme Court nor any law professors I know of has done who have tenure at our most esteemed Ivy-league law schools, and I did it
apart from
affirmative action, then why do good, non-racist White liberals, progressives and even establishment Republicans ignore these real achievements by Blacks like me and hundreds of thousands or perhaps millions of other minorities of every variety? Because these achievements were outside the affirmative action slave chain system, therefore certain Black accomplishments in the minds of White progressives aren't "authentic" and thus unworthy of notice, respect and emulation (e.g., Black conservatives – Justice Clarence Thomas, Thomas Sowell, Star Parker, Allen West, Alan Keyes, Pastor Levon Yuille, Shelby Steele, Herman Cain, David Webb, Mia Love, etc.).
Epilogue
Why does this existential, invidious racism against minorities who achieve outside the slave chains of affirmative action still exist in the twenty first century? Because the original intent of affirmative action was NOT equality, but egalitarianism (tokenism, racial quotas, and statistics), not real equality, but hypocritical counterfeit equality that for example, allows the Left to set up thousands of so-called "Office of Diversity" at colleges and universities all over America. White people aren't stupid. They are fully aware that these leftist bureaucracies don't further racial diversity, but on the contrary establish a progressive, socialist Groupthink throughout higher education because on average professors holding a conservative worldview (like me) are hired at the 0-10 percentile while those professors holding to a liberal, Marxist, progressive or postmodernist worldview are hired at the 95-100 percentile. Ergo, what type of students will American college propaganda factories likely produce – me or a Barack and Michelle Obama?
Is this affirmative action? Is this justice or is this White Democratic Socialist Party hypocrisy and invidious ideological racism? If it is the latter, it must be exposed and eradicated by more and more people in a power position to do so. America, stop allowing racist liberals, reactionary progressives, delusional evolution atheists and unhinged postmodernists the power to set up these phony institutions like affirmative action, Offices of Diversity, speech codes, hate crime statues and phony LBJ 1964 Civil Rights Act and 1965 Voting Rights Acts which LBJ cynically bragged to two governors aboard Air Force One if he could pass through Congress "I would have those Niggers voting Democrat for the next 200 years." Stop this insanity.
Let all people of good will rise up and with the Michigan voters who in 2006 passed Proposal 2 and say No to affirmative action. Let every Black American say No to the slave chains of White guilt, servile tokenism and racial quotas and have enough honor to say, "If I'm not smart enough to go to Harvard, then I'll go to Howard, but at least wherever I go to college I won't have the sword of Damocles hanging over my head, over my career telling all who view me that I didn't earn my education, my vocation, my rightful place in society."
End affirmative action, end affirmative slave chains!
---
Book Notice
Please purchase my latest opus dedicated to that Conservative Colossus, Supreme Court Justice Clarence Thomas. Here are the latest two new volumes from my ongoing historical series –
THE PROGRESSIVE REVOLUTION: History of Liberal Fascism through the Ages
(University Press of America, 2015):
Please circulate
this flyer
to all your email contacts & Facebook/Twitter followers who may be interested in purchasing this opus which will serve as a ready apologetic against the rampant Marxist-Progressive propaganda taught in America's public schools, colleges, universities, graduate schools, and law schools. Thanks in advance to all my friends, associates and colleagues for your invaluable support! Law and History Blog:
www.EllisWashingtonReport.com
---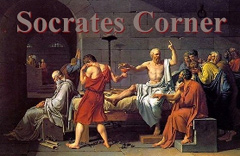 Invitation for manuscripts
I am starting a new a program on
my blog
dedicated to giving young conservatives (ages 14-35) a regular place to display and publish their ideas called
Socrates Corner.
If you know of any young person who wants to publish their ideas on any subject, have them send their essay manuscripts to my email at ewashington@wnd.com.
© Ellis Washington
---
The views expressed by RenewAmerica columnists are their own and do not necessarily reflect the position of RenewAmerica or its affiliates.
---