Arlen Williams
Interview: C. Steven Tucker after the IRS audit hit job on Bill Elliott & himself

By
Arlen Williams
November 30, 2013
Bill Elliott
and
C. Steven Tucker
each got letters from the IRS, on the same day, just before Thanksgiving, to let them know they are being audited – this man, suffering from a long bout with cancer, whose life had already, potentially been put to an end by Obamacare, and the man who helped him recover his cancelled health insurance policy.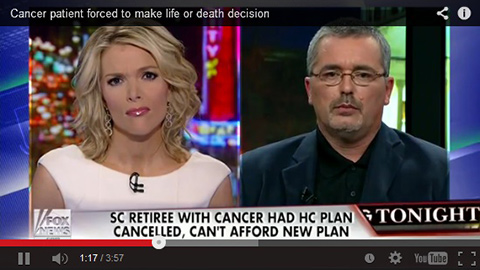 Elliott interviewed by Megyn Kelly, November 7
How it has been playing out and fits into the whole "big f___ing deal," as Vice President Biden more aptly called the "Affordable Care Act":
C. Steven Tucker's answers this Friday evening (indented) to questions from the Bound:
Q1:
So Tuck, what out of Hell just happened? So, Bill Elliot comes on Megyn Kelly's Fox News show on the 7th, says his insurance has been canceled due to Obamacare and since he can't pay for his cancer treatments he's just going to let nature run its course. You help him understand that previously written law requires his insurance company not cancel him. (And then you write a killer article warning other Americans of the same!) He and his company connect and they reinstate him. Now he indicates he's in remission? And then what day did you each get a letter from the IRS and what did it say?
Bill got his audit letter on the same day I received mine. That date was Monday November 25th. Bill's letter informed him that is being officially audited in the spring of 2014 whereas the IRS sent me a letter simply demanding $4,000 from me for the year 2003 and $2,000 from the year 2010 which must be received at their offices no later than December 26, 2013. Merry Christmas from the IRS.

Q2.
So, Happy Thanksgiving from the New Washington D.C., O Sovereign United States Citizen patriots in the way of of Obamacare Marxofascism, right? How do you feel about this?
I am disgusted that the IRS can pull numbers out of thin air, demand the money in a month's time and that there is no statute of limitations. 2003? For God's sake! Worse yet, my taxes are prepared each quarter by a professional CPA. I pay on time and I do not get 'tax refunds' and this is the thanks I get for doing the right thing each and every quarter year after year. And Bill worked for the government during the tax year in question so the government agency he worked for would assure that his IRS fillings were accurate. So this whole thing is a political witch hunt. There is a reason that Lois Lerner pleaded the 5th during congressional testimony and their is a reason that the IRS chief counsel repeated the phrase "I do not recall' more than 80 times during his congressional testimony. This is tyranny. Plain and simple.

Q3.
The news of it is getting all over the patriot blogosphere. Anything you believe is important to add, or correct, by this moment?
No. The New Media has done a phenomenal job of covering this story. I am eternally grateful for their due diligence and for their willingness to consistently perform the job that Barack Obama's Praetorian Guard media refuses to do.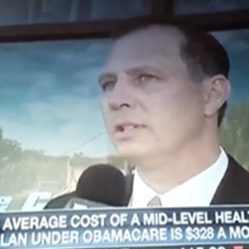 Q4.
I'm expecting to see you on network TV and radio about this, any updates there?
I have sent the follow up information to Megyn Kelly and hope that she has either Bill or I on her show for an important follow up to this story. The American people need to know that there are existing Federal laws that protect them from having their health insurance terminated when they are sick. Barack Obama has been lying to the American people for 4 years. Public law 104-191 (HIPAA) section 2742 disallows any health insurer from canceling your health insurance coverage when you are sick. That law was passed by congress and signed by president Clinton in 1997.

Here is the salient point. HIPAA is a federal law duly codified by congress and signed by president Clinton. HIPAA is referred to and expanded upon throughout the PPACA. It trumps a posting in the federal register by HHS secretary Kathleen Sebellius which was made AFTER the PPACA was signed into law by president Obama. This posting in the federal register literally changed the definition of 'grandfathered status' that was originally written in the PPACA in 2010.

This posting has resulted in 5.8 million policy holders losing their health insurance coverage. Many whom are struggling with a major medical illness like Bill. This is exactly the opposite of what Barack Obama promised over and over and over again when he said "If you like your plan you can keep your plan and no one will take it away from you, period." Using public law 104-191 section 2742, Bill was able to get his policy restored with the help of South Carolina governor Nikki Haley. Other Americans should be using the same section of HIPAA law to force their health insurers to comply and restore their coverage immediately. Most especially if they are sick.

Moreover, let me address another lie Barack Obama has been telling. That the plans being terminated are 'substandard plans.' The plans being canceled now are not substandard plans. Millions of these health insurance plans were designed in large part by HHS regulations which were passed down after 9/23/2010. These regulations required all major medical policies sold in the U.S. to include unlimited lifetime maximum coverage amounts. 65 'free' preventative care exams. "Children" staying on your plan until age 26 even if they are no longer living with you, dependent upon you or are even married.

This administration is canceling health insurance plans all over the nation that they designed under the PPACA regulations in order to force these existing policy holders to subsidize the high cost of the "Medal" plans which will be available inside and outside the new 'Health Insurance Marketplace" beginning 1/1/14. This is a deliberate action and the administration new about for more than 3 years.

As far as scheduled radio interviews. I will be on the Dan Proft and Bruce Wolf show on Chicago's WLS Am890 at 7:35 a.m. central time on Tuesday December 2nd and later that same day with my two favorite "Chicks On The Right" on 93.1 WIBC in Indianapolis.

Q5.
And... guessing you're getting in touch with legal council and with one or two people who work for us Citizens in Congress?
Q6.
So, I suppose in addition to health insurance advise... you recommend to your friends who spell out the difference between authentic America and the Antiamerica of growing globalist collectivism... to keep their tax records secured and handy, eh?
© Arlen Williams
---
The views expressed by RenewAmerica columnists are their own and do not necessarily reflect the position of RenewAmerica or its affiliates.
---