Arlen Williams
The sting of 'lesser of two evils' voting; a case out of Montana

By
Arlen Williams
October 18, 2014
We are faced with
lesser of two evils
voting come each even-numbered year. It seems as certain as death and taxes – more trouble to blame on The Fall of Man. "
The sting of death is sin, and the power of sin is the law.
" Maybe November voting should be called choosing the less violent of two stinging swarms.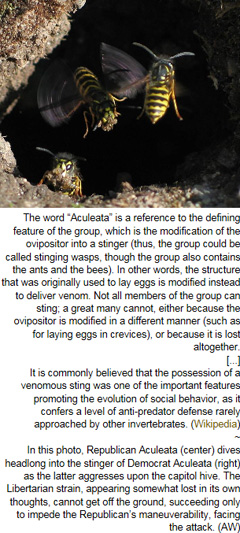 In an America bound up in the power plays of the two-party system, capable candidates must be discovered and promoted
for party primaries and caucuses
who may be found to uphold the purest set of policy objectives, based upon
America's central sovereignty system
. Such policies are often labeled by the relativistic word, "conservative," sometimes not. It can all depend upon that which one attempts to conserve. But if we wait for participation until the general elections, we only conserve what one hive or another produces without us.
The need to identify the best candidates during the primary season is a key reason
the Sovereignty Campaign
must take root and grow in influence. It must foster an
American authentist coalition,
if you will, for patriots to become as effective as we
must
become. That, whether one is
conserving
established policy, or in the more likely case, by this two-hundred, thirty-eighth year after the
Declaration of Independence
was signed,
reforming
both policies and politics, to return them to principle, thus theoretical and practical validity.
A self described conservative, Ed Berry, Ph.D. has come down from the mountains of Montana in an October 18th article published in NewsWithViews.com, where he refutes a rather strict libertarian leader (whom I also respect) with a nationwide following, concerning their state's Republican candidate for the House of Representatives.
In "
Chuck Baldwin is Wrong about Ryan Zinke
," Berry stands up for said Republican as a demonstrably better candidate than Democrat, John Lewis. A Libertarian candidate, Mike Fellows also running, is considered to have little chance to win and stands to draw appreciably more votes away from the Republican than the Democrat were he not included in the options. [
Ballotpedia.org page on this election
]
Despite his interests, even as Berry broad-brushes Republicans as opposing
Agenda 21
, he lists an alarming fact about Zinke among alleged qualifications, "an MS [Master of Science(s) degree] in Global Leadership." We would like to know more about this program. Many institutions, certainly including those educational, are being used by America's most pervasive enemy, to turn minds against sovereignly secure America, and to instead apply our nation's resources for the global hoarding of power and wealth. So, that degree brings an unpleasant ring to these ears, as they are tuned.
But, this article is not an evaluation of candidates. Aside from the matter of which may be more favorable on which issues, Berry makes a notable case for voting for the better or best candidate considered as having a chance to win.
Rather than drawing that out in new prose with numerous references, we offer an extensive excerpt. It includes personal and policy references, but we ask one's focus upon the moral and strategic philosophy involved. (Personally, Barry's own focus seems somewhat standard Roman Catholic in nature, which is fine with me, but I would also like to discover how the likes of America's
most
foundational
philosophers
, such as John Ponet, Algernon Sidney, and John Locke might have addressed this.)
Doctor Ed Barry:
Since moving to Montana in 2010, Baldwin has regularly attacked Republican candidates and promoted the Voting Mantra that helps elect Democrats.

Baldwin's diatribe against Ryan Zinke boils down to three claims that I define for reference:



1. The Voting Mantra: "A vote for the lesser of two evils is still a vote for evil."

2. The Moron Mantra: "Republicans are as bad as Democrats."

3. The Voting Decision: Democrat John Lewis is the better candidate for US Congress than Republican Ryan Zinke.



The False Voting Mantra

Baldwin confuses the Voting Mantra with Republican Party politics. They are separate.

Philosopher Kempis rejected the Voting Mantra and recommended its opposite in the 15th century in his The Imitation of Christ, where he wrote "Of two evils we should always choose the less."

Philosopher St. Thomas Aquinas confirmed Kempis's conclusion in his Summa Theologica, where he tells us our moral duty is to vote to achieve the most possible good and cautions we cannot achieve good by voting for a candidate who cannot win.

Philosopher Pope John Paul II agreed with Kempis and Aquinas in his Evangelium Vitae (The Encyclicals of John Paul II and The Genius of John Paul II). He wrote circumstances can create compelling reasons to vote for the so-called "lesser of two evils" if we can help prevent worse evils from occurring. In the example of abortion, he wrote we should vote for a more restrictive abortion law, or the "lesser of two evils," over a less restrictive abortion law:



"This does not in fact represent an illicit cooperation with an unjust law, but rather a legitimate and proper attempt to limit its evil aspects, in order to prevent worse legislation from being adopted."



The clear statements of Kempis, Aquinas, Pope John Paul II, and others, let us formulate the True Voting Principle:



True Voting Principle: "Our moral duty is to vote to achieve the most possible good, which eliminates voting for candidates who cannot win."



The Protestant Revolution did not reject the historical Catholic position on voting. All major Christian religions accept the True Voting Principle.

The True Voting Principle requires us not set mandatory conditions for a candidate to get our vote because that would conflict with our compromise necessary to achieve the most possible good.

The True Voting Principle leaves to each person the decision of how to vote to achieve the most possible good.

Some evangelicals believe they cannot vote for a candidate who is not 100 percent anti-abortion. Their belief is immoral because not voting cannot achieve the greater good.

America's Founding Fathers used the True Voting Principle to create our Constitution. Had they set mandatory conditions we would not have our Constitution.

Baldwin's Moral Errors

Baldwin's first moral error is adopting the Voting Mantra cult which conflicts with all major religions. The 1960's progressives started it. Third-parties adopted it. But it never worked and progressives abandoned it after their loss to Bush in 2000.

Baldwin's second moral error is setting mandatory conditions for his vote, which makes impossible the political compromise necessary to achieve the most possible good.

Oath Keepers National Chaplain Baldwin, Oath Keepers founder Stewart Rhodes, and the John Birch Society moved to Montana in 2010 and infiltrated Montana's tea parties. They preach the Voting Mantra, deceive tea party voters to vote Libertarian, and thereby helped elect Democrats Tester as US Senator and Steve Bullock as Governor. George Soros could not have been happier.

Baldwin claims "Republicans are as bad as Democrats." In 2012, Baldwin attacked Mitt Romney and helped Barack Obama:



"... Romney-Ryan administration will do nothing to change the downward spiral of the nation. They will continue the fanatical interventionist, preemptive war policies of Obama and Bush. They will also continue to build and construct the Orwellian domestic Police State ..."



Baldwin ignores that Obama is the first Alinsky-trained, progressive US President who hates America and whose goal is to make America a second-rate country. Hillary, the other Alinsky-trained progressive, is in line to put the last nail in America's coffin.

Top US Generals say Obama killing America say Obama and his staff are dumbest national security leaders America has ever had, they have put America in grave danger, Obama changed the US position from fighting terrorism to aiding and comforting terrorism, Obama may cause a Constitutional Crisis if he continues to refuse to protect the American people from the threat of ISIS and radical Islam, and, if this occurs, it may be necessary for the US Military to remove Obama from office.

Obama appointed 2 Supreme Court judges. One more and Obama will swing the present conservative-liberal balance from 5-4 to 4-5.

Obama plans to change our electoral system to reflect popular vote by executive order, which will make America a one-party system.

The Republican Platform is much more conservative than the Democrat Platform.

GOP resolutions oppose Democrats in securing our borders, immigration, religious freedom in the military, common core education, marriage and children, accountability of DHS, support for a strong space program, exposing UN Agenda 21, opposing UN global taxes, Federal Reserve transparency, protecting our Second Amendment from UN interference, stopping Obama's plan to bypass the Electoral College, and rejection of cap-and-trade.

Democrat votes with zero Republicans passed Obamacare and its tax increases. 46 Democrats vote against Second Amendment. 47 Democrats vote against First Amendment.

Republicans support,and Democrats do not support, CFACT's "Climate Truth File" and "Energy & Environment Truth File."

If you are conservative, you will favor Republicans.

All the while, America continues to slide down a long, slippery slope. Having to constantly deal with the lesser violent product of two bloated, birthing organisms, the Democratic hornet queen essentially captured by the devil, and the Republican queen bee both struggling with and tickled within the devil's grip, is an outrage.
Especially, unless and until more states adopt the runoff system, such dreadful considerations will be made again and again throughout the nation's general elections. As America slips and tips, we cannot afford to split the relatively pro-sovereignty, true-America vote between two candidates, while the revolutionary anti-Americans thrust forward their one, heavily financed and media-promoted by the global cartel collective.
Especially, unless and until more states adopt the runoff system, it is imperative for the will of patriots to be effectuated during Republican Party nominating processes, for sovereignty-centered candidates, rather than those prescribed by globalists of the same shadow cartel which owns and operates the Democratic Party monstrosity.
Ignoring the persistence of the Republican nest in either primaries or generals is trying to ignore all the bees as one reaches short-sleeved for the honey.
© Arlen Williams
---
The views expressed by RenewAmerica columnists are their own and do not necessarily reflect the position of RenewAmerica or its affiliates.
---