Matt C. Abbott
Health care: an alternative to 'no'

By
Matt C. Abbott
February 27, 2010
John F. Kippley, Catholic author and co-founder of Natural Family Planning International, Inc., offered the following commentary on the current health care debate.
In favor of a Personal Responsibility Insurance Act

By John F. Kippley
It certainly seems like a good idea to me that everyone should have access to health care via insurance, that health insurance should be portable, and that the wide community should share the costs of catastrophic diseases and injuries. These are the points on which the topic of health care reform solicits great sympathy on the part of many Americans. There are, however, five huge problems.
1. First, there is the role of government and the danger of another unsustainable entitlement program.
2. Second is the cost of such reforms.
3. Third is greed on the part of more than a few physicians who have learned how to milk the system to the max.
4. The fourth problem is that in all of the many words I have read about the reform of health care and insurance, I have seen nothing about reducing the cost of health care by reducing the items paid for by insurance. For example, I have seen arguments that abortion should not be paid for by insurance that is paid for by taxpayers or even by others in the same insurance plan who are opposed to this grave moral evil. But it also should not be paid for by taxpayers or by group insurance simply because it is a purely elective item. Even the pro-abortionists like to talk about it as a "choice." The same holds true for birth control devices and drugs. These are strictly matters of choice. They are entirely different from a disease caused by uninvited bacteria or injuries caused by an accident. There is no reason why the body politic or the members of a group insurance should be paying for these matter-of-choice items.
By the same token, taxpayers' monies should not be used to support birth control and abortion agencies such as Planned Parenthood. Regardless of one's view about the morality or immorality of these businesses, they are business that deal with private choices and do not deserve or need public support. No one who supports the continuation of Title X, the federal birth control program, is serious about reducing unnecessary costs of government.
I don't know if baby-care items fall into the area of health insurance, but parents should be required to take care of these items. The role of the government and health-care industry should be to persuade every new mother to do exclusive breastfeeding for the first six months, and then to continue to nurse her baby as other foods are added simply as supplements, not replacements for her breast milk. By six to eight months, babies don't need expensive "baby foods." Parents can feed them finger foods or mashed foods right off their own plates. For an overwhelming case for this, see "The Risks of Not Breastfeed for Mothers and Infants" by Alison Stuebe, MD, MSc. in
Reviews in Obstetrics & Gynecology,
vol. 2, no. 4, 2009. This is all about the risks of not breastfeeding in
developed
countries.
5. The fifth huge problem is that the widespread acceptance of unchastity is bankrupting the country. Try to estimate how much of your tax dollar goes to alleviate the effects of the sexual revolution. Start with the easy stuff — all the money spent on research, medications and nursing care related to AIDS. Expand that to the funds spent on other sexually transmitted diseases. Consider the increased health costs and the mortality that stem from the increased cancer induced by the Pill and other forms of hormonal birth control.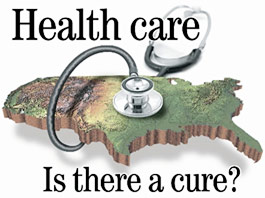 Realize that all of this has played a big part in raising the costs of your health insurance. Consider the costs of welfare to support single parents and their children. Take into account the cost of imprisoning criminals who grew up without the influence of a dad who cared. Add in the costs of government programs to promote unnatural forms of birth control and the costs of social services to single-parent families. Then realize that this chaos is not going to be resolved in a free country until the majority of free people accept the norm of human nature and not the norm of unnatural forms of birth control. The remedy for this is a return to biblical principles of morality. That's beyond the scope of immediate health care reform, but it is absurd to ignore this part of the equation.
Look at the casualty insurance. I suggest that some of what is needed by way of health care reform can be gleaned from the casualty insurance industry. First of all, casualty insurance companies can compete across state lines. Second, the insurance is for accidents, not choices. If my windshield is a little scratched after years of use, I can't morally take a hammer to it and get it replaced by my insurance. Or if I would like a different color, my insurance is not going to pay for a new paint job. Those are choices, not accidents. Third, they are based on actuarial experience. Eighteen-year-old male drivers of red sports convertibles are going to pay more than their parents driving a staid sedan. Premiums are related to personal responsibility.
Fourth and very important: The casualty insurance industry has a reinsurance industry. Companies that retail their insurance to us have also insured themselves against catastrophic losses. This seems particularly appropriate for the health insurance industry so that individual companies are not bankrupted by accepting newcomers with pre-existing conditions or by catastrophic health care costs of their existing members.
Here it is tempting to think in terms of the Fannie Mae backup insurance for the housing industry, but the abuses in this taxpayer-backed program rule this out. If the casualty industry can survive and be healthy after the recent great hurricane and flooding catastrophes, so also can the health care industry survive and flourish with proper discipline and reinsurance. A reinsurance industry might be at least part of the answer for hospitals and doctors who have to treat uninsured indigents.
At the heart of any true reform of the health reform are two character traits that cannot be legislated: personal responsibility for our own health; and service, not greed, on the part of everyone involved in the health care industry. With people taking responsibility for their own health and with insurance serving only to pay for things we can't avoid, we can once again have an affordable and humane health care system for all.
---
Related links:
"
NFP, Isn't That Rhythm?
"
"
Is Natural Family Planning a Heresy?
"
© Matt C. Abbott
---
The views expressed by RenewAmerica columnists are their own and do not necessarily reflect the position of RenewAmerica or its affiliates.
---