Matt C. Abbott
Boston priest's near-tragic 'Toyota experience'

By
Matt C. Abbott
March 1, 2010
I doubt
Father Kevin McGrade
of the Archdiocese of Boston will be singing the "Oh what a feeling — Toyota!" jingle any time soon.
A few weeks ago, the retired priest experienced something very similar to what a number of other Toyota customers have reportedly experienced in the last few years — the accelerator got stuck, causing his Toyota Prius hybrid to, in the words of the police report pictured below, "[speed] across the driveway then across the street into the Salt water marsh."
Father McGrade said in an e-mail that he was "not able to stop. The Prius continued to run in salt water for well over an hour; it would not shift, brake or stop."
Although he has some medical issues, they do not appear to have played any part in the incident, which could have caused him serious injury or even death.
"The insurance company totaled the car, leaving me almost $6,000 left to pay," Father McGrade said. "I have [an insurance] policy but of course they want to go after Toyota. I say fine, go ahead, but please pay my loan off first. It amazes me that I'm left hanging for $6,000 while they fight with Toyota."
Still, he doesn't want to sue.
"It is absolutely amazing. I posted the basics of the incident to the NTSB site and have since been overwhelmed with e-mails from law firms inquiring if I was looking for a firm to represent me. No lawsuit on my end; another case of ambulance-chasers looking for their next cash cow. I do, however, think those who have suffered physical harm or loss due to a failure that was known but not addressed deserve some compensation. All I want is the insurance company to meet its obligation in my situation."
Oh...the insurance company did provide a rental car for Father. The make and model?
A Toyota Camry hybrid.
(Below are police photos and images of documents pertaining to the incident.)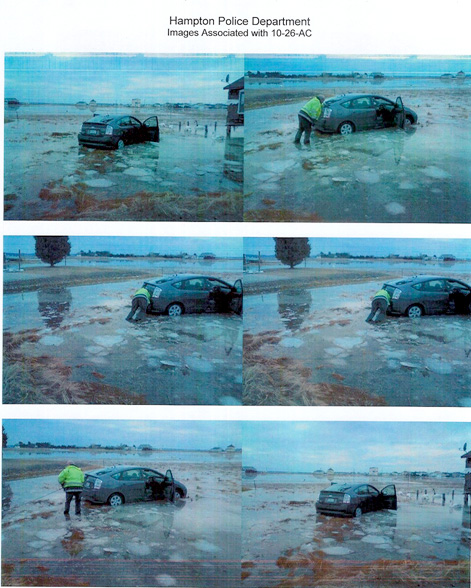 © Matt C. Abbott
---
The views expressed by RenewAmerica columnists are their own and do not necessarily reflect the position of RenewAmerica or its affiliates.
---