Ronald R. Cherry
American abolition of class struggle

By
Ronald R. Cherry
September 7, 2020

In the Communist Manifesto Karl Marx correctly points out that ancient societies worldwide, and feudal European societies in particular, were constructed on a top-down pyramidal system of law and government, with the few self-serving haves entrenched at the commanding heights, and the mass of have-nots enslaved and hunkered down at the bottom. Marx accurately painted a picture of ancient and feudal totalitarianism.
"The history of all hitherto existing societies is the history of class struggles. Freeman and slave, patrician and plebeian, lord and serf, guild-master and journeyman, in a word, oppressor and oppressed, stood in constant opposition to one another, carried on an uninterrupted, now hidden, now open fight, a fight that each time ended, either in a revolutionary re-constitution of society at large, or in the common ruin of the contending classes. In ancient Rome we have patricians, knights, plebeians, slaves; in the Middle Ages, feudal lords, vassals, guild-masters, journeymen, apprentices, serfs; in almost all of these classes, again, subordinate gradations. The modern bourgeois society that has sprouted from the ruins of feudal society has not done away with class antagonisms. It has but established new classes, new conditions of oppression, new forms of struggle in place of the old ones. Our epoch, the epoch of the bourgeoisie, possesses, however, this distinctive feature: it has simplified the class antagonisms: Society as a whole is more and more splitting up into two great hostile camps, into two great classes, directly facing each other: Bourgeoisie and Proletariat." Karl Marx
Marxists refuse to accept that, beginning with the American Declaration of Independence (equal natural human rights), and ending with the American Civil War, 14th Amendment (equal protection of law), and the overthrow of Jim Crow, the abolition of class oppression and class struggle has already occurred. Our American Founding Fathers, including Abraham Lincoln, began the abolition of class oppression and therefore the need for class struggle.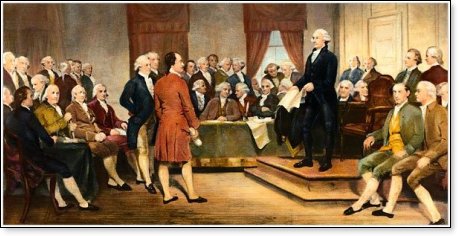 As Barry Loberfeld points out, in a free society such as the United States, the so-called proletariat are manual laborers, and the so-called bourgeoisie are business owners, entrepreneurs and professionals – all of us, at great sacrifice, already liberated from the injustice of unequal natural human rights and inequality before the law. Karl Marx was either honestly mistaken, or more likely deliberately stirring up class antagonism, creating anarchy purposed for a re-establishment of totalitarianism under the Marxist banner. Karl Marx was hell-bent on establishing forced equal outcome between the so-called proletariat class and the so-called bourgeois class, supposedly abolishing economic and social inequality, but the fact that some end up with greater economic or social wherewithal than others is of little concern as long as they got there under a system of equal natural rights and equal protection of the law – i.e., as long as they got there justly. Natural inequalities are not unjust. Marxists, like their French Revolutionary heroes, will not sit still until they achieve "real equality" by force of totalitarian government.
"We claim to live and die equal, the way we were born: we want this real equality or death; that's what we need. And we'll have this real equality, at whatever price. Unhappy will be those who stand between it and us!... We need not only that equality of rights written into the Declaration of the Rights of Man and Citizen; we want it in our midst, under the roofs of our houses... The French Revolution was nothing but a precursor of another revolution, one that will be bigger, more solemn, and which will be the last." Gracchus Babeuf
The Orwellian Paradox of Marxist Socialism is that the governmental power required to enforce equal economic and social outcome elevates an immensely powerful self-serving Marxist oligarchy of not-to-be-equalized equalizers, thus the Orwellian paradox of unnatural Marxist forced equal outcome is unequal outcome on an immensely greater scale than any natural inequality which existed before.
"It had long been realized that the only secure basis for oligarchy is collectivism. Wealth and privilege are most easily defended when they are possessed jointly. The so-called "abolition of private property" [Communist Manifesto] meant in effect the concentration of property in far fewer hands than before... In the years following the Revolution it [The Socialist Party of Oceania] was able to step into this commanding position almost un-opposed because the whole process was represented as an act of collectivization... It had always been assumed that if the Capitalist Class were expropriated Socialism must follow, and unquestionably the Capitalists had been expropriated. Factories, mines, land, houses, transport, everything had been taken away from them, and since these things were no longer private property it followed that they must be public property. Ingsoc [Socialist Principles of Oceania], which grew out of the earlier Socialist movement and inherited its phraseology, has in fact carried out the main item in the Socialist program with the result, foreseen and intended beforehand, that economic inequality has been made permanent [with the Socialists on top]." George Orwell – 1984
In a new twist we now witness the evolution of Classical Economic Marxist Socialism to include Cultural Marxism, with so-called oppression of non-Whites, non-Christians, non-Heterosexuals and Women. If American Marxists were truly dedicated to the abolition of unjust class oppression and racial supremacy in the United States they would aim for equal human rights and equality before the law, something that thankfully already exists with enforcement of our Declaration of Independence and 14th Amendment. It should be obvious by now that the violent and chaotic struggles of BLM and ANTIFA are not designed for the abolition of class oppression, but for the purpose of violence and social chaos its self, followed necessarily, if severe enough, by martial law and a "Dictatorship of the Proletariat," code for Dictatorship of the Marxists.
The time has come for a determined, long-term, manly, and if required sacrificial opposition to American Marxist Socialism, which represents nothing less than an anti-American counter-revolution. In order to defeat American Marxists, and thereby defend and restore the American Revolution, it will first be necessary to restore the American Mind, followed by an Anti-Marxist, Anti-Fascist Article V Constitutional Amendment.
© Ronald R. Cherry
---
The views expressed by RenewAmerica columnists are their own and do not necessarily reflect the position of RenewAmerica or its affiliates.
---