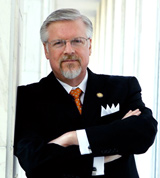 Rev. Mark H. Creech
Work: It deserves all the celebration it can get

By
Rev. Mark H. Creech
September 3, 2017
It was Peter J. McGuire, a leader in the Knights of Labor back in 1882, who proposed Labor Day as an occasion for a parade to be followed by a picnic, a holiday he described as being "representative of the industrial spirit, the great vital force of our nation."
McGuire's proposal would become a national holiday in 1894. Today Labor Day is something much more than parades, picnics, and political speeches. It is the celebration of something all-American.
Fiorello LaGuardia, the indomitable and charismatic Republican Mayor of New York City from 1934 to 1945, called Labor Day "America's Day" and said, "It is typically American because American labor, whenever it gathers, does so with love for its flag and country and loyalty to its government."
Former President of Moody Bible Institute in Chicago, Dr. George Sweeting, stated that Labor Day is the celebration of the "untold millions of men and women which have brought unequaled prosperity to this great land of ours. And only as we remember the value of true, hard work can we remain a strong and determined people."
Recently I was praying and thanking God that I have a job. Sadly, so many people don't. To have employment is something for which to be thankful – something we should never take for granted. We should pray for the many unemployed people in this country who want to work.
Work provides dignity to the human spirit and without it the soul flounders. Even the infidel Voltaire understood something of this when he said, "Work saves us from three evils: boredom, dissipation, and want."
Charles Kingsley admonished: "Thank God every morning that you have something to do which must be done whether you like it or not. Being required to work and doing so to the best of your ability will breed in you self-control, diligence, contentment and many other virtues which the idle will never know."
Once I corresponded with a man in a pastoral capacity about finding a job. He seemed to be dragging his feet in seeking out gainful employment. Even when an employment opportunity presented itself, he hesitated for a number of reasons. But I think he mostly wavered because he preferred his public assistance.
In an email, I lovingly reproved him and shared a few Bible verses about work. After each passage, I wrote my own thoughts in bold. Here's what I penned:
"Anyone who does not provide for their relatives, and especially for their own household, has denied the faith and is worse than an unbeliever" (I Timothy. 5:8).
Working is required to provide for one's own relatives, and not working to provide for them is a great sin.
"Whatever your hand finds to do, do it with all your might, for in the realm of the dead, where you are going, there is neither working nor planning nor knowledge nor wisdom" (Ecclesiastes 9:10).
Working is a great privilege given to the living. Whatever work you can find, do it enthusiastically.
"Serve wholeheartedly, as if you were serving the Lord, not people" (Ephesians 6:7).
"Whatever you do, work at it with all your heart, as working for the Lord, not for human masters" (Colossians 3:23).
Work is a part of our worship and service to God and not just men.
"The hardworking farmer should be the first to receive a share of the crops" (2 Timothy 2:6).
God honors the worker.
"You will eat the fruit of your labor; blessings and prosperity will be yours" (Psalm 12:2).
When we are willing to work hard, God promises blessings and prosperity will be ours.
"For even when we were with you, we gave you this rule: The one who is unwilling to work shall not eat. We hear that some among you are idle and disruptive. They are not busy; they are busybodies. Such people, we command and urge in the Lord Jesus Christ to settle down and earn the food they eat" (2 Thessalonians 3:10-12).
Work is to be honored and rewarded, but not idleness which lends itself to sin and various troubles.
"All hard work brings a profit, but mere talk leads only to poverty" (Proverbs 13:23). "From the fruit of their lips people are filled with good things, and the work of their hands brings them reward" (Proverbs 12:14).
Work is what leads to God's blessings and profit, not merely planning and talking about it. Pious discourse, prudent advice, and good intentions have their place, but it is from a good honest day's work we are abundantly blessed.
You can't climb the ladder of success with your hands in your pockets or simply waiting for your ship to come in.
The Apostle Paul was a qualified tradesman, and it was his claim that, wherever he stayed during his missionary journeys, he didn't want to be a burden to anyone. Instead, he wanted to be self-supporting and earn his money, and pay his honest debts by the work of his own hands.
Even Adam wasn't allowed to be idle in Eden, but God assigned him work to do, which was to tend the Garden.
I am sincerely sympathetic with those who struggle to find employment, but I also believe that if we will look to God and trust him for a place to serve, if we have a heart for labor, if we earnestly pray for a job, he'll provide us with something to do that provides sufficient remuneration and a prospect of even doing better.
There's an old English Proverb that says, "Get your spindle and distaff ready, and God will send you the flax."
Whatever labor has achieved in this great country of ours, it deserves all the celebration it can get.
Happy Labor Day!
© Rev. Mark H. Creech
---
The views expressed by RenewAmerica columnists are their own and do not necessarily reflect the position of RenewAmerica or its affiliates.
---