Cynthia A. Janak
Gardasil trials update--"New Medical Conditions"

By
Cynthia A. Janak
December 4, 2008
I found an interesting document on the FDA website about my favorite topic, Gardasil.
Subject: Clinical Review of Biologics License Application Supplement for Human Papillomavirus Quadrivalent (Types 6, 11, 16, 18) Vaccine, Recombinant (Gardasil®) to extend indication for prevention of vaginal and vulvar cancers related to HPV types 16 and 18.

Dated September 11, 2008

http://www.fda.gov/cber/products/gardasil/gardasil091108.pdf
This document is 187 pages long and I was scanning this document for adverse events. I did find something interesting starting on their page 132; it was Table 73, titled
"New Medical Conditions"
Days 1–15...
The total study participants were 5088 for Gardasil and 3790 for the Placebo. (Now let us remember that this group includes the Alum and carrier solution placebos.) The participants that they were able to follow-up with were 5012 for Gardasil and 3725 for the Placebo group.
What caught my eye with this table was the fact that these participants
did not have
these conditions prior to the study. I surmise this because of the title
"New Medical Conditions"
. So in essence these individuals were probably healthy average people with active lives and families.
Here is what I found.
New Medical Conditions Reported in Subjects through Final Close-out data in studies HPV-007, 013, 015, 016, and 018

The first table presents the systemic clinical adverse events in the 15 days after vaccination for subjects in studies 007, 013, 015, 016, and 018 in the Detailed Safety Population (subjects 9-26 years of age). This was the group who were followed with Vaccine Report Cards.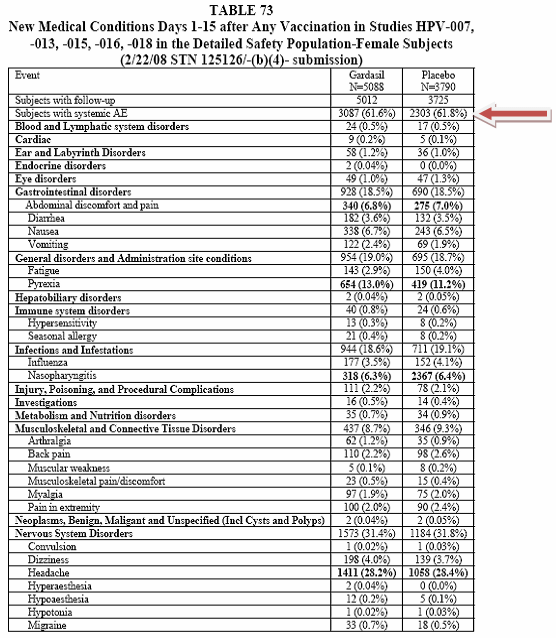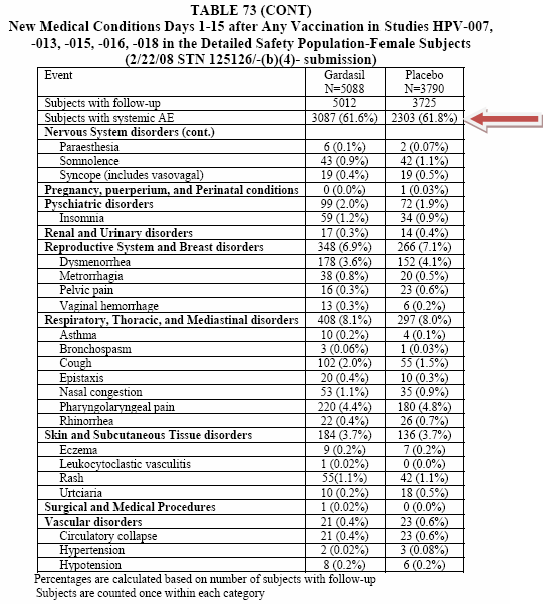 Reviewer's Comment: As noted in Table 73 above, the number of adverse events in each treatment group is comparable. The most common adverse events in either treatment group included headache, pyrexia, abdominal pain or discomfort, and nasopharyngitis. The proportions of subjects with each of these adverse events are bolded. When the original application was reviewed, focus was given to the subjects in the Detailed Safety group, because the proportions of subjects reporting a specific adverse event was higher than those reported in the entire safety population. The adverse events included in Table 73 above within each System Organ Classification represent the AEs that were reported most frequently in each group, or include adverse events that were reported in the post-marketing period (so as to provide information about adverse events of interest which occurred during the clinical period). The table of systemic events in the revised package insert includes those in which the proportion of events was higher in the Gardasil group as compared to the control group, but even though headache occurred more often in the control group, it was felt important to include information about this event within the package insert.
Now take a look at this table. It also shows
"New Medical Conditions."
What gets me upset with this table is that 73.3% of the Participants in the Gardasil group and 76.3% in the Placebo group ended up reporting that they had new medical conditions
after
the shot. Here is this table.
Reviewer's Comment: The proportions of subjects in each System Organ Class were comparable. The most common conditions reported were pharyngitis, upper respiratory infections, and influenza. There was a higher proportion of subjects with abdominal pain in the Gardasil group (5.0%) as compared to the saline placebo group (2.7%).

A total of 6 subjects reported a diagnosis of a specific autoimmune condition in their Month 7 to Month 24 medical history. Of these: 2 subjects were in the group that received Gardasil (AN 70327, a 14-year-old boy with a diagnosis of Autoimmune Thrombocytopenia reported at Month 18; AN 71311, a 14-year-old girl with a diagnosis of Juvenile Arthritis reported at Month 12); and 4 subjects were in the group that received placebo (AN 70434, a 12-year-old girl with a diagnosis of psoriatic arthritis diagnosed at Month 12; AN 71688, a 13-year-old boy diagnosed with psoriasis at Month 24; AN 71460, a 12-year-old girl with a diagnosis of psoriasis diagnosed at Month 18; and AN 70434, a 9-year-old girl with a diagnosis of Systemic Lupus Erythematosus at Month 24. Including the reported serious adverse experience in the subject who received Gardasil (ulcerative colitis), a total of 7 subjects were given a diagnosis consistent with an autoimmune disease. Thus, the cumulative incidences of such diagnoses were 3/945 (0.32%) in the boys and girls who received Gardasil and 4/482 (0.83%) in the boys and girls who received non-aluminum-containing placebo.
(I want you to be aware that the non-aluminum-containing placebo was the carrier solution of the vaccine.)
Look at this laundry list of
"New Medical Conditions."
I can't believe that doctors are going on television and stating that there are no adverse events and that the vaccine is safe. How can they do that and sleep at night.
Let us run some numbers as to the possibility of how many girls and young women could be adversely affected by Gardasil.
It has been previously reported that 10 to 20% of the female population has received one shot so to make this easier let us use the average of 15%.
Using the "Enumerated and Adjusted Census Population for 2000 and the ages of 10 to 29 years of age at 15% we have 5,804,329. What I am going to use next is the lesser of the two percentages for
"New Medical Conditions"
of 73.3% for the participants who received the Gardasil vaccine.
This is going to make you sick so please have the barf bag handy.
73.3% of 5,804,329 is
4,243,573
girls and young women may have acquired a
"New Medical Condition"
because of this vaccine. That means that each state has the potential to have 85,091 new individuals that are going to need health care. This also means that some of these individuals may need to apply for the state medical card to cover their medical expenses because they are low income or do not have insurance due to layoffs, inability to work, etc. I do not feel that the state health systems will be able to accommodate all these new individuals into an already financially in trouble health system.
In essence we know that there are 14,015 reports to VAERS as of September of 2008. This means that we have
4,240,558
girls and young women are seeking medical treatment for
"New Medical Conditions."
What we need to happen in this country is for every doctor, pediatrician or health professional that administered the Gardasil vaccine to follow-up with those individuals to see if they are one of the
4,240,558
with new medical issues.
I want to give you another little tidbit of information that is in this report.
Merck has their own adverse event reporting system. It is called "New Worldwide Adverse Experience System (NWAES).
Postmarketing safety surveillance is a worldwide, passive, spontaneous, and voluntary reporting system. At Merck & Co. Inc., the WAES database contains all spontaneous adverse experience reports from the marketed environment, serious reports from clinical trials, and reports from the medical literature. Adverse experience information is updated continuously. The retrieval of data is provided as a snapshot in time.

For submission of this report to the Gardasil Licensing Application, the NWAES database was queried as of 10/14/07 for all marketed adverse experience reports temporally associated with the administration of Quadrivalent HPV vaccine received from health care providers (HCP) for the period 6/1/07 through 9/30/07. Table 82 below lists the total number of reports and number of adverse experiences reported during this time period. Of the 8611 reports received, 660 reports (8%) were considered serious. Although the majority (6968 or 81%) of reports originated in the United States, reports originated in the following countries as well: Australia, Austria, Belgium, Brazil, Bulgaria, Canada, Colombia, Cyprus, Czech Republic, Denmark, Finland, France, Germany, Greece, Hong Kong, Hungary, Ireland, Israel, Italy, Lebanon, Malaysia, Malta, Mexico, Netherlands, New Zealand, Peru, Philippines, Poland, Portugal, Puerto Rico, Singapore, Slovakia, Slovenia, Sweden, Switzerland, Taiwan, Thailand, Turkey, United Arab Emirates, United Kingdom and Venezuela.

How I would love to know what the world wide totals are as of November of 2008. On second thought, no I would not because I probably would cry.
As you can see the only winners here are the pharmaceutical companies because drugs are being prescribed to these individuals and the testing facilities that are running the EKG's, MRI's, blood tests, etc. on all those affected.
My question is how could the FDA allow a vaccine that they knew could cause
an increase of 73.3% of "New Medical Conditions"
in the general populace? Does this constitute as neglect or assault on our unsuspecting youth.
For more information about Gardasil please go to my website
www.cynthiajanak.com
.
© Cynthia A. Janak
---
The views expressed by RenewAmerica columnists are their own and do not necessarily reflect the position of RenewAmerica or its affiliates.
---