Kurt Kondrich
The brightest lights on Broadway!

By
Kurt Kondrich
September 30, 2014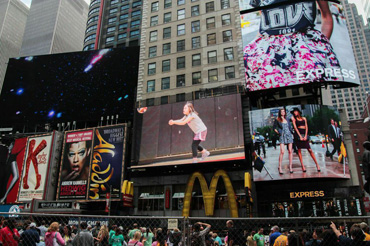 On 9/20/14 there was a priceless display of the sanctity of all Life in the heart of New York City. The National Down syndrome Society Awareness video played on the big screen in Times Square and the pictures highlighted the beauty and ABILITIES of these amazing individuals. A photo of my awesome 11 year old daughter Chloe playing volleyball was chosen for this magical presentation and countless people from across the country and globe gathered to see what an incredible blessing people with Down syndrome are to their families and communities. The sad reality is that 90%+ of individuals with Down syndrome never get a chance to submit pictures for this remarkable Times Square video because they are identified, targeted and eliminated prenatally. Our misguided culture that has embraced death, depravity and deception cannot afford to lose the bright light these individuals bring into our world, and this light was clearly on display in the Big Apple! Since Chloe's birth I have witnessed her piercing light of unconditional love and purity chase away much darkness, and imagine how bright our world would be if more people with Down syndrome were embraced and not prenatally erased. An old song about New York says "If I can make it there I can make it anywhere," and I pray and hope one day all human beings like Chloe and the ones in the Times Square video will be given the opportunity to be born and "make it here" to a world that desperately needs them!
Romans 13:12 "Let us put aside the deeds of darkness and put on the armor of light"
© Kurt Kondrich
---
The views expressed by RenewAmerica columnists are their own and do not necessarily reflect the position of RenewAmerica or its affiliates.
---