Kurt Kondrich
The unborn Down syndrome refugee crisis

By
Kurt Kondrich
November 22, 2015
The daily headlines are filled with stories about the refugee crisis spreading across the globe. Tensions are high as governments assess the security risk of admitting groups of these displaced citizens, and the vetting and screening processes for refugees is under intense scrutiny. A refugee is defined as "a person who flees for refuge or safety," and defending and protecting the most vulnerable citizens should always be a top priority in our culture.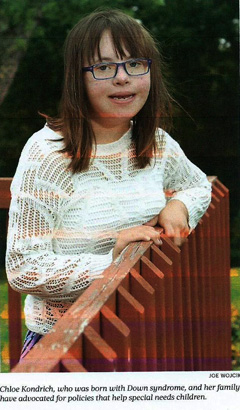 There currently is a group of unborn refugees who are receiving intense screening, and once they have been vetted and identified up to 90% of these unborn refugees are targeted and terminated. An unborn child becomes a refugee after 9 months of development in the womb when they must flee to the outside world for perceived safety and protection. Rapid advances in genetic screening and prenatal vetting have allowed individuals with Down syndrome to be identified before they leave the womb. Because of false perceptions and misguided mandates for perfection, a vast majority of these unborn Down syndrome refugees are eliminated before they are admitted as citizens into the postnatal world – a true tragedy and crisis!
My beautiful daughter Chloe was born in 2003 with a diagnosis of Down syndrome and when I watch Chloe and how she interacts with and treats others I realize that she represents what we should all be striving for as human beings. Chloe has no malice or evil and will never intentionally hurt someone. Chloe will never start a war, go on a shooting spree, spread lies, sell drugs, blow herself up, or be filled with greed. Chloe has taught many people priceless messages this culture desperately needs about unconditional love, purity, innocence, and real happiness. As I watch the nightly news I often wonder who the disabled ones in this culture are. Anger and hatred are spreading like a terminal virus as people lose their humanity and embrace violence. If the world was populated with individuals like Chloe we would need no police, no military, and no prisons which makes me ask the question, "Who are the disabled ones?"
As we grapple with the current refugee crisis my hope is that we who are labeled typical will strive to be more like those we classify as disabled, and one day we will celebrate the entry of unborn Down syndrome refugees into our world.
Hebrews 13:2 "Do not forget to show hospitality to strangers, for by so doing some people have shown hospitality to angels without knowing it."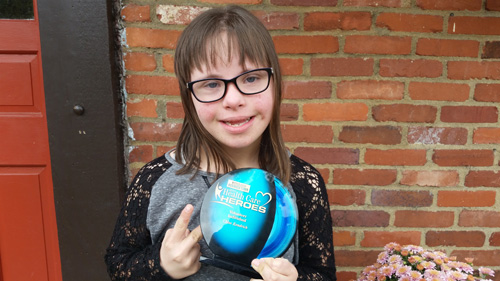 © Kurt Kondrich
---
The views expressed by RenewAmerica columnists are their own and do not necessarily reflect the position of RenewAmerica or its affiliates.
---