Kurt Kondrich
World Down Syndrome Day and the missing siblings

By
Kurt Kondrich
March 22, 2016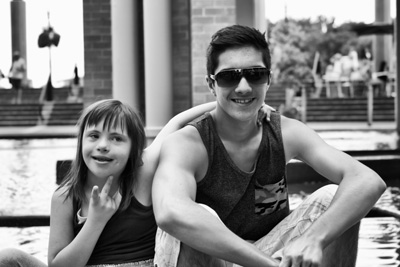 Monday March 21, 2016 marks the 11th anniversary of World Down Syndrome Day (WDSD) which was started to create a single global voice for advocating for the rights, inclusion and well-being of people with Down syndrome. The date for WDSD being the 21st day of the 3rd month was selected to signify the uniqueness of the triplication (trisomy) of the 21st chromosome which causes Down syndrome.
A recent study provides data that nearly 99% of individuals with Down syndrome ages 12 and older indicated that they were happy with their lives, and more than 96% of brothers/sisters who responded to the survey indicated that they had affection toward their sibling with Down syndrome. These are incredible statistics and reaffirm that individuals with Down syndrome are irreplaceable members of families and the community.
With this 90%+ rate of love, happiness and affection toward individuals living postnatally with Down syndrome one has to wonder why 90%+ of children diagnosed prenatally with Down syndrome are excluded from the most important right – Life. How can we celebrate global inclusion and well-being of individuals with Down syndrome when there is a silent prenatal eugenic movement to identify, target and eliminate these amazing people?
In 2003 my beautiful daughter Chloe was born with a diagnosis of Down syndrome, and the love, joy, light, and happiness she has brought to our family and community is immeasurable. My son Nolan was 4 when Chloe entered this world, and I cannot possibly imagine his life without his sister. Chloe has taught her brother and many of his friends the true meaning of unconditional love, real beauty and authentic purity, and that is a lesson our culture desperately needs right now. The bond between these 2 siblings is stronger and deeper than anything I have ever witnessed, and as a teenager Nolan has devoted and focused his life on serving and protecting others as he grows into a strong Christian man. Isn't that what we should be striving for in all our children instead of the message our society tunes into daily on WIIFM – What's In It For Me?
As we recognize another World Down Syndrome Day I think of all the siblings who have been denied the joy and light a brother or sister with Down syndrome would have brought into their lives because a false message of despair and darkness was relayed after a prenatal diagnosis. I have met many siblings of individuals with Down syndrome and they truly are some of the most remarkable people in our world. On this World Down Syndrome Day I would like to salute and recognize these brothers and sisters and ask everyone to help shatter the darkness about Down syndrome with the light of truth and Life!
John 1:5 "The light shines in the darkness, and the darkness has not overcome it"
© Kurt Kondrich
---
The views expressed by RenewAmerica columnists are their own and do not necessarily reflect the position of RenewAmerica or its affiliates.
---