Kurt Kondrich
A true champion for Down syndrome

By
Kurt Kondrich
June 12, 2017
Vice President Mike Pence and his wife Karen recently visited Grove City College where the Vice President delivered the commencement address focusing on the Christian values that have made this nation exceptional. Vice President Pence reinforced his unwavering stance on defending our most vulnerable children during his speech at this extraordinary college where Christian leaders are trained to stand firm in their faith, and the Vice President stated, "I can't tell you how proud I am to be Vice President to a President who stands without apology for the sanctity of life and all the God-given liberties in the Constitution of the United States."
Prior to delivering his Grove City address, Vice President Pence and his wife Karen took time out of their very busy schedule to meet privately with my amazing daughter Chloe who was born in 2003 with a diagnosis of Down syndrome. Shortly after Chloe's birth I learned that there was a prenatal genocide being waged against these beautiful children with 90%+ in some regions being identified, targeted and terminated in the womb for failing to meet the cultural mandate for perfection. When Vice President Pence was Governor of Indiana he recognized this prenatal eugenic movement and signed legislation to stop the slaughter of children like Chloe who bring incredible joy, love, purity and light to the world:
http://christiannews.net/2016/03/12/indiana-passes-law-banning-abortion-of-down-syndrome-or-dwarfed-children/
Chloe signed a book "Brilliant Souls" she is on and in for the Vice President and his wife, and our family thanked Vice President Pence for his steadfast commitment to protect and embrace children with Down syndrome from the moment they are conceived and receive a diagnosis. Vice President Pence tweeted about his meeting with Chloe and our family, and he and his wife focused on Chloe's ABILITIES:
https://twitter.com/VP/status/865933084738367488
Many in our society claim to be supporters of individuals with Down syndrome and talk about inclusion, diversity, tolerance and acceptance while never addressing the unborn holocaust of these awesome children once they receive a diagnosis. Prenatal testing coupled with the instrument of abortion represents the most extreme form of prejudice, profiling, intolerance, exclusion and eugenics, and in some cultures Down syndrome termination is 100%:
http://foreverymom.com/family-parenting/thanks-to-screening-and-abortion-no-babies-with-down-syndrome-are-born-in-iceland/
As prenatal tests rapidly advance unlocking more traits our culture labels defective or undesirable, we all need to ask who will be the next victims of this silent genocide?
It was an absolute honor and magical moment to meet with Vice President Pence and his wife Karen, and his actions clearly show that he is a true Champion for Down syndrome and the sanctity of our most precious, priceless national treasure – Human Life. We are very blessed to have the leadership of Vice President Pence for our one nation under God, and I firmly believe his remarkable faith, vision and guidance will end this American holocaust against our most defenseless children and restore the American dream for all people including individuals with Down syndrome from the moment of conception. Without question this is THE ISSUE of our generation, and since 1973 the instrument of abortion has ended the American dream for almost 60 million innocent unborn citizens. How we act or fail to act will shape the soul and future of our nation.
"Silence in the face of evil is itself evil: God will not hold us guiltless. Not to speak is to speak. Not to act is to act" Dietrich Bonhoeffer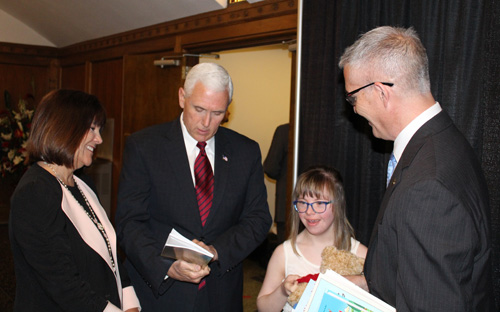 © Kurt Kondrich
---
The views expressed by RenewAmerica columnists are their own and do not necessarily reflect the position of RenewAmerica or its affiliates.
---