Kurt Kondrich
Pennsylvania's Down Syndrome Protection Act - PLEASE SHARE!

By
Kurt Kondrich
February 16, 2019
Greetings,
Here is a great National Article about Pennsylvania's Down Syndrome Protection Act, and if you live in PA PLEASE contact your State Senator and ask them to support this priceless legislation. We will end this ultimate extreme form of discrimination, prejudice, bigotry, profiling, exclusion, bias, hatred and prenatal death sentence to beautiful innocent human beings who fill our culture with unconditional love, genuine purity, non-judgmental kindness, and Light we all desperately need. Chloe and I will be engaged in advocacy to pass this historic law, and please help us to restore a culture of LIFE where people "Embrace don't erase" Down syndrome"!
https://www.nationalrighttolifenews.org/news/2019/02/pennsylvanias-down-syndrome-protection-act-being-re-introduced/
Link to find your PA Legislator:
https://www.legis.state.pa.us/cfdocs/legis/home/findyourlegislator/
"Silence in the face of evil is itself evil: God will not hold us guiltless. Not to speak is to speak. Not to act is to act." Dietrich Bonhoeffer
THANKS!
Kurt and Chloe
Kurt A. Kondrich M.Ed
President Chloe's Foundation
Chloe's Dad
412-951-9117
https://www.chloesfoundation.com/

Proverbs 31:8 "Speak up for those who cannot speak for themselves"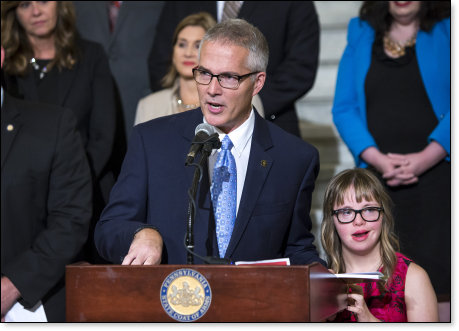 © Kurt Kondrich


---
The views expressed by RenewAmerica columnists are their own and do not necessarily reflect the position of RenewAmerica or its affiliates.
---