Frank Maguire
"Plata o Plobo!" "Take the money or we'll kill you"

By
Frank Maguire
June 5, 2010
Mario Obledo
, California Coalition of Hispanic Organizations and California State Secretary of Health, Education and Welfare under Governor Jerry Brown, also awarded the Presidential Medal of Freedom by President Bill Clinton
, "California is going to be a Hispanic state. Anyone who doesn't like it should leave."
I have three daughters who live in the purlieus of Seattle, WA. I spend many summer months in Washington, and I observe life in and around the sanctuary city of Seattle.
Seattle has some affluent enclaves, but much of it is comprised of middle to low-middle class communities. The real wealth lives outside the areas of high crime. The well-to-do have a self-comforting attitude toward violence that threatens the middle to low-middle citizenry.
It is a very common attitude among those outside the reach of the criminal elements. When a Hispanic or Black is murdered, the unaffected response is "It's not such a bad thing that these people are eliminating one another." It is a mind-set I find common among the moralizing "liberals."
The sanctuary city of Seattle has publicized its superior righteousness by boycotting Arizona. Such symbolic flap-doodle will not affect wealthy Seattle residents. This flush-with-funds upper crust won't abstain from their enjoyment in the pleasant Arizona climate, or their golfing at Arizona's plush resorts.
Nor will the well-heeled Seattle-ers be at all troubled when potential tourists stay away from their cynical surroundings. Which Washingtonians will take the hit? Those who work at the quotidian jobs...who subsist on tourist dollars!
But, the Seattle rich could be in for a rude awakening. One day it will dawn on them that their own oxen are being gored. Now they benefit from the cheap labor provided by the
braceros
and
trabajadores
who work in landscaping, construction, as domestics and restaurant workers.
The fact is that along with the illegal foreign nationals comes another less peaceful population of illegals: the drug gangs comprised of violent organizations like the
ZETAs, the Salva Maratrucha-13, and El Eme.
The gang-banger, cartel-killers just mentioned are well known to Arizonans who confront them regularly. It is our laboring here on the border that at least slows down the
diaspora
to such silly cities as Seattle. Not only must we contend with these assassins who cross from Mexico, where corruption reigns supreme, we have to deal with the likes of the "CRIPS" who come from that land I call "America's early warning system." California! The L.A. blood-spillers are in our deserts hijacking the Hispanic, drug-smugglers imports.
Arizona is said to be the kidnapping capital of the U.S. We try to deal with it...courageous persons like Governor Jan Brewer, "America's Sheriff" Joe Arpaio, and hundreds of Arizona's law enforcement personnel who put into action the universal law-enforcement code "Preserve and Protect."
Let me tell you that dozens of American cities are already under the control of the new
"Cosa Nostra
." How do these well-funded, well-armed thugs capture control? It doesn't take a genius to understand. Anyone who can be let-out without a keeper can get it. Threats, intimidation, and murder!
I visited the Tohono O'odham (The people of the desert) police department this past week. Until recently, the Tohono permitted virtually unlimited passage along their roads (they do, however caution travelers to not stray from the thorofares), but this has changed. Now they insist that one get formal permission to drive across their Nation. They are even beginning to enforce trespass laws.
I spoke with one woman employee at the Tohono p.d headquarters in Sells. I asked her "Are matters getting worse?" Without hesitation she answered "Absolutely." The Tohono people are not by nature and tradition grandiloquent. They keep it simple. Watch their face. When they say "absolutely," they mean absolutely.
The Nation's roads are now heavily patrolled by the Tohono p.d. They work hand-in-hand with the U.S. Border patrol, which has established more check-points.
"Hey Seattle, wake up and smell the nasturtiums,"
that stinky flower known as the "nose twister."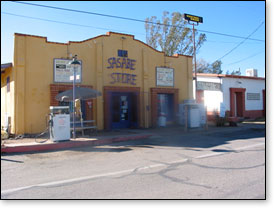 I also spoke with a friend (name not divulged, here) who is from the area called Altar. He now is a neighbor of mine in Arizona City. Altar, the district, extends from within the Arizona border south into Sonora, Mexico. I told him of my conversation with the Tohono p.d. He said that it is obvious that things are worse. He added that more and more he sees the Tohono police in Arizona City.
This very fine fellow, with a beautiful family, was born in Sonora. He visits relatives in towns from Sasabe southward, within about 60 miles of the Arizona border. He said that there are six small towns that extend south of Sasabe, and that in the first three, if you are foolish enough to cross the border, you probably won't come out. Especially, he said, if you're driving a nice truck which the drug people can use.
I just finished a book written by Gordon A. Hunsaker, a retired Phoenix cop who also did time on the L.A.P.D. This former Marine "devil dog" is one tough hombre. His book,
Gunfights and Gunfighters
, is not for the faint-of-heart or for the squeamish. It is graphic to the max. Hunsaker makes it very clear how the deadly cartels control communities: "Plato o Plobo." "Take the silver or take the lead."
The predominant victims of the threateners are the Hispanic foreign nationals who try to escape the corrupt mayhem of Mexico, and who are seduced across our border by ambitious politicians and greedy, money-grubbing businessmen. It is these immigrants-without-documents (
legitimate documents, not the forged or stolen variety
) whom the cartel killers "pay" to act in their behalf.
So sanctimonious, sanctuary city
schlimil's
, knock-off your phony moralizing. Wake up to reality. You should be extremely grateful to Arizonans who are taking the heat so that you can "be cool."
© Frank Maguire
---
The views expressed by RenewAmerica columnists are their own and do not necessarily reflect the position of RenewAmerica or its affiliates.
---