Frank Maguire
"Love is a climb, not a fall"

By
Frank Maguire
September 2, 2010
"Love the Lord your God with all your heart and with all your soul and with all your strength and with all your mind'; and, 'Love your neighbor as yourself. "
Luke 10:27
The Oxford and Cambridge don and Christian apologist Clive Staples (C.S.) Lewis wrote on the
The Four Loves
. He explained that the Greek language in which the New Testament was written has four words for
love
, each meaning something slightly different
: storge
(affection),
philia
(friendship),
eros
(romantic love), and
agape
(1 Cor. 13). In
The Four Loves
Lewis explores each of them, how they differ, and how they relate. He sees the first three as natural loves, but the fourth as the gift of God, without which the other three can become distorted.
The third love Lewis defines is Eros — erotic love. Erotic love is not to be taken for the immediate self-gratification and sexual utility that the world calls "love." What the world commonly refers to as love is most often self-love and the exploitation of others for one's own immediate amusement.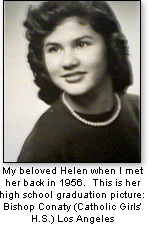 Years ago, in college, I wrote
"Love has no past tense."
In other words, if what we declare to be "love" dies, it was not love at all. A college mate of mine, and a great thinker and writer, Chris Potts, wrote
"Love is not a fall, it is a climb."
My beloved Helen, wife of 52 years (53 years come November 2010), has added to my definition of love. She has been my source
proximó
for understanding the real meaning of love. She is proof that love is faithful, loyal, dedicated, for better or worse, richer or poorer, in sickness and in health. Until death do us part — and even beyond. No past tense!
As a pro musician for over 40 years, I've sung many "love" songs and observed persons who have been sold the secular cultural of "love" and seen what Cole Porter described in his sardonic song of surrender
"Love for Sale."
Let the poets write of love
in their childish way,
I know every type of love
Better far than they.
If you want the thrill of love,
I've been through the mill of love;
Old love, new love
Every love but true love
Love for sale.
Recently I heard a marvelous description of love and marriage:
"Love is not the cause of marriage; it is the result of marriage."
It is the love depicted in
Fiddler on the Roof
between Tevya and Golda, in that love-classic,
"But Do You Love Me?"
American culture has succumbed to the popular depiction of love as portrayed in what we call, oddly, our entertainment media. Lust! Infatuation! Masochism! Joyless! — a sterile physical activity that reduces man, as Bill Buckley once wrote, to his private parts. "Love" has become
porneia
, the Greek word for prostitution, which has been Anglicized into "pornography."
When I met Helen, in 1956, it was a different world than the world of sexual obsession and compulsion that has become America. I was thrilled at my first attraction to the girl who was to become my beloved. What thrilled me? Her eyes! Her gentle modesty!
I had read, in my youth, that the "eyes are the windows of the soul." Later I read Jesus' words:
"The light of the body is in the eye; if the eye is pure, so will be the body
." The soul is the person, not a part of the person. Alas, sadly, young persons have been seduced into believing that the soul/person is not the essential focus of love. "Love" has become animal instinct and sexual attraction. "Love" has been reduced to taking, not giving. All sin, scripture tells us, is rooted in selfishness; all virtue is rooted in
caritas
— unselfish love.
Our culture has degenerated into temporal gratification, and rationalization for infidelity. It has become a past-tense, part-time relationship of sexual liaison — of lustful abandon, and abandonment. Consider the epidemic of adultery! There is nothing adult about adultery — "mature; "full grown" if this means physically, emotionally, and morally "grown." Adultery is puerile — a condition of arrested moral and emotional development. And, what is "adult" about adult book stores? At least in Jolly Oulde England they call their dissolute dumps "sex shoppes." The creeping decay and desensitization-marketing that has become America breaks my heart.
Recently I came across a fascinating article in the New York Times, entitled "Watching New Love as it Sears the Brain." Science, it seems, is finally catching-on to what real love is, and what faux "love" is. Better late than never, I guess, though it's taken them a long time to divulge the realities that simple folk with a moral foundation have known for a very long time.
In the Times article by Benedict Carey, the writer leads with
"New love can look for all the world like mental illness, a blend of mania, dementia, and obsession...."
Rutgers Anthopologist Dr. Helen Fisher writes,
"When you're in the throes of this romantic love, it's overwhelming...you're out of control, you're irrational"
In college, I had a psychology professor whom I admired: Dr. Kyle Esgate. One day in class we were discussing "hate." He asked the class for their thoughts. Many volunteered, as did I. I said,
"Hate, I believe, is not the fundamental source of apparently hateful behavior; I think that it's fear
." Dr. Esgate responded, "And
I think you're right."
Years later, I read in
1 John 5:8 "There is no fear in love; but perfect love casts out fear
:
because fear is torment. He who fears is not made perfect in love."
It seems that what the N.Y. Times writer and anthropologist Fisher are describing as the "throes of romantic love" is clearly torment. And the main ingredient in torment is fear. Fear of one's own insecurity — of one's present and future self-interest...of one's relative inadequacy. Merriam-Webster gives this definition of "torment":
a state of great suffering of body or mind <he was in torment for weeks after he broke up with his girlfriend
>.
Referring back to my college friend, Chris Potts, I recall another Cole Porter masterpiece:
"Falling in love with love is falling for make believe.... Falling in love with love is playing the fool."
Porter ends up his lyric with the condition that so many who don't know what authentic faithful love is:
"And love fell out with me."
Porter, unfortunately, did suffer a tormented life.
If I can advise today's culturally indoctrinated youth about real Love, I would counsel this. Understand lust and infatuation! Know that love is a climb. Prepare yourself for love for worse, for poorer, in sickness, 'til death do you part. Know that Love is a commitment to another person, not merely to one's self. In fact, for one who professes to be Christian, it is an oath made to God. And know that love is not self-gratification; it is self-denial. This is Love. This is commitment. This is Joy.
© Frank Maguire
---
The views expressed by RenewAmerica columnists are their own and do not necessarily reflect the position of RenewAmerica or its affiliates.
---