Frank Maguire
John Steinbeck had "Charley"

By
Frank Maguire
September 21, 2010
"An honest tale speeds best being plainly told."
Wm Shakespeare, Richard III
"Our faith is to be a higher law...we hold that humanity was meant not to be dishonoured (sic.) by the all-powerful state, to live in the image and likeness of Him who made us."
President Ronald Reagan's speech at London's Guildhall (1988)
One of my favorite books was John Steinbeck's "Travels with Charley." Not only does "Travels..." adopt a confidant colloquy in a natural intimacy, as accomplished when old friends share their life experiences, but the venerable Steinbeck tells us what he finds in the soul of America. Personally, I regard John Steinbeck to be as consummate a revealing of the American psyche as is Charles Dickens in portraying the vital spirit of England.
"Crikey
," I can hear a Brit object.
"More so than William Shakespeare? How dare you produce such a blasphemy?"
How could I, a humble sciolist and relative dilettante ever dare reduce the great bard. I regard Dickens,
vis a vis
Shakespeare, as, for example, Dispensationalist theologians regard Moses in relation to Abraham.
Obviously, neither a Shakespeare nor Dickens am I — nor a Mark Twain or John Steinbeck. But I try, humbly, to emulate those great writers in my desire to present "an honest tale...plainly told." This narration I try to impart in such manner I will call "Travels with Helen," my traveling companion, co-pilot/navigator for fifty-three joyful years.
Steinbeck had his loyal canine companion and I have my faithful Helen to not only share the traveling pleasures but also to, occasionally, caution me
in re
. speed-limit changes and dangerous proximity to things which might go "bump" into us, be it in the day or in the night
During our recent
viajar a través
this extensive land called America,
mi esposa bonita
Helena and I visited numerous places and met some gracious persons. A highlight of our wayfaring was our detour from the Illinois interstate to the tiny town of Tampico, tucked away in the farmland purlieu in the land of Lincoln, Reagan, and John Wayne.
Tampico is the birthplace of Ronald Reagan, whom I still refer to as "Ronaldo Magnus." On a quiet Sunday afternoon, Helen and I visited 111 Main St., the home of young Ron and family.
The name Ronald Reagan elicits both adulatory praise and derogatory deprecations. I am in the former category.
It is not unusual that one who is so loved by his admirers is so hated by one's enemies who resent, with vituperation, such love. Love is, in human nature, not mitigated by indifference, it is assaulted by
renitent
— i.e. rejection of moral constraints — and impenitent hatred.
In today's America-loathing atmosphere of Progressivist/Fascist Socialism, Ronald Reagan is denounced as the man who interrupted the Progressive's desire to destroy the sovereignty of the United States. For about 100 years, those who regarded the Soviet Union and Communist China as the paradigms of international progress consider Ronald Reagan as an atavistic heretic who spoke of America as "The shining city upon the hill," and called lands of Communist enslavement the "evil empire."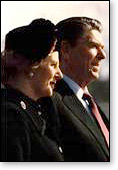 In Margaret Thatcher's autobiography she wrote,
"
It was easy for lesser men to underrate Ronald Reagan, as many of his opponents had done in the past. His style of work and decision-making was apparently detached and broad-brush.... He laid down clear, general directions for his Administration, and expected his subordinates to carry them out at the level of detail. These objectives were the recovery of the American economy through tax cuts, the revival of American power by means of a defence build-up, and the reassertion of American self-confidence. Ronald Reagan succeeded in attaining these objectives because he not only advocated them; in a sense, he embodied them.... In addition to inspiring the American people, he went on to inspire the people behind the Iron Curtain by speaking honest words about the evil empire that suppressed them."
Margaret Thatcher, The Downing Street Years,
copyright 1993, Harper Collins, N.Y.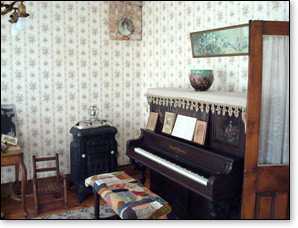 I love Ronald Reagan. I had the singular opportunity to display my love in my visit to his home in Tampico. When touring his home, I saw that in the Reagan living room there is an antique upright-grand piano. As tour-guide Joan Johnson was directing me through the simple but comfortable domicile, I presumed the privilege of accompanying myself, at the old grand, as I sang a song. I said, "Ronnie, this is for you." I, then, vocalized the Irish-American classic, "If You're Irish Come into the Parlor."
As Helen and I drove off to the west, I was one of the happiest men in the world. I had done something that has never been done, as far as I know. And here I dedicate this personal experience to the millions of Americans who love Ronald Reagan, who love America, and who now face a formidable enemy as we fight to preserve our nation, to dust her off and polish her up, and to restore our "shining city upon the hill."
© Frank Maguire
---
The views expressed by RenewAmerica columnists are their own and do not necessarily reflect the position of RenewAmerica or its affiliates.
---