Frank Maguire
Of "rodents and men" (apologies to John Steinbeck)

By
Frank Maguire
November 14, 2010
I've decided to do some articles on Men in sports whom I have known, personally, contrasting them with the Rodents one finds occupying too much of that which now is, blasphemously, called "sports" news.
No need for me to give further "press" to the notorious who are heralded by the truckling, pandering paparazzi of the "what's-new-in-sports" fraternity who profit on the rakes, roués, and miscreants — those guilty of encroaching upon the noble world of sports.
The first Sport's Man I'll tell you about is baseball's Will Clark. But, before I get started, I want readers to know that I'm indicting neither the generic athletic class nor those ladies and gentlemen in the sport's media who show respect for their vocation. The great majority of these men and women are intelligent and honorable and decent role-models for our youth.
But, there
are
some pariahs without class — stupid "asses" who believe that they can "shake down the stars" with their braying. (
For this imagery I thank
George Eliot
[English novelist,
Mary Anne Evans
, born 22 November 1819, died 22 December 1880], better known by her pen name George Eliot].
)
These I have just described do, though, have accomplices without whose abetting the "rodent" would get little or no attention. The following quotes describe such lewd, cupiditous, and facetious accessories. You should have no difficulty identifying the targets of these sometimes literal sometimes ironic allusions.
"As a jewel of gold in a swine's snout, so is a fair woman which is without discretion." Proverbs 11:22


"Women are equal because they are not different anymore." The Art of Loving, Erich Fromm (1956)


"I never wonder to see men wicked, but I often wonder to see them unashamed." Jonathan Swift


"The evils that men do live on the front pages of greedy newspapers, but the good is oft interred, apathetically, inside." Brooks Atkinson (1951)


"But Lot's wife looked back, and she became a pillar of salt." Genesis 19:26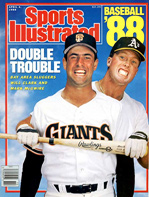 Will Clark:
The list of Will Clark's accomplishments as an All American player at Mississippi State University and as a member of the 1984 Olympic team was prologue to an incredible career. In five Olympic-tournament games, Clark batted .429, with three homeruns and eight RBIs.
Clark spent most of his career as a San Francisco Giant. He signed with the Giants in 1985 and did a 65 game stint with their Fresno "A" team. When the '86 season started, Will "The Thrill" was the Giant's regular first baseman.
On April 8th, in his first major league at bat, Clark hit the first pitch thrown to him out of the park. Who was the pitcher? Hall of Fame pitcher Nolan Ryan, now president of the Texas Rangers, who faced the Giants in the 2010 World Series! During the series, cameras focused upon Nolan Ryan and Will Clark. I hadn't seen Clark for almost 20 years. Though a bit heavier, he looks as handsome as ever.
Clark, who became known as "The Iron Man," set the Giant's record of 320 consecutive games before suffering a series of injuries in the early '90s. When his contract with the Giants ran out, Clark was signed by the Texas Rangers. In his first season as a Ranger, Will "The Thrill" ended the year ranked fifth in the American League with a .431 on-base percentage, and seventh with a batting average of .329. The manager of the Rangers, Kevin Kennedy, defined Clark perfectly.
"He's got the will to win, and knows what is involved in getting it done...not just some days, everyday
."
As sometimes happens with real sport's Men who give every game their all, Clark sacrificed his body. He suffered numerous injuries. Even playing injured, Clark batted over .300 in his next four years. In 1996, his injuries caught up with him, and his b.a. dropped below .300. Even then, Clark contributed mightily helping Texas to its first two AL titles — 1996 and 1998. In '98 he batted .305, had 23 home runs, 41 2Bs, and 102 RBIs.
I met Will Clark in the late '80s when he was still with the Giants. At the time, I was the pianist at a popular Scottsdale, AZ, restaurant:
The American Grille
. The Giants did their Cactus League training in Scottsdale, and many of the players frequented the restaurant. It was at the
Grille
that I saw what Will Clark is really made-of.
A family was seated close to my piano. I noticed that the young man of the family was wearing a New York Mets baseball cap. I asked his father "Is your son a baseball fan?" The father said, "He absolutely loves baseball."
I reached into a cabinet behind me that contained the restaurant's menus, took one out, and beckoned to the young man. He came over to the piano and I said to him, "Here! Do you know that Will Clark is sitting over there?" pointing to Clark who was seated with some of his team mates. "I bet that if you ask him for his autograph he'll give it to you."
I'll never forget the boy's reaction. His eyes lit-up, and he put his hands on his cheeks. He was alight with anticipatory glee. He hesitated a moment and looked at his father for permission. The father just smiled, nodded, and pointed at the players.
The boy, still a bit timid, headed for Clark. I watched as he walked over to Clark and asked for an autograph. Clark smiled, took the menu, signed it, and passed it to the other players to sign, one of whom was Mark McGwire (see picture above) who was with the Oakland A's. I still remember as if it had happened yesterday, the excitement of the boy's face when he came back to the table and showed his family what he had accomplished. I was just as thrilled as was the young man.
While the family was finishing their dinner, Clark got up to leave. He walked past the piano and the family. After going a few steps, Will "The Thrill" hesitated, turned slowly, looked at the boy, smiled, and saluted the ecstatic young fan.
This is the Will Clark I remember. This is why this true Sport's Man who exemplifies what sports is supposed to be about made my list of "Men." This is why I wanted to share this experience with you.
© Frank Maguire
---
The views expressed by RenewAmerica columnists are their own and do not necessarily reflect the position of RenewAmerica or its affiliates.
---