Frank Maguire
In commemoration of the patron saint of Ireland, Patrick...

By
Frank Maguire
March 12, 2011
I share a couple of somewhat facetious poems written by me as a result of our last trip to the
Olde Sod
.
In County Cork, at the Castle Blarney, I did kiss the stone alleged to bestow great eloquence upon the kisser (
or at least a tendency toward sesquipedalian garrulousness
).
Perhaps, also, this rather slimy osculation exacerbated my
cacoethes scribendi
— the insatiable urge to indulge in writing, especially poetry.
My
"Balleyrag"
I trace to Enniskillen, Fermanagh, North Ireland. (
banner-photo above is Maguire's Castle in Enniskillen
) Helen and I stayed at a very lovely b&b with a most charming family. After dinner one night, we sat around and chatted about things in general, and had some good laughs.
On one topic — the Irish love of "gossip," a/k/a exaggeration, hyperbole, buncombe
(nonsense; speech-making intended for the mass media
), and
malarkey
— the hostess used the term 'balleyrag." I had never heard the word, so she explained that
"balleyrag is what persons say about you after you've just left their presence
."
"Ah, yes," I said. Thus, my poem.
BALLEYRAG
Oh, there was a girl from County Clare,
Whose smile went here, and her tongue went there,
And she gabbed such stuff that her jaw would drag,
Sure, her favorite tune was the Balleyrag.
Now the poor colleen didn't seem to know
Just who was friend, and who was foe,
T'was hard to tell, with her zig and her zag,
For she danced to the metre of the Balleyrag.
It was not long all around her knew,
If she'd rag on them, she'd rag on you,
There was nought she loved more than to nag,
And jaw, jaw, jaw to the Balleyrag.
When asked why she gossiped she said
"I must
,"
If she'd shut her gob, her hinge would rust.
Now, her once gold heart has turned to slag,
And it beats to the tune of the Balleyrag.
She looks into her mirror to see, each morn,
Which side of her head that her face is on;
Now she's mired in the muck and the boggy quag...
For she got sucked in to the Balleyrag.
Here Lies "Toothpick" O'Rourke
At Blarney, in the County Cork, a tourist name of Hugh O'Rourke,
a visitor from Rye, New York, did come to kiss the famous stone.
He climbed the Castle tower, tall, dressed up in plaids of green and all,
and heard his Maggie call to him, "I'll kill you if you fall."
Tall Hugh was long and lank and lean, just bones with nothin' in between,
by
sobriquet
of "Toothpick" he was known.
To kiss the stone, Hugh had to lie with head toward ground and feet held high,
while trusted stranger gripped his skinny pins.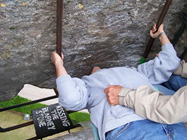 With neck stretched out, so's not to slide, two bars provided, one each side,
so placed you'll not glissade out through the wall.
It takes some courage, not oft found, to dangle high above the ground,
especially if you're nervous having not confessed your sins.
Thus, disconcerted, Hugh did slip and in a faint he lost his grip,
his gaunt and bony body skidded swiftly 'twixt the bars.
Down "Toothpick" traveled, like a dart, his dive was quite a work of art,
God help him for ignorin' Maggie's call.
He crashed right down upon his head, killed by the fall, instantly dead,
he never saw a thing, not even stars.
Now on his tombstone it is etched, ironic, though 'tis not farfetched,
someday a wandering minstrel's sure to sing:
"For Blarney's gift Hugh couldn't wait;
No doubt the gift of gab is great,
But had he had the gift of
grab
,
He'd not, now, be in such a state."
Frank Maguire 2001
© Frank Maguire
---
The views expressed by RenewAmerica columnists are their own and do not necessarily reflect the position of RenewAmerica or its affiliates.
---