Frank Maguire
Kindred: The Good Patrick and Steve Stone

By
Frank Maguire
July 28, 2011
The
RenewAmerica.com
family has been aware of that which our family-head Steve Stone and his beloved family have been going through. Not, as they say, "a piece of cake!"
The recent positive prognosis from Steve has, I'm sure, raised the spirits of all of us. The Stones are exemplars of what being devotedly Christian and lovers of our nation's designed intent is all about.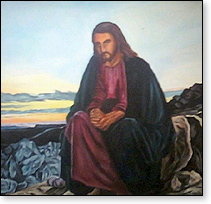 Back in 1986 I was inspired to write a poem representing the daily hope of those who love Creator God, who wish to follow Him and be protected by Him, and who love those called "neighbor" — each who is seeking hope in this confused and confusing world.
I want to dedicate
The Armor of St. Patrick
to Steve Stone and his beloved family. God bless you brother and friend and keep you all.
THE ARMOR OF ST. PATRICK

Raise me by Your breath one more day,
That I may see the sun reflect Your light.
Carry me, our Father, in Your palm, safely shielded
From the fallen terrors of the night.

Wherever You direct me — north, south, east or west,
May the wind be at my back, and the rising road be just.
And give to me, Your servant, only words which You would speak,
That when I be Your witness, every needing heart will trust.

My armor and my sword, my arm and my Shekinah;
My good, my guard, my guide; my waking and my sleeping;
Above me and beside me, on my right hand and my left,
Your breastplate safely girds me, in my sowing and my reaping.

Ye who spoke creation, enigmatic three in one,
Mystical Triumvirate, yet know within my soul,
Here, on the road to Tara, pray, heed my invocation,
And bond me to Your will, that I enlighten and console.

Enslaved once, and freed to be free in your enslaving:
Freed that I be blessed to lean my shoulder to Your cross.
Freed that I return amidst the Druid and the shamrock.
In Your bondage all is gain, all without is loss.
© Frank Maguire
---
The views expressed by RenewAmerica columnists are their own and do not necessarily reflect the position of RenewAmerica or its affiliates.
---