Frank Maguire
Damned by faint praise or praised by faint damnation, and other stuff like that

By
Frank Maguire
September 3, 2011
America isn't Russia in 1917 or China in 1946, and any violent head-on collision with the power structure will only ensure the mass suicide of the left .... So you're not going to get instant nirvana — or any nirvana, for that matter — and you've got to ask yourself, "Short of that, what the hell can I do?" The only answer is to build up local power bases that can merge into a national power movement that will ultimately realize your goals. That takes time and hard work and all the tedium connected with hard work, which turns off a lot of today's rhetorical radicals. But it's the only alternative to the continuation of the present system. . . .
Playboy Magazine interview of Saul Alinsky, 1972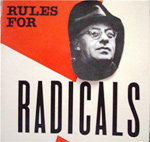 This Thursday morning I, as usual, did my
Biblos
daily study — Psalms and 1 Corinthians, today. Then checked e-mail and
renewamerica.com
— also, MLB scores ...
Diamondbacks
victory #9 in succession. Up by six over the Giants. Viva D'backs!
I'm tapping into a couple of good articles in
renew America.com
, by Wes Vernon and Chris Adamo. They deal with Rick Perry and the attacks upon this Texas guv who is, in my estimation somewhat enigmatic and problematic. Seems to me that Perry has had multiple epiphanies over very short periods of time. Makes me nervous!
Like e.g., being a quondam yellow-dog-Texan democrat and chairman of Al Gore's campaign for prexy? Then a Bushite advocate of the
North American Union
, which I call
"USA-Cana-Mex"
— a jocular description of the Chamber of Commerce' support of illegal immigration that is
not
, per se, de facto
"illegal"
if the migrants are
not discovered
to be drug-pushers, rapists, murderers, and "too
pushy
, culturally."
No need to go into why the Democrat/Progressives oppose current and historic immigration/citizenship law
. Even phony social security cards don't cause them to lose any sleep.
Messrs. Vernon and Adamo point out what is readily discernible, and that is that Perry is under a concerted Progressive assault. A single Google of "Rick Perry" and you'll get oodles of front page Googlings — page upon page. And, interposed between the anti-Perry barrage we get the
"How dare you"
defensive reactions that heap heavy praise upon "Texas Ranger" Perry as the Great Obama Pest Control candidate, with careful allusion to the
"We know Rick isn't perfect, but who is. So, he has made some mistakes in the past. But now!? WOW!"
Such is to be expected. But, when something is too fervently wished-for, and when one is obsessed with a singular idea that
"The enemy of my enemies is,
ipso facto
, my friend
," then one is in danger of succumbing to Joel Chandler Harris' Aesopian
"Br'er Rabbit and Br'er Fox"
strategy (necessary changes being made), from the
Uncle Remus
stories.
Remember how the shrewd
veteran-of-the-wars
Br'er Rabbit pleaded
"don't throw me into the briar patch"
with such a panicky display of anticipated pain and suffering that Br'er Fox reasoned,
"If that is definitely the one thing brother rabbit doesn't want, that is precisely what I am going to do
." We all know how that worked out.
I am cautious enough, from active experience, to trust neither political party, and to also know how
political enthusiasm
works — new True Believers in some contrarian cause that places one into the category of Enlightened Gnostic whose relatively tiny minions (still not fully popular, which is a perfect reason why it's "so sublimely correct") will, in miraculous fashion (which proves it has God's
imprimatur
), bring victory against the overwhelming strength of the enemy. (A Joshua at Jericho victory!)
As one who has been blessed with (cursed?) a covert-ops mentality, how would I set things up? In
Alinskyite ("Rules for Radicals")
manner faintly-praise the opposition candidate to the point where his or her wobbly supporters become hesitant in support of their favorite — less and less certain.
Simultaneously, set your opposition against one another by exploiting the abrading rhetoric that they direct at their own Party's hopefuls. Accentuate the negative! But, skillfully, be
positively
negative! Then just Repeat, repeat, repeat, and repeat,
ad infinitum
!
We saw, from the outset of this internecine war among "Republican" (
I use Republican here just to mean the major party opposing the Democrats
) throne-seekers how the Democrats kept pushing Mitt Romney as the
"only Republican who has had sufficient experience, and who looks so very presidential."
If the Democrats, with typical fairness and democratic magnanimity, glorify an opposition candidate and avuncularly defend him against attacks from "conservatives," then the middle-of-the-roaders (Republicrats, Democans, and "moderates") will cling to the Democrats' favorite Republican candidate and will abandon other candidates who are ridiculed as
"inexperienced, terror-inspiring miscreants"
who don't inspire that thigh-thrilling-frisson that so enthralled the "Change is Progress" voters...those who
virtuously
flocked to the
vespertine
Barack Obama.
The plan is, in this case, to just fracture the opposition, enhancing the probability that the opposition Party will not likely be able to adequately agree to unite behind any candidate who might defeat your candidate.
Those who tend to vote Republican must remember this very basic truth: the Leftist/Progressivist main-stream-media amplifies and
fortissimizes
all dissonance within the ranks of the Democrat's opponents. And the
msm
plays differences amongst the Democrat cadre
pianissimo;
everything becomes smoothly
legato
with no
staccato
detachment.
It's important for those who oppose Obama to make up their minds that if their personal first choice doesn't get the nod, and even if their second personal choice can't make it, that they will set personal pique aside, not seeing it as some sort of affront to the ego that sends them to some dark corner where they sit and pout. Remember Voltaire's axiom,
"The best is the enemy of good
.'"
1
My extension of this is
"Allow one's self to be dissatisfied with 'better,' and you likely guarantee the 'worst.'"
Character is most important, but unless it is allied with good sense, it can, in our system called, for better or worse, democracy, produce less than salutary results.
Hmmmm! It occurs to me that such a choice was the quintessential problem of Adam and Eve, at Mankind's Beginning?
1
"Le mieux est l'ennemi du bien.," from Voltaire's
Dictionnaire Philosophique
(1764) Literally translated as "The best is the enemy of good.", but is more commonly cited as "The perfect is the enemy of the good."
Frank Maguire
© Frank Maguire
---
The views expressed by RenewAmerica columnists are their own and do not necessarily reflect the position of RenewAmerica or its affiliates.
---