Frank Maguire
I respectfully disagree, Mr. Prager

By
Frank Maguire
January 3, 2012
"Be more concerned with your character than your reputation, because your character is what you really are, while your reputation is merely what others think you are."
John Wooden
, famed basketball coach at UCLA and respected mentor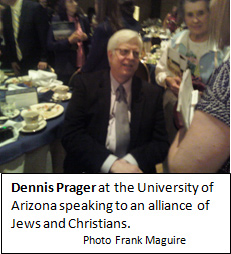 One of my favorite thinkers, Dennis Prager — a man of courage and character — wrote recently that not all that qualifies as "sin" should be considered to be "evil." His logic is sophisticated. But, I hold, convoluted!
Dennis was attempting to make the case that a leader's (politicians,
et al
) character matters less than his leadership qualities.
To make his point he uses the example of adultery. He reasons that the sin of adultery (he acknowledges that adultery is explicitly forbidden within the Ten Commandments) doesn't qualify as evil if hiding one's adulterous behavior is kinder and gentler than is the open confession of it.
I confess that I am disappointed by his rationalism. He seems to be saying that not holding to the matrimonial oath can be justified in "difficult" circumstances. He, thus, minimizes the taking of an oath — a promise... a solemn-contract.
Dennis refers to himself to be a "religious conservative." But what is it in his religion that he conserves? Hopefully, the Commandments given to Moses on Mt. Sinai: the "moral law"; the "covenant" (
Deuteronomy 9:9
).
But, he seems to be supporting a culturally-determined, secular desuetude — the ethic that long and continued non-use of a law renders it invalid, at least in the sense that courts will no longer tolerate punishing its transgressors because a culture has become more "tolerant."
And because a "religious" standard that identifies something as sinful and productive of evil has become obsolete. Equivalent to cultural Darwinism? No fault divorce? The less than fully human pre-partum child? No fault adultery? And more ingredients constantly being added to the watery slumgullion by the gnostic stewards of the culture!
What does not keeping an oath, breaking a promise, and severing a covenant portend? What is the inevitable result if his main contention is acceptable?
I have to add that most of what Dennis wrote is undeniably on target. But, even so, it seems to me to be irrelevant and immaterial in his attaching it to the fundamental issue of character and leadership, and sin and evil. We know that there are many frauds and self-servers amongst leaders in the political realm and in the media. This gives no license for anyone to say,
"Well, they did it and got away with it, why shouldn't I
?"
John Donne, in
"Sermons
," (1915), wrote
"Between these two, the denying of sins, which we have done, what a space, what a compass is there for millions and millions of sins
?"
I, as a Christian, conserve the teaching of Jesus who made it eminently clear that he did not come to change the laws of His Father, the G_d of the Jews, he came to affirm them. To make it clear that there is no essential discontinuity between the Old Testament and the New! Jesus confirmed the moral law. The Jews had other laws, which Christians regard as "ordinances." These, specific to the Jews — His chosen people — were meant to protect and preserve Jewish homogeneity.
When I confess Christianity I also confess Judaism. I confess to being a Judaeo-Christian. And, a Zionist, since G_d told us that Zion is his earthly abode. I can never be a Jew for that is a birthright. But I can achieve homologous Jewishness.
Dennis is correct that the Torah prophesies the coming of a messiah. He does conserve this truth. He doesn't, however, agree that the messiah is Jesus. So be it. We have a religious disagreement. Since I cannot understand the mind of the omniscient G_d, I won't attempt my own interpretation of His Word.
But, he appears to not conserve the Jewish teaching that adultery is an egregious evil.
In doing this, he appears to confuse the commandment of G_d with the sinfulness of those Jews who deliberately bowdlerized the commandment of G_d. It is proper for him to acknowledge the hypocrisy of those Jews who considered the sin/evil of adultery to fall only upon women. ? (
Adultery
:
Leviticus 20:10; Deuteronomy 22:22
)
Religious Jews adjusted G_d's commandment and made adultery a sin of the woman, worthy of death. Equally, many Christians are guilty of altering G_d's commandment — disregarding the clear teaching of Jesus — and creating their own situational morality. I never cease to be annoyed by the bumper-sticker ethic:
"I'm not perfect, just saved
." It is, often, the defense of the antinomian.
Jesus taught that all oaths are made, quintessentially, to God. Thus, he told us that our
"Yes must be yes, and our no must be no."
He also made it clear that we should make no oaths if we do not intend to keep them. Jesus left us no casuistic "out."
I contend that any man — including a "leader" — is deficient in understanding when he reasons that the sin of adultery is not regarded by G-d as evil.
All Scripture tells us that no sin is permissible if one desires salvation. Dennis writes that one is in error who sees adultery as the unpardonable sin. I, as a Christian, counsel him that Christians who are true to the teaching of Jesus, in total agreement with His Father, regard no sin as "venial." All sins, where there is no confession and repentance, are "mortal."
Further, I counsel that lying, to G-d and one's self is kindred with adultery. The adulterer is, essentially, a liar. And to the generic "lying" I include paltering, equivocating, dissembling, dissimulating, and being disingenuous. The product of the entire panorama of deception is cultural infection, productive of further evil. The G_d of the Jews and the Christians — the antithesis of evil — defines the sin of
"spiritual adultery."
Why "adultery?"
************************************************************************************
"Logic is like the sword — those who appeal to it shall perish by it
." "First Principles," Notebooks (1912)
"O Yet we trust that somehow good/Will be the final goal of ill."
Tennyson, "In Memoriam A.H.H." (1850)
"Man has such a predilection for systems and abstract deductions that he is ready to distort the truth intentionally; he is ready to deny the evidence of his own senses only to justify his logic."
Dostoevsky,
Notes from 1864

"We do what we can, and then make a theory to prove our performance the best."
Ralph Waldo Emerson
"It is not enough to understand what we ought to be unless we know what we are, and we do not understand what we are unless we know what we ought to be."
T. S. Eliot, "Religion and Literature" (1935)
"What relates 'sin' and 'evil'? Sin is an act; evil is a condition. Actions that one determines are acceptable though once universally regarded as being sinful coalesce into the condition we call evil."
Frank Maguire (2012)
http://www.renewamerica.com/columns/maguire/101203
© Frank Maguire
---
The views expressed by RenewAmerica columnists are their own and do not necessarily reflect the position of RenewAmerica or its affiliates.
---