Frank Maguire
Fonduing the two party system

By
Frank Maguire
October 18, 2012
"Politics, as hopeful men practice it in the world, consists mainly of the delusion that a change in form is a change in substance."
H. L. Mencken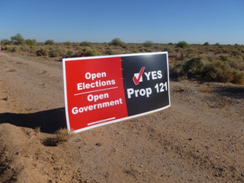 I'm curious as to whether what I observe in Arizona is occurring in other States. We have a
Proposition 121
entitled "Open Election-Open Government." You can check it out at
www.lwvaz.org
.
Also, most candidates' election-appeal-signage does not reveal political Party. This by itself is not a problem for those who are Party loyalists likely familiar with the office seekers. What seems to me to be going-on is an awareness that the two-Party system is losing its appeal owing to the belief by increasing numbers of citizens that both major Parties have shown themselves to be less than credible. And worse! The least credible has been the most effective.
In
re
displaying of Party affiliation, those candidates who do identify themselves are Republicans, so I feel safe to assume that no-disclosure discloses Democrats. The D's seem confused about what to call themselves. Tellingly, I've seen many "conservative" claims, but not a single use of the word "progressive." Even "progress" is avoided.
Proposition 121, titled Open Election/Open Government
. Now, what kind of a treasonous rat could be opposed to "open elections and open government?" Well, it seems that Arizona is loaded with "treasonous rats" because almost all "open" political entities oppose Prop. 121. There is something surreal to see essentially un-reconcilable antagonists agreeing to oppose a proposition that it would seem every "open"citizen would favor.
Opponents of Prop.121
Maricopa County Republican Party; Maricopa Democrat Party; AZ Libertarian Party; AZ Republican Party; AZ Green Party; AZ Citizens for Honest Elections; AZ Teachers Assn; and the amazing "being of one mind" of AZ Governor Jan Brewer and her political arch-enemy Mary Rose Wilcox.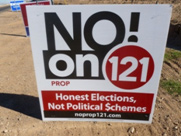 There are about 30 other, less-open "Associated Citizens for This, That, and the Other Thing" opponents of what is advertised as "Open Election/Open Government."
Proponents of Prop. 121
Former Phoenix mayor Paul Johnson (D.); Greater Phoenix Leadership (Position statement:
Four major statewide "tools" to help manage growth and preserve open space have been put to work in Arizona over the past five years. These include the Arizona Preserve Initiative and the closely-related Proposition 303, as well as the Growing Smarter Act and its "addendum," Growing Smarter Plus (ah, is the devil in the "Plus?"). All four tools are based in large part on a concept known as "smart growth," which is generally considered to be a set of growth management measures that attempt to strike a balance among issues of economics, environment, and quality of life. Taken together, these four growth management tools make significant changes in the way that (a) city and county governments plan and regulate their lands, (b) citizens play a role in land use issues, (c) state trust lands are managed, and (d) open space may be acquired and preserved. Many of these changes will have long-term effects for the state
; Chambers of Commerce; Grand Canyon Institute; Alliance of AZ Nonprofits; Professional Firefighters of AZ; Phoenix Law Enforcement Assn; PAFCO Education Fund; Arrowhead Health Office Properties; Ten Twenty Five, Inc.; Cowley Companies, Inc.; and some influential, and specially interest individuals.
This axis is not to be taken lightly. What gets my attention is the Public-Private Corporate emphasis on "Smart Growth." And what increases my confusion as to why so many diverse political factions, often in serious political and economic conflict, are allied against Prop. 121.
It's all too arcane for me to make sufficient sense of, so I'll probably vote against it because of the behind-the-scenes machinations and historical results of Smart Growth schemes. I could, certainly, choose to not vote on it at all due to "Ignorance."
My position on political Parties is that of the prescient George Washington who warned in his Farewell Address that if we promote political parties, government will be inevitably controlled by factional alliances that will seek power, and common to bureaucratic aggrandizers will militantly protect their autocracy.
William Pitt the Elder, Earl of Chatham
and British Prime Minister from 1766 to 1778 said in a speech to the UK House of Lords in 1770:
"Unlimited power is apt to corrupt the minds of those who possess it."
George Washington was obviously in agreement. When he was offered virtually unlimited power, he chose to refuse it, prompting King George III, when he heard the news that Washington resigned his military commission without seizing power following the Revolution's conclusion, to have commented,
"If it is true, George Washington is the greatest man in the world."

But, both the wisdom of Pitt, and of The "Father of Our Country," was, alas, ignored, and we are too far along into power factions to make such a radical progression (at least a "peaceful" progression) back to good sense. And! I don't think that multiplying Parties is a real good idea. We're stuck with a couple that exasperate so what will more be like?
I do admit that pressure from a strong voters' coalition (a third Party?) that works to keep the pol's of both Parties as open and honest as possible, toasting their tootsies when necessary, is a good condition.
My point in all of this is why are we in America trying to Europeanize from basically a two-Party system to a "the more the merrier" European system where 15 Parties ( I exaggerate for effect) are on the ballot, guaranteeing lots of tricky (exotic) deal-making and power sharing, and where the Party that wins might win with, e.g., 21% of the vote. Seventy-nine percent of the population ruled by someone who gets 21% of the vote? A superabundance of political-Parties accomplishes nothing more than turning a two-Party system into a Factions-in-Alliance foundue. A Party melt-down?
I don't wax enthusiastic extolling the alleged virtues of our two Party system, "the majority wins all," becoming,
de jure,
the "majority-makes-the-morals." Actually, it's seldom a majority, it's a plurality. In most elections, even presidential, a whole
bleep
-load of eligible voters don't vote.
If in a presidential and congressional election 60% of the populace votes, and the winner wins with a 30.5% to 29.5% plurality, then the entire populace is being governed by a virtual
suzerainocracy,
encamped along the Potomac, controlling we who are vassals in the 50 States. We vassals, Constitution-defending throwbacks, who annoyingly keep mentioning "States rights."
I know, I know, thems that don't vote deserves what they get. A truism, but reasonable! One has to mention, however, another big-time serious short-coming in our system. Many, many, and many more who vote have no idea what in the name of Joe Biden is going on. Of course, the especially interested factions will always vote "my own pocketbook." They disregard JFK's borrowed proverb, "A rising tide lifts all boats."
Then there's the ballot in progressivist, Smart Growth Oregon, land of old-growth politicians who are an (insufficiently) endangered species. Note the Party names. Humorous, actually!
E.g., check out that Barack Obama and Joe Biden are listed as Democrat (I thought Hillary said that the Democrat Party was to no longer be called "liberal" but "progressive?" But candidates for POTUS and VPOTUS Rocky Anderson and Luis Rodriguez are running, against POTUS Barack and VICEP Joe, on the Progressive Party ticket.
Then, vying for presidency, we have the Pacific Green Party (sounds like someone with
mal de mer
); the omnipresent Libertarian Party, who seem, often, to not know the difference between "liberty" and "libertine"; the reducingly-omniscient Republican Party; and the reviled by the Left Constitution Party.
In non-presidential races we have: combined Pacific Green/Progressive (
more sea-sickness, and getting worse
); combined Constitution/Libertarian; and wow, how about this gal with the three names, and three Party affiliations, Laurie Monnes Anderson — Democrat, Independent, Working Families (a Party that disguises its socialism with such utopian slogans as "Living/Family Wage," and "Smart Growth").
The Great North
wet
State of Oregon boasts "We fly on our own wings" (Oregon's State motto). The land of Ducks and Beavers wants to legalize privately-owned money-transfer casinos (euphemistical "gaming," not,
real
gambling), and the "allowance of personal marijuana/hemp cultivation use without a license," which will be, of course, regulated by a "commission on commercial marijuana — (
tetrahydracannabinol
[good, healthy kinda smokin' that won't need cautions about cancer, or the real evidence that THC accumulates in the fat cells of the brain]) — cultivation and sale," and — you can place a "gaming" wager on it — an inevitable taxing authority.
If I might indulge myself in
paranomasia
(that's a pun): Oregon, might learn, as did Icarus, that
flying
under the influence of "maryjane" could very likely be an unwise
gamble
.
So, citizens, be prepared; forewarned is forearmed. Before voting, ask yourself
Cui Bono
? Who benefits?
© Frank Maguire
---
The views expressed by RenewAmerica columnists are their own and do not necessarily reflect the position of RenewAmerica or its affiliates.
---