Frank Maguire
Warnings and goodbyes: 9-1-1 on 9/11

By
Frank Maguire
January 28, 2013
"9/11: Voices from the Air recalls the terrorist attacks of Sept. 11 via radio transmissions between the cockpit and the control tower, and through cellphone calls between passengers and their loved ones."

"[The Union Theological Seminary students] talk a blue streak without the slightest substantive foundation and with no evidence of any criteria.... They are unfamiliar with even the most basic questions. They become intoxicated with liberal and humanistic phrases, laugh at the fundamentalists, and yet basically are not even up to their level.
"In New York they preach about virtually everything, only one thing is not addressed, or is addressed so rarely that I have as yet been unable to bear it, namely, the gospel of Jesus Christ, the cross, sin and forgiveness, death and life."
Dietrich Bonhoeffer: Pastor, Martyr, Prophet, Spy
(Bonhoeffer in America – 1930-31, Chapter 7) by Eric Metaxas
"The question at stake in the German church is no longer an internal issue but is a question of the existence of Christianity in Europe." (
ibid
. The Church Battle Heats Up, Chapter 15)
http://progressingamerica.blogspot.com/2011/10/progressivism-and-origins-of-tyrannical.html
*************************************************************************************
On Security
:
"It is folly to bolt a door with a boiled carrot
." An English proverb.
"A lock is meant only for an honest man
." A Yiddish proverb.
As a member of the National Rifle Association – NRA – I receive their monthly magazine
"America's 1st Freedom."
In every issue, in a section entitled "The Armed Citizen," there are a number of incidents submitted by persons who have had confrontations with belligerents who threatened physical harm.
Often the aggressors are armed with a variety of weapons, including firearms. This month there are seven stories that involve 14 felons threatening the lives and property of a total of eight citizens. Fortunately, the citizens owned legally obtained handguns. None of the threatened was injured, three of the felons were wounded, one was killed, and the others fled, apparently uninjured, but deterred and, hopefully, discouraged.
There are two of these events that were of particular interest to me because 9-1-1 calls were involved. The first involved a 35 year-old woman and her husband who were accosted by four masked men who were breaking into their home at 3:30 a.m.
(11/16/12 The Times-Picayune, New Orleans, La
.)
While the men were engaged in forcing entry, the woman dialed 9-1-1. The homeowners crouched behind a couch. The husband was armed with a hand gun. One of the felons had a rifle. After a number of minutes, the intruders gained entry and a fire-fight ensued. No one was hit, and the intruders fled. When the police arrived, the felons were gone.
The second incident also involved a 35 year-old woman. She observed that she was being followed when driving home from a local gas station. She quickly exited her car, locked herself in her home, and dialed 9-1-1.
The man who had followed her forced open her front door. She ran into her bedroom to access her 9mm pistol. The man took a knife from her kitchen, followed her into her bedroom and ordered her to take off her clothing. When he approached she drew her firearm from under the pillow, and fired. The felon was killed. (
11/8/12 Santa Fe New Mexican, Alcade, N.M. 11/8/12
)
******************************************************************************
The following is excerpted from a prior article.
http://www.renewamerica.com/columns/maguire/121121
Retired Supreme Court Justice John Paul Stevens perpetrated his profundities in a recent appearance at the Brady Center to Prevent Gun Violence's Legal Action Project. "Maybe you have some kind of constitutional right to have a cell phone with a pre-dialed 9-1-1 in the number (sic.) at your bedside and that might provide you with a little better protection than a gun which you're not used to using."

To borrow from Aesop, with a minor adjustment, "Fine (robes) may disguise, but foolish words disclose a fool." As is the cya habit of those who hedge with equivocation – employ weasel words – Stevens did protect himself, to allow for future "I was taken out of context," by using the words "maybe; might; and the phrase "a little better protection."

Only one with the wit of a nit could propose that house-breaking perps are merely there to relieve the home owner of their "plate." Burglary is risky, as the two you just read about found out. And in this age where life has been progressively de-sanctified by such as existentialist self-actualization and nihilism, criminals are more likely to kill anyone who might have seen them and who might witness against them if they are apprehended.

As for Stevens' "sky-pointing booby" posturing about the protective value of a 9-1-1 call when in direct confrontation with potential killers, if there is a "Booby of the Year" Pulitzer, Stevens deserves to join the Pulitzer Prize hagiography. The result of a 9-1-1 call under virtually 99% of the circumstances would summon the police to put-up the yellow tape, clean up the residue, do the evidence thing, and turn the remains over to the coroner.

If this is how the Progro John Paul Stevens views "constitutional rights," we can, once more, thank our wise founders for the Second Amendment.
******************************************************************************
One of the major tenets of the Wilsonian, Rooseveltian, Obamanian Progros is that of "Pure Democracy/Social Democracy." The cultural demands of the
vox populi
, can be best measured, they claim, by the majority's choice of that administrative leader known as the Executive – all of the nation votes to elect the president, so the president autocratically
presides
over all branches of government – Executive, Legislative, Judicial. The Constitution is, in effect, contravened by the executive orders of an autocrat.
Holding the Progros to their own line of reasoning, there is another rank of officials elected directly by the people ... the County Sheriffs. Here in Arizona's Maricopa County, Sheriff Joe Arpaio declared, unequivocally, that he has no intention of confiscating the arms of law abiding citizens if any order to do so is without Constitutional due-process.
In Utah, the 28 Sheriffs of the Utah Sheriffs' Association sent a letter to president Obama. They start the letter "We, the elected sheriffs of Utah...." The letter continues, "As professional peace officers, if we understand nothing else, we understand this: lawful violence must sometimes be employed to deter and stop criminal violence. Consequently, the citizenry must continue its ability to keep and bear arms, including arms that adequately protect them from all types of illegality."
The final paragraph of the Sheriffs' forthright letter explains the rule of law to the Progros. "We respect the Office of the President of the United States. But, make no mistake, as the duly-elected sheriffs of our respective counties, we will enforce the rights guaranteed to our citizens by the Constitution. No federal officials will be permitted to descend upon our constituents and take from them what the Bill of Rights – in particular Amendment II – has given them. We,
like you
, swore a solemn oath to protect and defend the Constitution of the United States, and we are prepared to trade our lives for the preservation of its traditional interpretation."
Further, in Milwaukee County Wisconsin, Sheriff David A. Clarke Jr., in a public-service announcement, called for the citizens to "arm themselves." He told residents that personal safety is not a spectator sport; "I need you in the game," he said.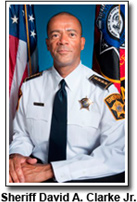 Sheriff Clarke made the very appropriate statement that "With officers laid off and furloughed, simply calling 9-1-1 ... and waiting is no longer an option. You could beg for mercy from a violent criminal, hide under a bed, or you can fight back; but are you prepared? Consider taking a certified safety course in handling a firearm so you can defend yourself until we get there. You have a duty to protect yourself and your family. We're partners now. Can I count on you?"
Needless to say, the
ad hominems
against Clarke from the anti-gun lobby were virulent, and never addressed the specific points that Sheriff Clarke had made. They called Clarke the typical variety of names, e.g., publicity seeker, "Dirty Harry," vigilante minded, and,
with ironic inconsistency
, that worst of all human characteristics "politically ambitious."
A spokeswoman for Wisconsin's Attorney General J.B. Van Hollen said that Van Hollen "believes strongly in both the 1st and 2nd amendments to the Constitution on free speech and gun rights."
The information above is taken from an article by Mark Johnson of the Milwaukee Journal Sentinel.
© Frank Maguire
---
The views expressed by RenewAmerica columnists are their own and do not necessarily reflect the position of RenewAmerica or its affiliates.
---