Frank Maguire
The importance of being of earnest integrity

(A Parable for Our Times)

By
Frank Maguire
May 20, 2013
"(S)he who has gone, so we but cherish (her) memory, abides with us, more potent, nay, more present than the living...
." Saint-Exupery (
paraphrase
) (1948)
"Let us endeavor so to live that when we come to die even the undertaker will be sorry." Mark Twain,
"Pudd'nhead Wilson"
(1894)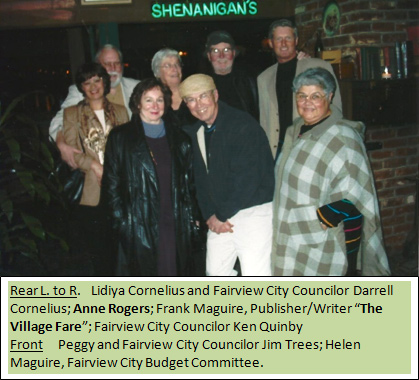 We lost a very dear friend this week. We were informed by her family that she had died on Thursday.
Anne Rogers was a neighbor in Fairview, OR. She was bright, beautiful , courageous, and witty. I called her "AK-47" because she didn't take kindly to bullying or bull ....ing. Helen and I loved her, and we spent many joyous days in her company. She will be remembered by those of us who will miss her as a truly wonderful lady.
Anne would actually blush and say
"Oh pshaw
!" receiving such encomia. Her humility was authentic.
Anne's life is an inspiration for us all. To be so remembered means that she contributed, unselfishly, a great deal to the lives of those with whom she associated.
Anne wouldn't mind if I added some ironical humor, here. I knew her literary and political tastes, and though we did have different ways of looking at some things, we were pretty much in agreement about most. So, here goes!
One of the greatest bits of political satire ever written (
by Antony Jay and Jonathan Lynn
) is
"Yes Minister
!" and
"Yes, Prime Minister
." A lengthy
"telly"
series was produced that ran for about four years. We have the entire series and have watched it dozens of times, never tiring of it.
One of the episodes involves a P.M. who reigned before the sometimes hapless "hero" of this series, Prime Minister Hacker. Seems that Hacker's antecedent had written a book that included tasty little sidelights that occurred during his own tenure. Some of the tart tit-bits were neither polite nor politically beneficial to Hacker. This episode is all about Hacker and his political "friends" (
an oxymoron in the oldest profession of politics
?) trying very hard to have negative comments about him expunged from the book.
One day, as Hacker (
Paul Eddington
), Sir Humphrey Appleby (
Nigel Hawthorne
), Bernard Woolley (
Derek Fowlds
), and a few others were sitting around #10 Downing Street discussing how to spike the erstwhile P.M.'s book; into the office came one of Hacker's ministers who said
"Have you heard the news? P.M.
(I forget his name)
just died
."
Everyone immediately grinned, effusively, and were almost into the dignified British version of "high fives" when Hacker worked his politically flexible face into a frown of extreme sorrow and said,
"Oh how dreadful. What a terrible loss. He'll be seriously missed
." He was echoed in frown and vocal quality by everyone
"Sad...how terrible...will be missed
."
After the funeral ceremony at Westminster Cathedral, as the people were departing, someone said to Hacker
"What a remarkable thing to see how many came to mourn his passing
." Hacker, by then having recovered his senses, looked around to be sure to not be overheard by the media enemy, responded,
"They didn't come to mourn, but to make certain he's dead."
The surrounding faces in his entourage echoed, silently,
"Yes, Prime Minister... Hear, Hear!
"
Anne Rogers, she of earnest integrity
("Integrity is a concept of
consistency
of actions, values, methods, measures, principles, expectations, and outcomes. In ethics, integrity is regarded as the honesty and truthfulness or accuracy of one's actions. Integrity can be regarded as the opposite of hypocrisy, in that it regards internal consistency as a virtue.")
left us a legacy of inspiration. A lasting joy that puts mourning away: mourning is buried and Anne Rogers lives on, ever-present, in our hearts and minds.
© Frank Maguire
---
The views expressed by RenewAmerica columnists are their own and do not necessarily reflect the position of RenewAmerica or its affiliates.
---