Frank Maguire
Merely asking: is it gonna be homier on the range?

By
Frank Maguire
May 23, 2013
About 2 years ago, Casa Grande, AZ., had a lot of
Bureau of Land Management/Department of the Interior Rangers
gathered for a confab. I saw a large table full of them at a restaurant and I welcomed them to Arizona and asked if I could ask what they were doing here. I asked with a smile.
I got the expected generic answer, "We're here for a meeting on border issues and to assist the Homeland Security U.S. Border Patrol. I just wished them all well, and said "Be careful. You know it's dangerous down there!"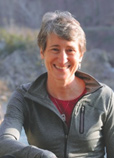 The use of the word "assist" rung the
"we're from the government and we're here to help you"
bell, and the mention of Homeland Security in conjunction with the U.S. Border Patrol indicated to me that the Ranger Supervisor I had questioned was answering right off the top of his D.C. superiors' heads.
The Secretary of the Interior, appointed by an 87-11 vote in the Senate in 2013, is Sally Jewell
. She is, to say the least, a very eclectic lady.
http://www.doi.gov/whoweare/secretaryjewell.cfm
This early a.m., 21 May 2013, Tuesday, I went up to the local Love's Truck Stop at the junction of Sunland Gin Rd. and Interstate Highways I-8 and I-10. I do this often because one Border Patrol station is only a half-mile away, and I speak often with the agents as they head south to their border duties.
Seems the Rangers are back! Since I didn't just fall off the turnip truck, is my journalist's curiosity surprised?
There were three large vehicles, two were vans pulling lengthy closed trailers, and one was a pickup, open in the back and piled full of stuff.
I approached a very sizable Ranger armed with his .40 cal sidearm, plus all the accompanying paraphernalia – extra magazines and communication necessaries.
"Ranger, I've got a question." He was pleasant and agreeable. "It's about the Buenos Aires Wildlife Preserve on the border. The area that adjoins Mexico has been
inaccessible
to visitors – about the lower 25% of the Preserve – for the past few years. Has anything changed or going to change soon now that Secretary of the Interior Jewell is running the show?"
He immediately transferred me to the fellow who was with him. He said "I'm from California. He's stationed in Arizona, so he can give you a better answer because I'm not familiar with the area."
The Arizona agent and I shook hands and he started with a little speech that sounded rehearsed. "It's a lot like walking through, e.g., areas of Chicago or other U.S. cities at night, which might not be safe."
My response to this was silence. What does one say to someone who draws such an equation that follows like night follows May.
When I asked how things are going on the border, the Arizona Ranger's answer was a bit evasive.
"I've spent time south of the Palo Verde National Forest, and there were a lot of problems there
."
I didn't follow-up and just told him what I told the Californian, "Well, be careful and keep your powder dry."
When I went into Love's for some morning upper-drug, caffeine, there was another Ranger, beautifully decked-out, with a gold badge, side-arm, etc.
I repeated to him the questions I asked the others. He said he didn't know much about the Wildlife Preserve because he's from Medford, OR. His response to "What are you guys doing down there" was interesting. He said "We're
mitigating
and helping the Homeland Security Border Patrol."
I smiled and said, "I'm a writer and I'm interested in your
connotation
of the word 'mitigating.' What does it mean?" (
Denotation of "mitigate"
:
"to cause to become less harsh or hostile
.")
He said that the Rangers are helping the Border Patrol round-up any border crossers, and they work cleaning-up the trash that the border crossers scatter around. He added,
"Right now in the back of my pickup I have a tire that was with the other trash."
"Atta go BLM!?"
The rest of our conversation was pretty-much small talk. I told him I have a good friend in Medford, Lou Villaescusa, who is a retired U.S. Marshall for the Western District. I asked if by any chance he knows Lou. He said he doesn't know him. We talked about his choice of side-arm and he called it the" in-between caliber," more potent than the 9 mil. and easier to handle than the .45. Chuckling, he added,
"I can't hit the broadside of a barn with a .45
."
Since my side-arm is a Colt .45ACP, I agreed that reliable accuracy with the .45 challenging, requiring a lot of practice. I confess that I'm negligent.
I wished him well, and safe-home to Oregon, and that was that.
As I drove the three miles back to my Arizona City abode, I thought things over. Like the use of "mitigating," and the prefacing of U.S. Border Patrol with "Homeland Security."
I also thought about why the Bureau of Land Management is cleaning up the terrain. I asked myself about the hourly wage of a Ranger, and if that isn't a lot for the taxpayers to shell out for trash collectors.
Interesting questions considering what is going on politically with the Gang of Eight and the Amnesty push just prior to the 2014 elections.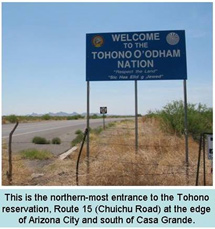 I've written a bunch about border issues, especially since I live adjacent to the huge Tohono O'odham Nation land that is a "pipeline" for illegals – the coyotes and border crossers looking for work, allegedly, and the murderous drug cartel gunmen from the Mexican states of Sinaloa and Chihuahua, e.g.
The many Border Patrol agents with whom I've spoken affect a hostile countenance when I mention Homeland Security. The agents do not take kindly to being associated with Homeland Security that is so hostile to the B.P. Agents in the front-lines who put their lives at risk while the Washington bureaucrats equivocate.
I'm a faithful Arizonan. I cringe when I think about our former governor Janet Napolitano who sold us out for a power-slot with the
Federales
. And as for John McCain who fought tooth and nail in opposition to Arizona's Senate Bill 1070, my upset is not at all
mitigated
.
So, readers, I merely ask you to think about this. To be curious about my question "Is it gonna be homier on the Range?" Maybe so?! Whaddya think? Am I just one of those "conspiracy theorists?"
http://www.renewamerica.com/columns/miller/130521
© Frank Maguire
---
The views expressed by RenewAmerica columnists are their own and do not necessarily reflect the position of RenewAmerica or its affiliates.
---