Frank Maguire
The tale of the Fox, the Polecat, and the Monkey's Uncle

By
Frank Maguire
August 16, 2013
It was many years ago, probably at the nascence (and nonsense) of Geraldo (The Mustachioed) Rivera...when he showed up on Rupert (made his bucks in porn-lite) Murdoch's aptly named Fox network. Remember, Rivera was one of those "anti-war" militant warriors who gleefully claimed some of the credit (with Hanoi Jane and extant Obama allies) for the victory over the U.S. by the friendly folk in Hanoi.

Foxily, Geraldo, the schemer, who never considered the morality of
esse quam videri
"better to be than to seem," became an unrepentant seemer. After all, he came from the
"you never have to say you're sorry"
era. And Fox never suggested that he confess and repent, thus calling attention to his...history.
I have followed Fox' megaspores and their progressive shape-shifting, predicting each new move they would make, and here, Cliff Kincaid shines the light on the furtive, slinking Fox in America's "barnyard."
http://www.renewamerica.com/columns/kincaid/130814
For persons who are too busy to show anything greater than a shallow awareness about what noxious clouds are hovering-over America they will be heard expressing, with eyes unaccustomedly wide open,
"Well I'll be a monkey's uncle."
Well, ummm, hmmm, ahem if the epithet fits, wear it.
Anyway, the unaware are always surprised when that which has been heating on the stove starts to bubble over. This is why the whistling kettle was an important invention.
Those of us who have enjoyed so much leisure just meandering through life, such as I who had (I'm now retired) sometimes worked, simultaneously, three jobs (while attending college full time), partnered with my wife Helen in the raising of six children, helped in the raising of grandchildren while loving God and neighbor, yet had somehow managed to keep aware of where our nation stood and where it was heading. One doesn't have to be a super hero to do that which I did one only has to care about what is happening that will affect the future of those whom they love.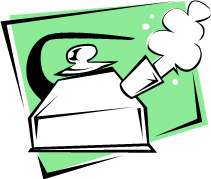 For those who care, I recommend Mark Levin's
"The Liberty Amendments
...." exposure of things as they now stand makes studying Levin like installing a warning whistle on your senses.
But! Sadly I'm not surprised that so many are astonished that their news-media idol is really a Fox that has come out of the hen-house "closet."
I can hear many saying,
"Ah ta hell with Fox and all the other news. It's boring anyway – dull as ditch-water
.
Turn on the cage fighting and we'll watch the retromingent "Polecat" Schunk who kicks backward."
© Frank Maguire
---
The views expressed by RenewAmerica columnists are their own and do not necessarily reflect the position of RenewAmerica or its affiliates.
---