Stone Washington
Midterms 2022: The fight to save America

By
Stone Washington
November 4, 2022
A Who's Who of 2022: Breakdown of Critical Midterm Races and Candidates
With the 2022 Midterm elections right around the corner, the country has seen many heated races at the national level. Following a contentious and continually controversial Presidential election in 2020, the vestiges of election fraud and manipulation continue to permeate the questionability of fairness for future elections. Many political analysts are looking closely to the key battleground states of Arizona, Georgia, Pennsylvania, and Michigan for predicted outcomes on important Senate, House, and gubernatorial races. These states were at the eye of the storm in 2020 for the many reported instances of election fraud during the middle of the Covid-19 pandemic, which saw state officials upend their own constitutions and bypass legislatures to impose draconian measures that altered the course of election outcomes. This was primarily construed through the ease of standards to allow millions of unaccountable absentee ballots to be submitted outside of the scope of permissible window (in most cases well before election day).
Many Trump-endorsed candidates in the Midterms have proudly shed light on how terribly mismanaged and unlawful the 2020 Presidential election was. Branded as "election deniers" by the liberal mainstream media, these figures echo the sentiment of the millions of voters across all areas of the political spectrum that saw the previous election results as being illegitimate, hijacked by fraudulent methods to tip the scale in Joe Biden's favor at the expense of the record 18+ million Trump voters. Despite the ills of this past election, many Republican candidates are optimistic that the 2022 election will be conducted under fair circumstances and not merely reflect fraudulent election tampering across key races in battleground states as seen in 2020. Riding high on what potentially may be a massive Red Wave of victory for the Republican Party and a referendum for advancing conservative interests, many GOP candidates have garnered favorable outlooks ahead of the November 8th election.
Source: New York Times. According to writer Ashley Wu "Based on a New York Times/Siena College poll of 792 likely voters nationwide from Oct. 9 to 12, 2022. Candidate support includes voters who say they lean toward a party's candidate. White and Black voters include non-Hispanic respondents who report that they are of only one race. Hispanic voters are of any race."
My article will analyze several of the most critically important races across key battleground states and offer predictions for potential outcomes. While Democrats wield majority in both the House and Senate, Republicans only need to flip five seats in order to regain control and send Rep. Kevin McCarthy (R-CA) to his new role as Speaker of the House. By comparison, the Senate is under even tighter margins, as Republicans only need to pick up 1 seat to regain control over the 50-50 Senate split and lessen the chances of a tie-breaking advantage to Vice President Kamala Harris. The most important races to look-out for this election cycle are: (1) Herschel Walker vs. Senator Raphael Warnock (D-GA) in Georgia, (2) Dr. Mehemet Oz vs. John Fetterman in Pennsylvania, (3) Kari Lake vs. Arizona Secretary of State Katie Hobbes (D), (4) John James vs. Karl Marlinga in Michigan, (5) Blake Masters vs. Senator Mark Kelly (D-AZ), (6) JD Vance vs. Rep. Tim Ryan (D-OH), and (7) Rep. Lee Zeldin (R-NY) vs. Gov. Kathy Hochul (D-NY). Each of these races will send shockwaves across the political landscape, indicating the general direction of the midterms for control over Congress and the preservation of power among key swing-states.
Georgia Senate Race: Herschel Walker v. Senator Raphael Warnock
Perhaps the most heated and closely watched U.S. Senate race this year has been between Herschel Walker and Senator Raphael Warnock (D-GA). Warnock assumed control over the Senate seat after defeating Kelly Loeffler in the January 2021 special election runoff. Loeffler was appointed by Governor Kemp to complete a 1-year Senate term following the resignation of Johnny Isakson. Ahead of the 2022 Midterms, Walker was endorsed and encouraged to run for the seat by President Donald Trump, a long-time friend. Trump saw great potential in Walker as a public servant and understood his great popularity in the state of Georgia as a football legend at UGA. Walker officially announced his candidacy in August 2021, aiming to restore the vulnerable seat back to GOP control and return Georgia to being a Red state. Walker has received many favorable political endorsements and support among Senate Republicans, including Mitch McConnell, Ted Cruz, Tim Scott, and Lindsey Graham, showcasing a stern support among establishment.
Walker and Warnock debated on October 14, 2022, which saw Warnock do his best to justify his 96% voting record in favor of Joe Biden's runaway spending on covid relief, the widely unpopular "Build Back Better" platform, and rising inflation. Warnock boasted working with his Democrat colleagues to lower the costs of prescription drugs. Walker was described as being "aggressive and persistent" by the New York Times and did well to put pressure on Warnock for dodging questions and acknowledging his near-total support for Biden's disastrous policies in the Senate. Walker channeled the primary focus of his campaign into attacks against Warnock during the debate when associating the many issues that Georgians are facing with grocery prices on the rise, gas prices going up, struggling homeowners forced to cut back on basic necessities, and spikes in violent crime that have hit major cities like Atlanta. Among other outlets, the Hill credited Walker with winning the debate, having done well to tie the negatives of Biden's historically low-approval rating to the legislative support for his policies by Warnock. Walker has also been strong in his stance in prohibiting abortion—unless if by rape or incest—and supporting the historic outcome of Dobbs v. Jackson (2022), which has drawn the ire of many pro-choice activists in the state.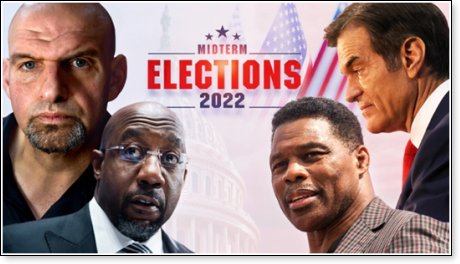 Dr. Mehmet Oz vs. John Fetterman
Almost as closely watched is the heated race between retired surgeon and TV presenter, Dr. Mehmet Oz and lieutenant governor of Pennsylvania John Fetterman. Oz is notably the first Muslim candidate to be nominated for the U.S. Senate and has received ample support from President Trump. Trump appointed both Oz and Walker to be Members of the President's Council on Sports, Fitness and Nutrition. Both Oz and Fetterman are vying for the seat left by retiring Senator Pat Toomey. Running as a political outsider, Oz has been an outspoken advocate for conservative values on the campaign trail, using his medical prowess to speak out against the inefficiencies of Obamacare, promoting Medicare Advantage Plus plan, the harms of abortion, support school choice, the greater need for fracking in energy enriched states, and preserving the right to bear arms. Contrary to his Islamic faith, he also supports the development of more harmonious relations with Israel. Oz has also notably promoted hydroxychloroquine as a promising medicinal remedy to Covid-19.
By contrast, his opponent, John Fetterman, has promoted the legalization of cannabis, heroin, and other harmful drugs; flip-flopped on support for fracking (was against it in 2018 and now for it in 2022); and adopted an extra-lenient position in sentencing terms for violent criminals. This disparity was on full display during their October 25th debate, which saw Fetterman struggle enormously with his ability to process clear thoughts or answer questions in a straightforward manner on key issues, highlighting the fact that he has not disclosed relevant health records following his recent stroke. Following the clear victory by Oz in the debate, his place in the polls has steadily risen to take the lead and has campaigned more vigorously on the issues that Pennsylvania voters care about.
Kari Lake vs. Katie Hobbes
Kari Lake has been seen by many as a rising star in GOP politics, emerging from humble beginnings as a local Arizona reporter, working her way to become an evening anchor at KSAZ-TV (Fox 10 Phoenix), where she interviewed both Presidents Barack Obama in 2016 and Donald Trump in 2020. She has a history of switching party affiliations between Democrat, Independent and Republican over the years, and has most recently identified as Republican since 2012. Lake has emerged as one of the bolder gubernatorial Republican candidates this election cycle, coming out in strong support of President Trump, while standing firm on a number of issues, such as exposing the medical misinformation of mass vaccinations, calling abortion the "ultimate sin", pledging to ban surgical and medication-based abortions in Arizona if elected, and promising to fully secure the Arizona border wall with Mexico while deporting the record number of illegals passing through without seeking federal approval. Lake's strong-right stance and defiance has even spread to her view on the media.
Being a former journalist, she understands more than most how propagandized media outlets have become over time, and recently took a bold stance against a host of left-wing journalists at a campaign event on camera. Lake eviscerated the journalists for wrongfully tying her campaign to a break-in at her opponent, Katie Hobbs' office. After doing so, Lake notably rose in the polls. Lastly, Lake has been an unapologetic "election denier" promoting the realities of a stolen 2020 election and that there was widespread voter fraud across her state of Arizona, notably one of the disputed battleground states that Trump actually won. She pledged to not have certified Joe Biden's fraudulent victory had she been Governor at the time, and called for criminal charges to be brought against Katie Hobbs for certifying an election that violated multiple state and federal election laws.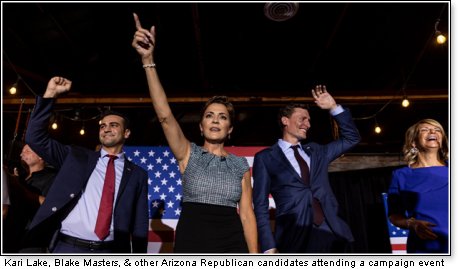 Rep. Lee Zeldin vs. Gov. Kathy Hochul
Another major gubernatorial race of interest has been the New York challenge between Rep. Lee Zeldin (R-NY) and Gov. Kathy Hochul (D-NY). Hochul assumed office following the string of controversies surrounding Andrew Cuomo's mismanagement of nursing home and scandalous groping allegations. Since assuming the position as Governor, Hochul has been described as "Cuomo 2.0", refusing to address the multitude of policy issues plaguing the state of New York. Her most notable failure has been the inability to mitigate the surge in violent crime and domestic assaults against civilians. This crime wave was on the ascent following the summer 2020 riots and has remained steady throughout major cities across the country, New York City being among the most notable hotbeds. New York City's violent crime spree is largely attributed to its leniency on criminals, having seen the enactment of no-cash bail laws that have enabled criminals to return to the streets to continue their violent offenses shortly after being released from prison.
Rep. Zeldin mocked Hochul for perpetuating what he called a "cashless bail" system that put innocent New Yorkers in danger from repeat-offenders that return to their violent habits after a short detainment. Bail reform went into full effect in New York during the 2020 riots and eliminated cash bail options for most nonviolent crimes and misdemeanors, leading many victims to hold Hochul directly responsible for perpetuating this. Hochul has proposed some minor bail reform measures that won't go into effect until at least January 2023, months after the election. Because of this turmoil, crime has become the #1 issue among New Yorkers for the Midterms, even surpassing the fate of the troubled economy. Zeldin has emerged as a no-nonsense, promoter of law-and-order candidate, pledging to enact strict bail reform and promote policy on proactive policing. This race will decide the fate of New York state and whether it can be liberated from its many woes under Cuomo's tenure.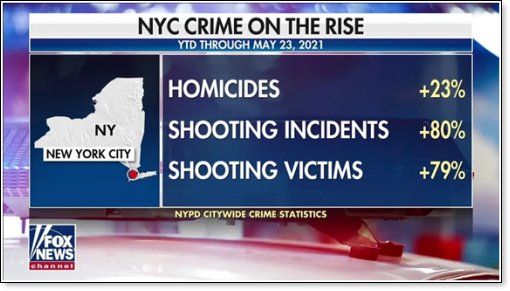 Conclusion—Looking Ahead to November 8th
With the above races in mind, voters across key battleground states will be amply informed about the disputed issues, what is at stake for party control of Congress, and where the candidates stand on the issues. An addition to the above challengers, there are a host of other key races to look out to. One concerns the race over control of Michigan's newly formed 10th district between businessman and Army veteran John James vs. Carl Marlinga, a career Macomb County Prosecutor and Probate judge. The district spans Macomb and Oakland counties. James has emerged as a Republican Party favorite and rising star among conservatives, having met with President Trump on a number of occasions and of whom led powerful Senate campaigns against both Senators Debbie Stabenow (D-MI) in the 2016 election and Gary Peters (D-MI) in the 2020 election.
James was among the short list of qualified candidates to Ambassador to the United Nations for the Trump Administration, following Niki Haley's tenure. James's heated race against Peters, where he purportedly lost by 92,335 votes, was most likely a byproduct of Michigan's rampant election fraud during the 2020 election. This prompted James to attempt to block the certification of the election results, which ultimately did not work. Describing himself as a "a pro-life, pro-second amendment, pro-business conservative", James is principled candidate and had pledged to defund Planned Parenthood and promote the replacement for Obamacare. With favorable polls and a strong support base among Michigan voters, James is poised to win against Marlinga in the 2022 race.
Other key races to watch out for include the Senate race in Arizona between Blake Masters and incumbent Senator Mark Kelly (D-AZ) and the Ohio Senate race between JD Vance and Rep. Tim Ryan (D-OH). Masters' campaign has been well-funded by donations from venture capitalist Peter Thiel, and along with Vance, has been influenced by Curtis Yarvin, a neo reactionary blogger who writes under the pseudonym "Mencius Moldbug". As an America First conservative and nationalist, Masters has openly supported the impeachment of Joe Biden for his inability to adequately perform the duties of the executive while embracing conservative views across a host of policy issues, including limiting the number of legal immigration as part of a curtailment to illegal immigration, opposing the crime epidemic in blue cities, condemning abortion, and being among the lead figures to underscore that the 2020 election was stolen. Vance on the other hand has been similarly described as a "populist" (nationalist) conservative, receiving support from the likes of Tucker Carlson and Thiel. Vance has created a central message around the sufferings of the middle class in America under the crumbling economy, and has argued that conservatives are embroiled in an economic war, not a culture war, against liberal fiscal policies. With the November 8th election quickly approaching, the Republican contenders examined in this article will be worth watching.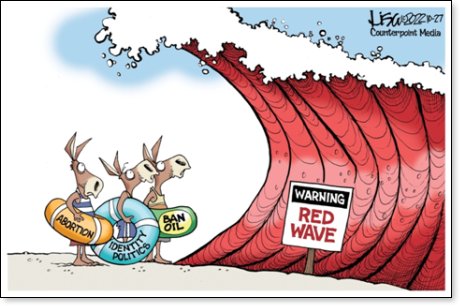 © Stone Washington
---
The views expressed by RenewAmerica columnists are their own and do not necessarily reflect the position of RenewAmerica or its affiliates.
---