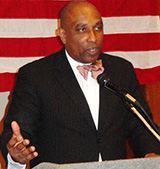 Ellis Washington
Symposium: cult of acceptance

By
Ellis Washington
May 12, 2013
Socrates (470-399 B.C.) was a famous Greek philosopher from Athens who taught Plato. Plato taught Aristotle, and Aristotle taught Alexander the Great. Socrates used a simple but cleverly profound method of teaching by asking revelatory, piercing questions. The Greeks called this form "dialectic" – starting from a thesis or question, then discussing ideas and moving back and forth between points of view to determine how well ideas stand up to critical review, with the ultimate principle of the dialogue being
veritas
– truth.
Note: This symposium is based on the biblical passages 1 Kings 22: 1-24 and 1 John 2:16. (For all that is in the world, the lust of the flesh, and the lust of the eyes, and the pride of life, is not of the Father, but is of the world.
)
Characters:
Socrates

Jesus Christ

Satan

Demon No. 1
(Beelzebub, the chief demon)
Demon No. 2
(Hedonism = lust of the flesh)
Demon No. 3
(Evolution Atheism = lust of the eyes)
Demon No. 4
(Cult of Acceptance = the pride of life)
(
Setting:
Symposium of Socrates, inside the abode of hell)
Socrates:
In this my blackest, diabolical symposium, we are gathered this dark night in Satan's abode of hell to discuss a paradox of the ages: Why are the children of men so predisposed to cast away everything of value – logic, reason, friends, family, God, the Bible, the Constitution, a meaningful life, innocent little babies – to embrace the depraved Cult of Acceptance?
Satan:
(
meeting with his chief demons
) For millennia we have plagued the children of men by setting at war of children against parents, husbands against wives, race against race, religion against religion, nation against nations. Forty years ago, I even raised up Justice William Blackmun to perform my will in a 7-2 Supreme Court decision, Roe v. Wade (1973). In a single generation, I resurrected the
Doctrine of Molech
, which had been dormant since the Dark Ages. I compelled humanity to commit global genocide against humanity. Nevertheless, the children of men have still multiplied upon Earth.
Demon No. 1 (Beelzebub)
: What can be done to destroy the sons of Adam so that the underworld and Earth can be brought together as thy united kingdom of evil, oh Satan? An empire to rival that of the God of heaven who in ages past cast us out down to Earth and imprisoned us in hell because there was sin found in thee – and in We.
Satan:
Who will go to Earth to do my will? Who will go to avenge my evil against God, His Christ and the sons of Adam?
Demon No. 2:
I will go! I am the Spirit of Hedonism. I will entangle the sons of Adam into the five "P"s: pleasure, porn, perversity, pedophilia, prostitution.
Satan:
Have you ever heard of Hollywood? Next!
Demon No. 3:
I will go! I am the Spirit of Evolution. Mankind prides itself on skepticism, naturalism, materialism, progressivism and science. Therefore, I will take a nobody atheist son of a Christian minister, send him on a long voyage to the remote islands of the Galapagos and fill his naive mind with scientific mythology of evolutionary atheism, kill truth and damn the world.
Satan:
We tried scientific atheism in 1859 when Charles Darwin published the first edition of his "Origins of Species." It kept many out of God's kingdom, but I demand more souls!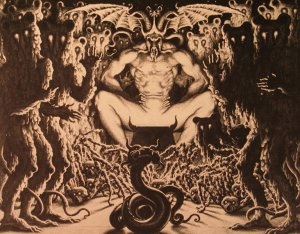 Demon 4 (Cult of Acceptance):
May I have a word?
Demons 1, 2, 3:
(
in unison)
Who are thee?
Cult of Acceptance:
I am the Spirit of the Cult of Acceptance. My techniques are so simple, my tactics so sublime, my strategies so effective that the sons of Adam have followed my primrose path to hell for millennia but never realized the error of their ways until it was too late!
Satan:
What malevolent plan do you have to forever turn the heart of God against the children of men?
Cult of Acceptance:
My plan is deviously simple. I will put a little thought into the mind of men. We call it "society." With time, the sons of Adam will become obsessed with the idea of "fitting in" with society and its numerous institutions. It will dominate his worldview. It will cause him to curse God, neglect his family, truth, realism and let his Bible gather dust on his bookshelf – all for the fool's hope of being accepted by some person, some prestigious institution, some group of people he doesn't even know or care about.
Satan:
Tell me more about this philosophy of worldview and fitting in.
Cult of Acceptance:
My evil scheme isn't original. I actually borrowed it from you, oh Lord Satan. It was you who gave these evil tactics and strategies to our good friends Adolf Hitler and the Nazis. They called it worldview (
Weltanschauung
) and coordination or bring into line (
Gleichschaltung
).
Satan:
Yes! Yes! Now I remember. Oh, the devilish times we had killing those 6 million Jews during the Holocaust in addition to tens of millions of souls during World War II.
Cult of Acceptance:
Yes, Lord Satan, but before we have a bringing together, we need a new worldview, and before we have a new worldview, we must have a paradigm shift, a game changer. We need humanity to first change its worldview from biblical theism to evolution atheism. Our useful idiot in England, Charles Darwin, achieved this for us. In 40 years, with the help of our dutiful foot soldiers, the college professors of the academy spread the lies of evolution, atheism, dialectical materialism, social Darwinism, including natural selection, survival of the fittest, the world over.
With this atheist worldview established throughout the Earth, it was easy to establish what the Nazis called
Gleichschaltung,
or bringing into line, which quickly morphed into
forcing
into line (at threat of death). Pick any cataclysmic event in the history of the world – paganism, slavery, abortion, the rise of Islam, the Crusades, the Enlightenment, the French Revolution, World War I and II. It all followed the same diabolical pattern, the same two simple techniques and strategies,
Weltanschauung
and
Gleichschaltung
. We murdered billions and billions and billions of people over thousands of years, which combined to form the Cult of Acceptance.
Socrates:
Let us now hear the conclusion of this matter. Why are the children of men so predisposed to cast away everything of value – logic, reason, friends, family, God, the Bible, the Constitution, a meaningful life, innocent little babies – to join the depraved Cult of Acceptance?
Cowardice, fear, taking the easy road over the road less traveled, the praise of men are all good reasons, but I think it is an existential curse of human nature for the children of Adam to always want what they can't have. It goes back to the Garden of Eden with Adam and Eve and the Tree of Knowledge of Good and Evil. It goes further back with Lucifer, the archangel of God who was above even archangels Gabriel and Michael, whose visage illuminated the kingdom of heaven, yet he convinced one-third of all the angels to become allied with him in his maniacal war against God.
Jesus Christ:
At the start of my earthly ministry, I was in the wilderness fasting for 40 days and 40 nights when Satan, tempting me, took me to a very high precipice atop the mountain and in an instant showed me all the kingdoms of this world with its riches, fame, pleasures, power including the Cult of Acceptance. I told him, "Get thee behind me, Satan, for it is written thou shall have no other gods before me."
What would it profit a man to gain the whole world and to lose his soul? And what would a man give in exchange for his soul?
Socrates:
Answer: The Cult of Acceptance.
---
Book Notice
Please purchase my latest opus dedicated to that Conservative Colossus, Supreme Court Justice Clarence Thomas. Here are the latest two new volumes from my ongoing historical series –
THE PROGRESSIVE REVOLUTION: History of Liberal Fascism through the Ages
(University Press of America, 2015):
Please circulate
this flyer
to all your email contacts & Facebook/Twitter followers who may be interested in purchasing this opus which will serve as a ready apologetic against the rampant Marxist-Progressive propaganda taught in America's public schools, colleges, universities, graduate schools, and law schools. Thanks in advance to all my friends, associates and colleagues for your invaluable support! Law and History Blog:
www.EllisWashingtonReport.com
---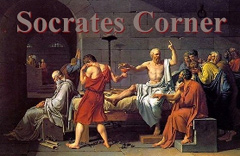 Invitation for manuscripts
I am starting a new a program on
my blog
dedicated to giving young conservatives (ages 14-35) a regular place to display and publish their ideas called
Socrates Corner.
If you know of any young person who wants to publish their ideas on any subject, have them send their essay manuscripts to my email at ewashington@wnd.com.
© Ellis Washington
---
The views expressed by RenewAmerica columnists are their own and do not necessarily reflect the position of RenewAmerica or its affiliates.
---