Stanley Zir
The only way to guarantee that Iran does not get the bomb

By
Stanley Zir
July 20, 2015
Prologue
America has sixty days to prevent Iran from crossing the nuclear threshold. We cannot count on Congress, they will only act be forced to act through a popular our cry.To stop Obama"s veto we must overwhelm Congress with our demand, this is the only way forward .
They did it with Presidents Clinton and Bush when millions of citizens called their Congressional Representative and it resulted in changing their position
To All Reality-Based Women & Men of Conscience,
The only way to ensure that Iran will not get the nuclear bomb, is for America to destroy Iran's nuclear holocaust infrastructure and her strike back capabilities NOW!
The posters, below, were created by
Never Again Is Now
as catalysts for generating a massive call to Congress to demand that President Obama eliminate completely Iran's nuclear infrastructure.
In January, 2014,
Never Again Is Now
posted an ad with posters in the Jewish Voice and Opinion and was told about the response by the publication's editor, Susie Rosenbluth:
"We have been inundated with calls and emails since the January issue came out with your ads. People have been telling us that they know Iran is a terrible problem, but they didn't think they could do anything about it. Your ads seem to have motivated them to make their voices heard by contacting Congressmen – both their own and others."
The Campaign to Guarantee that Iran Does Not Get the Bomb:
The following four captivating posters should be put on billboards and in transportation centers all across America.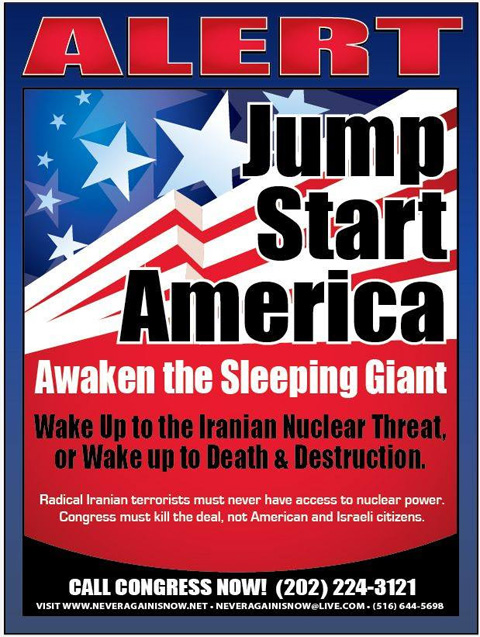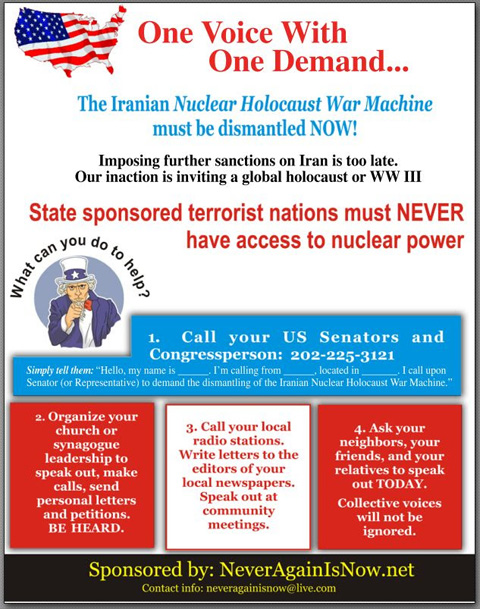 America cannot promote a foreign policy that supports a holocaust and remain the leader of the Free World!
© Stanley Zir
---
The views expressed by RenewAmerica columnists are their own and do not necessarily reflect the position of RenewAmerica or its affiliates.
---