Audrey Ignatoff
The bromance may be over for President Trump and Putin

By
Audrey Ignatoff
February 22, 2017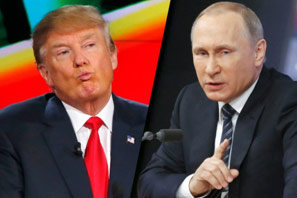 It seems that Donald Trump has shown an affinity for Vladimir Putin in recent times. In fact, he has been very interested in Russia for many years, going back to the times when many former Soviet Citizens flowed into his Beach Haven Apartment development in Brooklyn, New York, and other properties controlled by Trump Management as far back as the late 80's. This was funded under the Section 8 Program of HUD, and it put a lot of money into Trump's hands, and forced many tenants to leave because of poor maintenance conditions. Since Trump was in Russian provinces back in the 80's perhaps trying to make real estate deals, the Russians coming to his developments may not have been so random. Perhaps Trump realized that he could make more money moving the Russians here than building apartments for them over there. The Russian government wasn't going to pay for this, but the American government did. However, the "bromance" may now be coming to an end, at least from the point of view of Putin.
Trump doesn't seem to care if Putin has killed many people, but Putin does care if Trump may be unstable. He has ordered that a psychological profile be prepared about Trump because he is concerned about Trump's recent unpredictable, erratic, and unpopular behavior. So, if Republicans don't want to act against Trump because he is a "member" of their club, Putin will not feel that way.
Putin is watching the American people march against Trump in the streets, and is beginning to doubt his judgement and power. On Presidents' Day, people across the country had a
"Not My President"
themed march. He points out that so far, Trump has done nothing to benefit Russia, and he doesn't like it. However, Trump seems to admire Putin's hold on a free press; he simply doesn't allow it. All this talk about "fake news" when anything negative is said about him or his policies is the first step to controlling the press and turning a democracy into a dictatorship. According to Trump, "The media is the enemy of the American people." Putin controls the media in Russia, and he has no intention of changing that soon. If anyone speaks against him, they will meet with immediate reprisals. We, on the other hand, have the right to speak up against the President and the government. It is called the Right to Free Speech and Free Press, and is included in the First Amendment of the Constitution. This right must be preserved in a democracy at all costs, even if Trump doesn't agree.
Trump has chosen Rex Tillerson, former CEO of Exxon Oil, as Secretary of State, not because he has experience in government or foreign affairs, but because he has
deep ties to Russia
. He received the Order of Friendship from Russia in 2013, a highly-prized honor for a foreigner. Tillerson brokered a huge deal for Exxon with Russia in 2011. However, this has been stalled since sanctions were imposed due to the Russian intervention in Ukraine in 2014, and both Exxon and Russia
lost money
. Both Putin and Exxon want the sanctions
removed.
Putin was hopeful that Donald Trump would remove them, especially since Tillerson was the new Secretary of State. In fact, the Russians has such a stake in Trump, that they may have hacked the 2016 American election to insure a Trump win, and perhaps Tillerson would be the new Secretary of State. Clearly, Tillerson and Putin have had their own bromance going on.
Hopefully, an impartial investigation will lead to the truth of the matter, and may be very unsettling to Trump and his associates. But, my instincts tell me that when the bromance is over, Putin will have a speedier way to discredit Trump, especially if he loses patience with "all words and no action." Investigations, whether in congress or out, will take time, and Putin is not a patient man. He will not be swayed with the "sweet talk" of Donald Trump for long. Thus, the qualities that Trump seems to admire in Putin, such as his being a "strong leader," may eventually do him in, perhaps in an unexpected way.
© Audrey Ignatoff
---
The views expressed by RenewAmerica columnists are their own and do not necessarily reflect the position of RenewAmerica or its affiliates.
---