Matt C. Abbott
Catholic-themed children's books

By
Matt C. Abbott
November 19, 2008
And now for a brief break from the not-so-nice news of the day....
I always appreciate receiving complimentary e-mails from readers, so I was quite pleased when award-winning author Josephine Nobisso and art director Maria Nicotra of GingerbreadBooks.com sent me an e-mail saying:
"Every time a friend forwards one of your commentaries to us, we end up cheering in this office. We'd like to send you two Catholic children's books as a gift from us, and a very small token of thanks for the work you do for Heaven."
I'm no expert in the realm of children's books — I've never married and thus have no children — but Mrs. Nobisso's books might be entertaining, and certainly wholesome, for children of Catholic parents. And, in addition to the impressive illustrations by Katalin Szegedi, Mrs. Nobisso provides catechetical explanations for her stories.
The following are images of three pages (including the cover) of
The Weight of a Mass: A Tale of Faith
.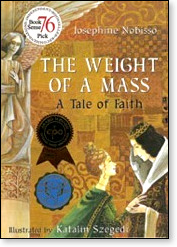 For more information about Josephine Nobisso's books, visit
www.GingerbreadBooks.com
.
Also, I would be happy to forward to Mrs. Nobisso any
serious
inquiries regarding her books.
© Matt C. Abbott
---
The views expressed by RenewAmerica columnists are their own and do not necessarily reflect the position of RenewAmerica or its affiliates.
---