Matt C. Abbott
Why I'm disappointed in Rush Limbaugh

By
Matt C. Abbott
June 7, 2010
This column may open up a can of worms, but here it goes...
I guess we conservatives (and, for the record, I don't consider "socially moderate" Republicans to be in the conservative camp) should be grateful that Rush Limbaugh, a prominent media critic of the left for a number of years, hasn't been silenced by the powers that be.
However, as a pro-life, pro-family Catholic, I'm disappointed in Rush. He just got married for the
fourth
time and even paid Elton John, the anti-Christian queen of pop-rock, a reported $1 million to perform at his wedding.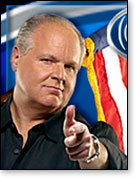 Is Rush good at radio? Absolutely. Is he entertaining and interesting to listen to? I'd say so. Do I agree with him more than I disagree with him? You bet. And I will always appreciate his support for the family of Terri Schiavo, especially given that some so-called conservatives supported the morally repugnant Michael Schiavo's "right" to have Terri dehydrated to death.
Still, this is Rush's
fourth
marriage, and that says something about his character. Somethin' just ain't right. Look, I realize that getting married in this culture is like flipping a coin and praying that it lands on the side of "success" and not on the side of "failure" (yes, yes, I know that divine providence plays a huge role; this is my never-married cynical side talking). Yet I find it troubling that a man, albeit a talented one, who doesn't embrace the sanctity and indissolubility of marriage is so hugely successful with the, well...anti-left.
Perhaps Rush's profession isn't conducive to married life. Some professions aren't. But, to be blunt, living in and celebrating adulterous or fornicatory relationships isn't exactly striving to live a chaste life — and the natural and divine law requires that single people and married couples live chastely. This means no sexual activity for the former (unless and until they enter a valid marriage) and no contraception and/or adultery for the latter.
Thus, given Rush's problem with staying married — please understand that I'm not in any way condemning those who are separated or divorced for serious reasons and are trying their best to be faithful Christians — he should strive to live a chaste single life. Yes, it's very difficult, but it's the right (pun intended) thing to do.
Of course, he could give two hoots about what I think.
Ah, well. So be it.
One more thing: While I've never placed Rush on a pedestal, I guess I've thought of him as more than just "an entertainer." He's not like those Hollywood-types, I thought. And yet, he
is
like those Hollywood-types, at least in regard to lifestyle choices.
And that, my friends, is disappointing.
© Matt C. Abbott
---
The views expressed by RenewAmerica columnists are their own and do not necessarily reflect the position of RenewAmerica or its affiliates.
---