Matt C. Abbott
'Heroic News,' heroic activist

By
Matt C. Abbott
April 6, 2011
From a news release:
Heroic Media has announced the establishment of 'Heroic News,' a pro-life news website featuring key moral and cultural issues, namely, abortion, euthanasia, embryonic stem-cell research, traditional marriage, pornography and human cloning.
Heroic Media has two goals: to provide women facing unexpected pregnancies with hopeful alternatives through mass media advertising, and to create a culture of life. The establishment of Heroic News addresses the second goal.
Visit
www.heroicnews.org
.
---
Speaking of heroic...
The father of the pro-life movement, Joe Scheidler — for whom I worked from 2001 to 2002 — was honored on April 2 at an "Evening of Tribute" banquet attended by over 400 pro-lifers.
The tribute's organizer, veteran pro-life activist-author-theologian Monica Migliorino Miller, explained why she decided to have the tribute: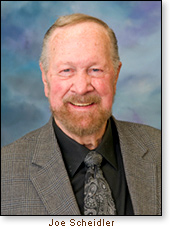 "Joe is one of the great lights of the movement. He's one of the few leaders who can claim to have influenced the direction of pro-life activism, and one of the few leaders who can rightfully say that he has mentored hundreds of others who are now involved in pro-life work.
"Thirty years ago Joe invented pro-life activist strategies, ways of confronting the evil of abortion at the very place where the unborn die. His whole approach is unique, bold and inventive. Moreover, Joe's legacy is one of rare sacrifice. He deserved this honor and I'm proud to say I know this great and holy man."
About 24 angry, goofy and vocal pro-abortion demonstrators tried to rain on Joe's parade, so to speak — they reportedly slashed the tires of at least one vehicle belonging to a couple attending the banquet — but they were countered by about 40 young pro-lifers who staged their own (peaceful) counter-protest of the pro-aborts.
Among the pro-life leaders who gave testimonials during the banquet were Janet Morana of Priests for Life, David Bereit of 40 Days for Life, Doug Scott of Life Decisions International, and Jim Sedlak of American Life League.
The testimonials were followed by a short film, produced by Monica's Citizens for a Pro-Life Society, which effectively captures the essence of Joe's commitment to the pro-life cause. The film may be viewed at
www.prolifesociety.com
.
God bless you, Joe!
---
Pertinent links:
Heroic News
Pro-Life Action League
Citizens for a Pro-Life Society
© Matt C. Abbott
---
The views expressed by RenewAmerica columnists are their own and do not necessarily reflect the position of RenewAmerica or its affiliates.
---