Matt C. Abbott
The post-abortive Monica Lewinsky

By
Matt C. Abbott
September 25, 2012
Get this: Monica Lewinsky is back in the news. Well, sort of.
From
LifeNews.com
:
The new tell-all book that Monica Lewinsky is currently writing will reportedly share more details on the abortion she had of the baby she says she conceived during the time in which she had an affair with President Bill Clinton....

When Lewinsky first admitted the abortion in conjunction with the 1999 book [Monica's Story], the BBC reported on it and provided more details:

Monica Lewinsky was left deeply traumatized by having an abortion during her affair with President Clinton, her biography has revealed. The former White House intern was so depressed that she underwent lengthy therapy to try to come to terms with the termination. But she had become pregnant by another man with whom she had a relationship during the time that she and the president were lovers and she never told Mr. Clinton about her abortion....

Miss Lewinsky loved children but had wanted to wait until she was in a long-term relationship to have them. Not wanting to be a single mother, and still in love with the president, she opted for the abortion....

You mean to say that Monica was screwing around with some other guy as well? Wonders never cease.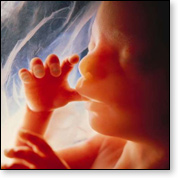 Which brings to mind an assertion that might make some of my fellow pro-lifers unhappy with me. So be it.
Yes, Bill Clinton was, and perhaps still is, a pro-abortion scoundrel. As are many (lecherous) men. But does anyone really feel sorry for Monica and women like her? I don't. She's not a victim by any stretch of the imagination. Nor is any woman who places herself in such a situation.
I definitely agree that
many
post-abortive women were, and are, essentially victims. They were, and are, coerced by boyfriends, husbands, or family members into procuring an abortion. Shame, shame on those who do the coercing. And, yes, the abortionist is
always
the perpetrator. Always.
But don't tell me that
all
post-abortive women are victims. Some of them are just as guilty as the abortionists. Selfish and wicked.
Now, those who have truly repented and reformed should be commended. God's mercy is infinite, and we all are in need of it. However, there are those who haven't repented — who refuse to repent — and we should pray that they have a change of heart.
As for Monica, although she's no victim, hopefully she's healed, repented and reformed. Hopefully.
It bears repeating something I included in a previous column, courtesy of Catholic author and blogger
Steve Kellmeyer
:
Men in power, whether Democrat or Republican, want legal abortion. So do women in power. For as long as blood banks have been in business, we have known that nearly 30 percent of women have lied to their husbands about the paternity of 'their' children.

Powerful men want to keep screwing women. Powerful women want to be screwed by powerful men. Neither group wants anyone else to know. Pregnancy and children are hard to keep secret. Well, they're hard to keep secret if they are alive. If the pregnancy is aborted and the children are dead, there's no problem.

Have you ever noticed that one-in-three children are the result of cuckolding and one-in-three children are aborted? Funny how those statistics mesh so well....

(Women suffering from Post-Abortion Syndrome should visit
www.hopeafterabortion.com
.)
© Matt C. Abbott
---
The views expressed by RenewAmerica columnists are their own and do not necessarily reflect the position of RenewAmerica or its affiliates.
---