Matt C. Abbott
Religiosam libertatem?

By
Matt C. Abbott
February 23, 2015
Two pro-life leaders died in recent days:
Dr. Jack Willke
, 89, and
Brother Paul O'Donnell
, 55. God bless them. Pray for the repose of their souls.
---
From
C-FAM
(Feb. 20):
The Obama administration is getting ready to issue new rules requiring charities to provide abortions to child refugees entering the US without their parents. Faith-based groups say this is a contravention of the rights of parents and a violation of the conscience rights of faith-based groups helping resettle the children.

Father Frank Pavone, national director of Priests for Life, issued the following statement in response to the Obama administration's latest act of evil:
Dark storm clouds continue to form on the horizon – and indeed overhead – when it comes to the battles between the government and citizens of faith. These latest rules are another example, with the Obama administration categorizing abortion and contraception as services that are so necessary for the common good that neither conscience nor the balance of powers should stand in the way. This latest offense mirrors closely the battles that Priests for Life and other groups continue to wage against the HHS mandate, which tries to force us to cover these 'services' in our insurance plans.

Indeed, it's time for division. The only proper response is, 'We will obey God rather than men.' Churches, organizations, and individuals need to dissociate themselves, wash their hands of, and have nothing to do with entities that provide or promote abortion. Indeed, fidelity to God requires cutting ties with the proponents of death.

Our faith often leads us to speak of 'unity' and to see God as its source – and indeed He is. But God is also the 'Great Divider.' He divided light from darkness at the very beginning; His prophet Elijah urged people not to sit on the fence, but to worship either the Lord or Baal; the Lord Jesus declared that He had come 'not for peace, but for division;' and at the Last Judgment He 'will separate them as a shepherd separates sheep from goats.'

Conflicts like the Obama administration continues to place in our paths call for a clear division rather than a false peace or an abstract compromise. And this is where the battle will rage more fiercely in our own minds and hearts than anywhere else. Individuals and groups will be tempted to find compromises and ways to 'keep the peace' or avoid 'rocking the boat.' Those temptations must be resisted, and the price of fidelity must be paid completely and cheerfully.

Also pertaining to the subject of religious freedom...
From
Catholic World News
(Feb. 20):
A judge in the State of Washington has ruled that a Christian florist violated a state anti-discrimination law when she refused to arrange flowers for a same-sex wedding.

Father Richard Perozich, pastor of Immaculate Conception Catholic Church in San Diego, had this response:
The founders of our country enshrined this truth in freedom of religion, which prohibits Congress from enacting laws contrary to this foundational principle for human existence. Our laws have a hierarchy from the Constitution through the federal, state and local governments. No law can be made at a local level that violates a constitutional privilege. Thus laws which favor sexual behaviors cannot be used to override a constitutional right of freedom of religion.

Our souls must obey the divine law of God regarding good and evil in what we do and in what we avoid doing. Conscience is that secret core wherein God speaks to the soul, saying 'do this, shun that,' and conscience must obey.

Religion cannot be reduced to a system of 'beliefs' as this judge poorly decided in this case. Religion includes beliefs, understandings and behaviors – all given from God for our spiritual health, more commonly called salvation. It is absurd to tell a man that he can believe a thing but not do a thing that he believes when the action poses no immediate harm to life and limb of another man but merely disagrees with the other's behavioral choices.

The Christian needs to be exonerated, the judge castigated, and the plaintiffs fined for presenting a frivolous lawsuit.

---
Below is a photo of veteran pro-life, pro-family activist
Jim Finnegan
witnessing near a Naples, Florida abortion facility on Ash Wednesday. Jim has been on the front lines for many years. Bravo!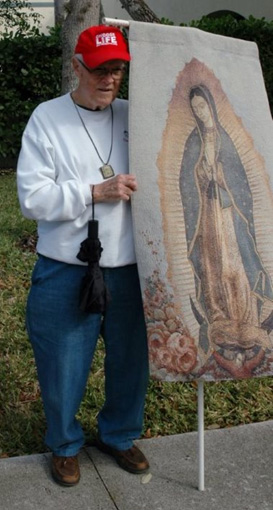 © Matt C. Abbott
---
The views expressed by RenewAmerica columnists are their own and do not necessarily reflect the position of RenewAmerica or its affiliates.
---